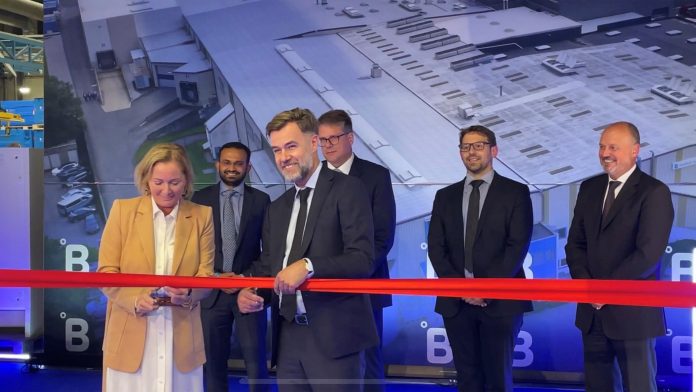 Luxemburg-based vaccine cold chain specialists B Medical Systems have conducted the opening ceremony of their cutting-edge factory extension at its corporate headquarters.
The factory extension is located adjacent to its existing manufacturing facility in Hosingen, Luxembourg, for which the groundbreaking ceremony was completed on January 28, 2021. This company expansion is in direct response to the growing demands of vaccine cold chain solutions caused by the COVID-19 pandemic, putting B Medical Systems in a prime position to sufficiently supply its industry-leading technologies.
B Medical Systems is a global leader in the medical cold chain industry and manufactures ultra-low freezers, vaccine refrigerators, freezers, transport boxes, and many other products for storing and transporting vaccines and other temperature-sensitive specimens worldwide.
The scale of the factory extension
The opening of the new extension was inaugurated by Franz Fayo, the Luxembourg Minister of Economy, and Paulette Lenert, the Luxemburg Minister of Health, and spans approximately 4500m2, taking six months to build. The construction process was supported by an array of Luxembourgish construction and engineering companies and, now complete, will create 150 extra jobs.
The expansion project was conducted in phases and received an investment of €15m, of which part was funded by the Luxemburg Ministry of Economy to help combat the COVID-19 pandemic. Phase one and two of the project saw the construction of new production halls and the optimisation of existing floor space, which will enable B Medical Systems to double its production capacity for the vaccine cold chain units and quintuple the production capacity for Ultra-Low Freezers.
The new production hall is comprised of assembly lines, end of testing lines, and packaging sections and was completed in July 2021. B Medical systems are now moving on to phase three of the project, which will see the development of a new warehouse and offices, and is estimated to be completed by the end of November this year.
Speaking at the ribbon-cutting ceremony, Luc Provost, the CEO of B Medical Systems, commented: "Today is a major milestone for us. The production capacity expansion reflects our strong commitment to the world in ensuring reliable medical cold chain solutions with the shortest lead times.
"Special thanks to the Government of Luxembourg, especially the Ministry of Economy and the commune of Hosingen, for their constant support and assistance. Our aim is to make Luxembourg a global leader in the end-to-end medical cold chain industry, and this facility takes us one step closer to realising this dream."
Innovative cold chain solutions
The event also witnessed the Refrigerated Vaccine Transport Vehicle (RVTV) demo, jointly developed by B Medical Systems and Toyota Tsusho Corporation (TTC). This is the first-ever refrigerated vehicle in the world to obtain a WHO PQS prequalification and can be used for reliably transporting vaccines or any other specimens in a 2-8 °C temperature range.
B Medical Systems' ultra-low freezers, vaccine refrigerators/freezers, laboratory refrigerators/ freezers, and transport boxes can store and transport COVID-19 vaccines at various temperature profiles ranging from -80°C to 8°C.  The company has provided more than 70,000 cold chain units to over 140 countries for its effective COVID-19 immunisation programmes and is the exclusive supplier of Luxembourg's COVID-19 vaccine cold chain solution. B Medical Systems also manufactures blood management solutions, such as blood bank refrigerators, plasma freezers, and plasma shock freezers that are employed by the clinical sector and blood transfusion segment around the globe.
Recommended Related Articles