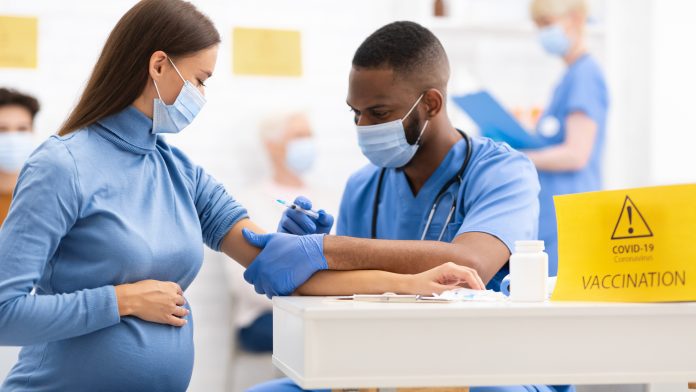 Dr Patrick O'Brien, Vice President of the Royal College of Obstetricians and Gynaecologists, discusses vaccine hesitancy among pregnant women.
On average, it takes a decade to create a completely new vaccine. However, in less than a year, the first vaccines against COVID-19 were developed and have proved to be revolutionary in curbing the spread of the disease. While clinical trials and data have proved beneficial in easing initial concerns about the safety of the vaccines, for many pregnant women, mixed messaging around potential side effects for mother and baby, as well as the exclusion of pregnant women from initial clinical trials have led to increased levels of vaccine hesitancy among this group.
Expectant mothers have been eligible and advised to get a COVID-19 vaccine since April this year, with the Pfizer/BioNTech and Moderna vaccines being the recommended option. Research has shown that while pregnant women are not necessarily at higher risk of catching the COVID-19 virus, they are more likely to develop severe symptoms and complications compared to non-pregnant women of a similar age. Indeed, in July this year, a record number of unvaccinated pregnant women were admitted to intensive care units after contracting COVID, leading to a renewed sense of urgency from doctors for pregnant women to get vaccinated. To discuss this topic, Health Europa spoke with Dr Patrick O'Brien who is a consultant in obstetrics and gynaecology at University College London Hospitals (UCLH), and Vice President of the Royal College of Obstetricians and Gynaecologists (RCOG).
What are some of the concerns that pregnant women have raised about the COVID-19 vaccine?
First of all, I think it is completely understandable that pregnant women were initially hesitant about having the COVID-19 vaccine. Pregnant women are generally more aware of what they are putting in their bodies whether that is food, medicines, or vaccines because their instinct is to protect the baby inside them at all costs. Additionally, we have to acknowledge that these vaccines are relatively new, which naturally bred suspicion and gave rise to a lack of confidence in the vaccine initially.
At the start of the vaccine rollout, we did not have data available to reassure pregnant women that these vaccines were safe for them. It seemed reasonable for pregnant women who were high risk of infection to have the vaccine, and from day one, we did not think the vaccines would be harmful for mother or baby, but it was difficult to say because we did not have the necessary data to back up this assertion. We update our advice as regularly as we can, on the basis of the available information and data at the time. Inevitably, as more data confirmed the vaccine is safe, the message has now evolved from where it was at the beginning of the vaccine rollout. Of the 160,000 pregnant women that have been vaccinated in the US, as well as the 81,000 (updated 31 Aug 21) here in the UK, no adverse effects have been reported for mother or baby. Additionally, during this time we have also gathered more information about the risks of COVID infection in pregnancy. What we now know is that if a pregnant woman gets COVID she is twice as likely to be admitted to hospital, intensive care or even die compared to somebody who is not pregnant. There is also a one in five chance that the baby will need to be delivered prematurely to allow the mother to receive effective treatment. By getting vaccinated during pregnancy, or even by breastfeeding post pregnancy, after having been vaccinated, the mother can pass protective antibodies to the baby, and both will be better protected against infection. We have published a few papers suggesting that if a woman gets COVID in pregnancy there is a slightly increased risk of stillbirth, but the chances are very small.
Aside from vaccine hesitancy, are there other factors that have affected vaccine uptake among pregnant women?
Social media and myths around the effects of the vaccine in pregnancy, or for those trying to get pregnant, have affected vaccine uptake. For instance, misinformation relating to the effects of the vaccine on fertility has been circulating.
NHS England recently announced that over 81,000 pregnant women have now been vaccinated and that is out of around 600,000 women who are pregnant at any given time. There will be more than that vaccinated because in the earlier stages of the pandemic, pregnant women who are healthcare workers, or at higher risk, will have been vaccinated, however the NHS did not have a way of recording that they were pregnant.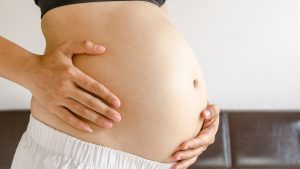 The Royal College of Obstetricians and Gynaecologists carried out a survey in June this year which revealed that only 42% of women who were offered the vaccine accepted it, and of those who had not yet been offered the vaccine, only 40% said they would accept it.
We saw recently that Jacqueline Dunkley-Bent, Chief Midwifery Officer for England, has been urging pregnant women to get the vaccine and this is something we have been pushing for for a while. There was a lot of publicity following her announcement and since then we are beginning to see more pregnant women shift in favour of having the vaccine.
Is there an optimal time during pregnancy that women should be taking the vaccine?
All the data suggests that the vaccine is safe at any point in pregnancy. In terms of when to have it, it appears that the time of greatest risk for pregnant women getting COVID is the last trimester, so 20 weeks onwards. In an ideal world, you would make sure that you had both doses of the vaccine by the time you reach that last trimester of pregnancy. At the moment, the government is recommending an eight-week interval between doses and with the current Delta variant, it seems that you need both doses to get a decent level of protection. All in all, I would say the sooner you get the vaccine the better but at the very latest, try to make sure you have had the second dose by 26 weeks so that it can take effect in your immune system and build up those antibodies.
It is also worth noting that a recent study from the UK Obstetric Surveillance System (UKOSS), which looked at all the pregnant women admitted to hospital with COVID in the UK over a two month period, found that 90% of those women were unvaccinated. The remaining 2% had just one dose and there was not a single woman who had both doses of the vaccine who was admitted to hospital, so I think that data is quite powerful.
How is COVID-19 being monitored in pregnancy?
In the UK, there is the Yellow Card System run by the Medicines and Healthcare products Regulatory Agency (MHRA) so anyone, be they doctor, midwife, nurse or patient who has had a vaccine can report any adverse effects, whether or not they believe them to be related to the COVID-19 vaccine.
There is also the Inadvertent Vaccination in Pregnancy (VIP) for women who have inadvertently been given certain vaccines in pregnancy and did not know they were pregnant at the time of immunisation.
In the US, the Centers for Disease Control and Prevention (CDC) are monitoring a proportion of the pregnant women who have been vaccinated. Similarly, a UK trial called PregCOV-19LSR will see researchers at the University of Birmingham recruit 600 pregnant women who will receive vaccine doses at different intervals to see what the most effective regimen is. These women will be monitored very closely during pregnancy and for a year after the birth.
Do you think anything could have been done in the early stages of the pandemic to better support pregnant women?
I think the key thing was that pregnant women were excluded from the initial vaccine trials. That is standard practice for new drugs and new vaccines and for years we have been appealing to drug companies and regulatory authorities to include pregnant women in these trials. In the normal course of events, a new drug goes through trials with people who are not pregnant, it is then licenced for those people, then gradually, almost by default, over the next five to 10 years some pregnant women take it and then somebody accumulates that data and publishes it. By which time we then say okay, it appears to be safe in pregnancy and then, as a result, it becomes more mainstream to use in pregnancy. This process means that for typically a decade, pregnant women are denied the potential benefits of new treatments. With the COVID-19 vaccines that whole process was sped up and pregnant women were introduced, because it was so important that they were not excluded from this health benefit. The real lesson here is that pregnant women must be and should be involved appropriately in trials of new vaccines and new medicines in a safe way. They must be included from an early stage so that the safety in pregnancy is not proved by default after 10 years of a new medicine being released.
Dr Pat O'Brien
Consultant Obstetrician and Vice President
Royal College of Obstetricians and Gynaecologists
www.rcog.org.uk
This article is from issue 19 of Health Europa Quarterly. Click here to get your free subscription today.
Recommended Related Articles