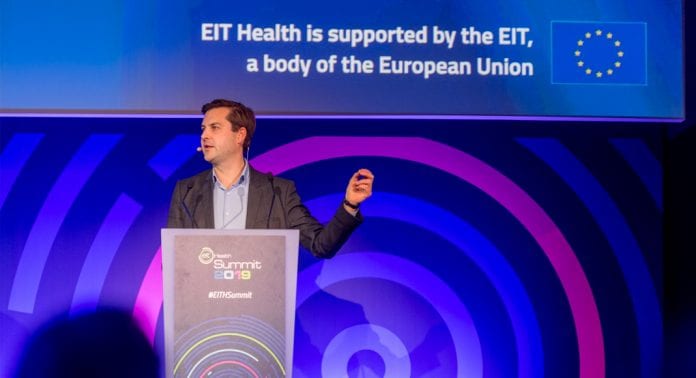 Creating high value for patients is the overarching goal of care delivery, but can the challenge of accomplishing value-based healthcare in the evolving health industry be achieved?
We attended the EIT Health Summit in early December, hosted in Paris, France, where experts from all phases of the innovation pathway shared valuable insight; from defining real value-based healthcare and the impact for patients and citizens to understanding changing evidential needs and defining what really matters in the world of healthcare.
Aand we've arrived at the EIT Health Summit 2019 – Ready to delve into the world of health and innovation ✨@EITHealth | #EITHealth | #EITHSummit pic.twitter.com/4prqgkaILC

— Health Europa (@HealthEuropa) December 2, 2019
Here, more than 1,000 multidisciplinary stakeholders representing the entire healthcare innovation landscape came together for two days to hear from and interact with experts, opinion leaders, decision makers and cutting-edge innovators on the topics most relevant in healthcare today. Health Europa Quarterly had the pleasure of not only attending the summit but also interviewing the CEO of EIT Health, Jan-Philipp Beck.
We've just had the incredible opportunity of interviewing Jan-Phillip Beck (@JanPhilippBeck) the CEO of @EITHealth and Professor Alexander von Gabain, Chairman of the #EITHealth Supervisory Board✨Stay tuned to read the interviews and more about #EITHSummit on Health Europa! pic.twitter.com/MihqHS90dr

— Health Europa (@HealthEuropa) December 3, 2019
Let's talk about value-based healthcare
Jan-Philipp Beck, by training, is an economist and political scientist. Driven with passion and commitment, Beck is on a mission to revolutionise healthcare; and at the summit, we had the opportunity to delve into the world of EIT Health. Here, we learned about their vision of connecting the healthcare needs of European citizens with policymakers and their incredible network of partners.
As CEO of EIT Health, Beck is dedicated to transforming healthcare in Europe through partnership, innovation, and conversation; and at the summit, there was a vital concept that Health Europa explored further with Beck: value-based healthcare.
Value-based healthcare (VBHC) is gaining momentum and is slowly becoming the focus of many healthcare reform efforts around the world. The concept promises to curb the rapid increase in healthcare costs by offering a more effective and sustainable approach to the allocation of scarce healthcare resources. However, the task of delivering better patient outcomes is not an easy one.
Talking to Health Europa, Beck highlighted what Europe is missing in terms of partnership and innovation, the obstacles in this sector, and how value-based healthcare can be made more visible.
#EITHealth CEO @JanPhilippBeck discussed how EIT Health is targeting projects that specifically address the need for greater accessibility to data, and subsequently achieve more transparency for better patient outcomes.#EITHSummit#HealthcareInnovation pic.twitter.com/29diaeK1QZ

— EIT Health (@EITHealth) December 2, 2019
What would you say is the main driving force behind your passion for transforming healthcare in Europe through partnership and innovation?
When it comes to innovation, we can help and support individuals to live longer and healthier lives. There is an enormous opportunity here and I believe that it is possible to step towards a paradigm shift that will move patients more into the centre and align innovation towards the patients. And this, I believe, can only be achieved by working together.
Personally, I have always worked in international settings and there is huge potential in Europe working closer together and engaging more with the world. Many of our countries are very small, and although bridging cultural differences in the diverse ways we work is often difficult and cumbersome, however, once you have cracked that code and have moved past the obstacles, there are enormous opportunities.
With your passion in mind, what more can be done when it comes to the notion of transforming healthcare? What do you think Europe is missing in terms of partnership and innovation?
I believe that particularly still in Europe, it is not only about having more appetite for risk but implementing this in a smart way. We need to be braver with innovation, as that can be transformative; we need to take that leap and not be afraid of disrupting the existing deep-rooted traditions of healthcare.
However, at the same time, we need to ensure this is implemented in an effective way. It is vital to ensure the appropriate level of expertise is involved, along with more investment and capability. Moreover, we also need to ensure that innovation is not only a technology-driven approach but that it is driven by what we need. When it comes to healthcare in Europe, we should be much more creative.
It is important to highlight that we are currently very much behind in terms of exploiting the potential that digitalisation offers, and we need to be brave and accept that Europe will look very different in 10 years' time.
In terms of innovative healthcare solutions, what are some of the biggest obstacles you have come across and how are these overcome?
If we specifically look at digital health and the solutions and opportunities that are there, we are facing a challenge. In many cases, the way the evidence is generated is not clear. The regulatory pathway is not clear, and it is not clear in every single country in Europe as there is not one regulatory pathway to reimbursement in Europe. As a result, there is fragmentation and a lot of insecurity.
Europe brought forward, for example, new medical device regulation and implementation of such regulation always comes with challenges. The notified bodies are not fully there, which could potentially slow down innovation if not rectified. When innovation is moving at such a great speed across Europe it's difficult for regulation to keep up; however, we are hopeful that we are moving in the right direction and this will improve with time.
One of the things EIT Health have done in terms of addressing this is that we have tried to identify particular problems along this pathway and bring policymakers in different regions together. We have what we call the 'think tank', which essentially consists of round tables in different regions: the aim of this is to focus on topics such as how can we improve an innovation pathway, where do we see friction in this pathway and how can we identify the particular issues that are seen by many stakeholders. From these round tables, we then discuss this further with policymakers with the goal of implementing change.
It should be noted that one of the biggest issues is of course that sometimes incentives are still not aligned in the best possible way. If you want to incentivise a view more towards actual patient outcomes, you cannot only reward volume spending. That does not really work.
How can value-based healthcare be made visible? Why is it that the concept is hindered by a lack of transparent and standardised outcome data?
First of all, I think we need to get value-based healthcare out into the public domain in a more simplified manner. The term alone is odd, and we need to simplify that. In addition to this, we need to explain to people what has to change and then bring radical transparency into this. This needs to be accomplished in a way that does not blame health professionals.
With this, we need to continue to ensure innovation in healthcare is truly driven by real patient need in order to give people the confidence that any transformations to long-held traditions in healthcare are meaningful. With this in mind, transparency is also an important topic in healthcare, and EIT Health is strongly focused on ensuring a high level of transparency in the activity we support to allow people to make better-informed choices.
We also need to understand how patients can make choices for their health when they are still healthy because once you are sick, your judgement is likely to change. Overall, I think transparency and simple language are key.
Jan-Philipp Beck
CEO
EIT Health
Tweet @JanPhilippBeck
Please note, this article will appear in issue 12 of Health Europa Quarterly, which will be available to read in February 2020.
Recommended Related Articles