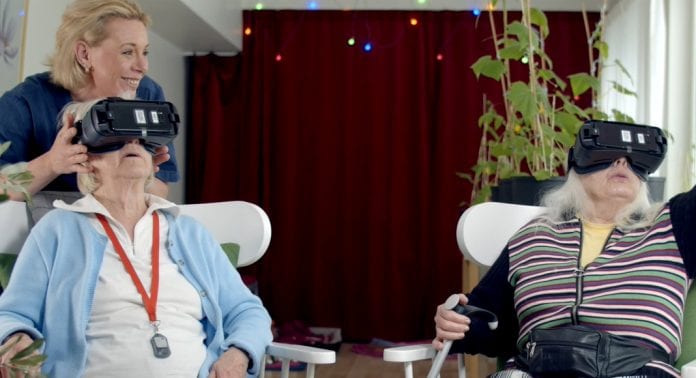 Ivan Perlesi, founder of Virotea, tells HEQ about the benefits of VR in care.
Swedish technology innovator Virotea has developed a pioneering virtual reality (VR) service enabling elderly and limited mobility patients to explore the world virtually without leaving the room. Ivan Perlesi, founder of Virotea, tells HEQ about the benefits of VR in care.
What inspired you to create Virotea?
What inspired me was trying virtual reality and seeing the world: I was amazed of how much you can explore from your own living room. Later on my dad also tried it – he's a psychiatrist – and he said that this should be applied for people in healthcare facilities, like homes for the elderly and people with disabilities.
ViroteaVR was made possible with the help and support of the company Vardaga, a Swedish provider of elderly care; which really saw the benefit offering virtual reality for their elderly patients and wanted Virotea to help them.
What psychiatric benefits have you observed in patients using VR technology?
While we have seen considerable benefits in users, our service isn't yet approved as a medical treatment – we haven't conducted full clinical trials – but we still have customers who enjoy using the service. And the reason they want to use it is that we can see in a lot of cases it activates the brain's reward system, meaning users pay closer attention; they get happier and become more motivated. It can also address the feeling of identity, where people begin to ask: 'who am I, what have I done with my life?' Just living in a care home for 10 years can often lead to people feeling isolated, they lose that social interaction. We tried to stimulate the brain by showing them places around the world that they might have been to before, or that they might never have been.
As an example, we had one resident who almost never spoke to anybody for a long time, but we showed him a picture of Iceland through ViroteaVR – and no-one knew, but he had lived and worked in Iceland for six months when he was younger; so he was happy and began to talk about the memories and open himself up.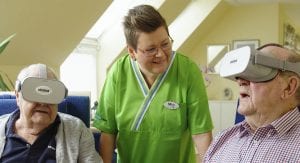 What types of VR experiences can Virotea offer?
We have pictures and videos from all over the world. Users can log into their account on our system and that will allow them to gain access to different folders of content from places such as London, Las Vegas, Thailand or South Africa; and they can play the videos [as a VR experience]. This can be used as a group activity: a group of users will sit around the table and put on the VR headsets; and then the staff control the session for them. The patients don't have to do anything [to set up the technology]; they can explore the experience freely.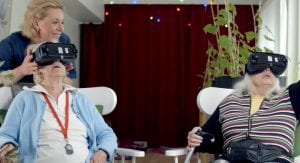 Could ViroteaVR be implemented in other fields, outside of elderly care and the treatment of immobile patients?
People with disabilities often experience similar problems to elderly patients: they need assistance in large parts of their lives; and they're limited in their opportunities because a lot of experiences can be draining for them. This is where VR can assist them, because they don't really have to do much – they can just sit down and look around, and they can still gain a meaningful activity.
One of our clients is a juvenile detention centre in Sweden: the inmates are people under 18, they're not allowed to leave the facility and they are subject to very strict rules governing internet access, but they still need education; so they use our ViroteaVR tool in their education. They can virtually visit the Pyramids and then write an assignment about them. The available evidence indicates that VR has given them more motivation and focus for the assignments, which then leads to better results overall. This means ViroteaVR has proven to be useful for a greater range of audiences, not only the elderly and people with disabilities.
Could ViroteaVR be particularly beneficial to people in self-isolation or under quarantine during the Covid-19 pandemic?
The Swedish model for quarantine is much less strict than many other countries – you're still allowed to do a lot of things – except for in elderly care. Nobody's allowed to visit the elderly; there are very strict rules governing when they can go out, so they are pretty much forcibly isolated. Using ViroteaVR, our customers are still able to see a range of things outside their homes: last week while some of our customers were nominally in isolation, they were able to virtually visit Las Vegas, for example.
So they're still exploring things, even though they're not allowed to actually leave the home. One of our great clients, Förenade Care, posted a picture on social media of their elderly residents using ViroteaVR to visit both Berlin and Bali during their period of isolation.
Ivan Perlesi
Virotea
+4670 452 12 24
www.virotea.com
This article will appear in Issue 13 of Health Europa which is out in May.