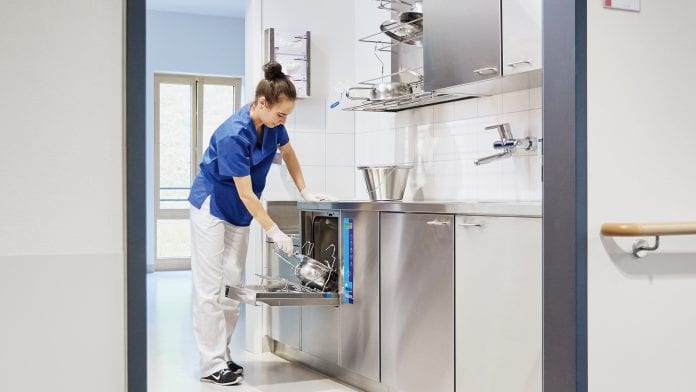 Warewashing specialist Meiko's new generation of washing equipment is taking pressure off the ward during the COVID-19 crisis.
From face masks to dishes to bedpans, warewashing has evolved to help hygiene control for frontline medics. The COVID-19 crisis has highlighted the increasing importance of the equipment made by warewashing specialist Meiko. A new generation of washing equipment is taking pressure off the ward.
Whether it is washing:
Face masks and breathing apparatus worn by medical staff;
Bedpans; or
Food transport boxes, dishes, glasses, pots, pans and cutlery,
MEIKO can claim to be a world leader in warewashing innovation which is helping with infection control across many sectors.
Face mask washing
The COVID-19 crisis has forced an increase in the use of commercial face masks. Earlier this summer the first UK hospital began using Meiko's automatic face mask washing system to protect staff, guarantee disinfection and eliminate the risk of aerosol transmission.
A similar system is also in use at a leading UK engineering shipyard, washing and disinfecting high specification breathing apparatus which protects workers from harmful gases as well as dust and bacteria.
Machine washing provides labour savings and sustainable gains from using less energy and chemicals compared with washing by hand, but the most important aspect of Meiko's automatic mask washing system is improved protection for staff because it eliminates the risks associated with hand washing by preventing the release of aerosols potentially containing the virus or healthcare-acquired infections (HAIs).
Meiko designed an automated washing and disinfection system that eliminates manual washing of masks by working with major employers in Germany and the leading mask manufacturers. Now this innovation is available in the UK. This development has only been achieved with the full commitment and approval from the major mask manufacturers.
Key benefits of Meiko's warewashing technology
Up to four half face masks as used by UK hospitals can be cleaned and disinfected in six minutes;
Automatic and failsafe disinfection process;
No aerosols anymore, fully sealed washing system;
Establishes clear separation between clean and dirty;
No direct contact with chemicals and no need to clean by hand;
No residues on the PPE; and
Takes pressure away from the ward.
Certified to kill coronavirus, C. diff and HAIs
At the start of the COVID-19 pandemic, none of us knew what we were dealing with.
What makes Meiko different is that we are a foundation company: Meiko's mission is to make the world a cleaner and more sustainable place by using innovative technology for warewashing, cleaning, disinfection and food waste handling. This is why Meiko immediately went to an independent academic specialist to prove without a doubt that Meiko's dishwashing, mask washing and bedpan washing machines kill the coronavirus, providing our customers with total reassurance at a time of great uncertainty.
Meiko warewashing kills Coronavirus
Dr von Rheinbaben is the author and co-author of several specialist books and numerous articles in the fields of hygiene and infection prevention and assists industrial companies with questions of technical and industrial hygiene. He built up the virological department of Henkel KGaA and later worked for ECOLAB; and can now look back on over 25 years of research and development in both large companies.
Clostridium difficile and hygiene management for care utensils
Meiko has published a report focusing on effective cleaning using washing and disinfection machines. Find out more on the Meiko website or Google search: 'Meiko white papers Clostridium difficile'.
Bedpan washers: break the HAI cycle with better care for patients and improved protection for staff
Human excreta is taking on more importance due to increasing antibiotic resistance. The longer the route to a clean bedpan, the greater the risk of human and environmental contamination. Manual cleaning of bedpans must stop: it is old fashioned, inefficient, labour intensive, unpopular with staff; but most of all, it is dangerous because it degrades hygiene and acts as a reservoir of contamination.
Disposables and macerators also come with inherent risk. It is not easy to tell when macerators are full; and they block with misuse – especially by untrained, temporary or new staff – which then creates a tricky problem that must be addressed promptly. If they break down and require maintenance, the sourcing of technical support creates extra work for both the estates departments and the suppliers; some, but not all, offer excellent service.
Macerators also risk aerosol contamination, both as the disposable pan is transported and as air is displaced outside the machine when the pan is inserted.
Disposables are notorious for being uncomfortable to use, for leakages and for being costly in the long term, including the sometimes forgotten costs of reprocessing bedpan supports. Macerators also have a reputation for excessive noise when used in en-suite rooms where front loading, flush mounted models are preferred.
Meiko is delighted to highlight the low cost in use of its systems, compared to the ongoing drain of disposables. Meiko's excellent build quality means a long working life, ensuring Meiko washer disinfectors are highly cost effective.
Break the infection cycle and get free of archaic and unsanitary toilet management
High quality stainless steel and polypropylene bedpans and lids prevent contaminating the environment and the hands. Every patient has the right to receive clean items; and staff deserve the very best protection and the highest level of technical support from external suppliers.
Meiko offers a range of bedpan washing solutions available with local sales and training support, industry leading technical services support; plus our no hidden costs three- and five-year 'no bills' guarantee, for complete peace of mind. The disinfection performance of Meiko cleaning and disinfection machines, utilising the magic combination of mechanics, heat and chemicals, is validated according to EN ISO 15883-3.
The gold standard for hygiene: Meiko washer disinfectors are guaranteed to break the HAI cycle
Meiko's TOPIC and TopLine bedpan washer systems ensure every hospital patient or care home resident receives sterile toiletware which is comfortable to use. Hospital staff are protected and the risk of spreading infection is reduced to the absolute minimum.
Good toileting management means:
Every patient receives clean items, comfortable in use; and
Staff receive the best possible protection.
Meiko bedpan washer systems are ideal for repeatable room arrangements with en-suite facilities. Meiko models are among the quietest machines, with dba results as low as 48.2 without additional shielding.
Care utensils are automatically, discreetly and reliably emptied. They are then cleaned and disinfected within a closed environment, in a process that is pleasant and convenient for the staff. Flush mounting is possible, ensuring clean lines and impressive presentation of toileting facilities. A range of counter and cupboard accessories including sinks ensure adequate storage for utensils, seamless installation and easy cleanability.
Macerators only reduce the risk of HAI aerosolisation; Meiko washer disinfectors prevent risk of infection entirely, because they drain the bedpan and/or urine bottle inside a sealed, closed system. No aerosols are emitted.
Other key benefits include:
Cut the ongoing cost of disposables and provide a gold standard of hygiene in the long term;
Use of lidded bedpans minimises air contact. Well-designed accessories such as vomit bowls and urine containers also help ensure maximum hygiene; and
Meiko's 'made in Germany' manufacturing means proven build quality and reliability, along with first class breakdown and technical support from Meiko UK.
Washers that leave dishes, glasses, pots and pans free from COVID-19 contamination
German manufacturer MEIKO Maschinenbau GmbH & Co. KG. is proud to be a leading innovator in warewashing and food waste handling solutions. Our largest dishwashers include thermal disinfection models and are used in hospitals throughout the UK. They are, we believe, the most user friendly and sustainable on the market.
We have testimony to our wash quality and the high level of our technical support service from many hospitals on our website; including Frimley, Gloucester, Morriston, Princess of Wales, Queen Elizabeth, Royal(s) Devon, Glamorgan and United, St Cadoc's and St George's.
Our smaller products include under-counter ward-level dishwashers with integral reverse osmosis, simplifying installation and use while eliminating the need for troublesome water softeners.
All supported with the finest technical services for Meiko UK customers
Meiko pledges engineer response within eight working hours for contracted customers, as well as:
Technical support, on call, seven days a week, 363 days a year;
Person-to-person call handling;
Guaranteed response times;
Highest first-time fix rates in the UK food service industry;
Top 250 spares carried in vehicles; and
In-house factory trained engineers and service partners.
Meiko UK has put in place a level of after sales service that no other warewashing supplier can hope to achieve. Meiko engineers are trained to repair as well as replace, and – because we only work on warewashing equipment and associated food waste handling – Meiko UK offers the most highly regarded technical support services in the UK.
All Meiko's directly employed UK engineers are trained in-house at our dedicated training facility in Slough and at Meiko's manufacturing base in Offenburg, Germany. Meiko UK has invested heavily to ensure that our service delivery remains consistently running at 96% or above.
Meiko is the gold standard for hygiene
Be on the safe side, with Meiko.
As a manufacturer with a pre-eminent position in the healthcare and care home sector, Meiko has contributed to setting the industry standards, not only in hygiene security and safety, but in delivering a product that meets strict price and performance criteria. Meiko UK offers expert advice on selecting the most suitable washer disinfector solutions, including equipping and designing sluice rooms and en-suite facilities. Our three- or five-year 'no bills' pledge ensures there are no hidden costs following purchase, guaranteeing complete confidence in our product and service.
For more information call 01753 215120 or email meikouk@meiko-uk.co.uk, or to find out more about how Meiko's products and services take pressure away from the ward and out of the hospital kitchen, visit www.meiko-uk.co.uk.
Paul Anderson
Meiko UK Ltd
+44 1753 215120
meikouk@meiko-uk.co.uk
www.meiko-uk.co.uk/en/
This article is from issue 14 of Health Europa. Click here to get your free subscription today.