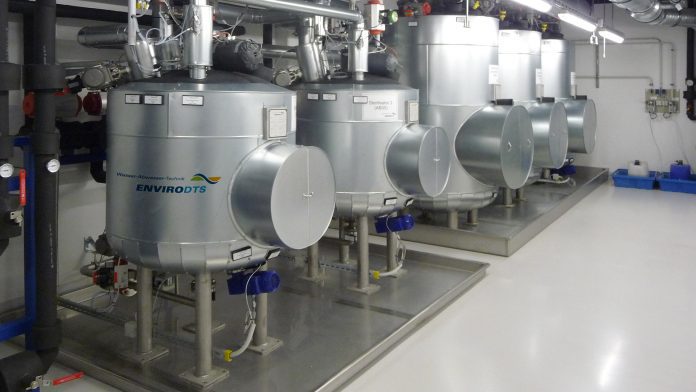 State-of-the-art water management solutions for health facilities ensure hygienic water quality while being sustainable, energy-efficient and keeping operating costs to a minimum.
Hospitals, research institutes and testing facilities have stringent requirements when it comes to water quality for various applications. Firstly, they require ultrapure water for injections (WFI). Secondly, wastewater that still contains active substances or hazardous ingredients must be treated in a reliable manner so that it can be fed into the sewer system without presenting a hazard to people and the environment. The EnviroWater Group, a network of companies specialising in a variety of water-related fields, offers individual solutions to meet these challenges – reliably, sustainably and while keeping costs to a minimum.
In hospitals, patient safety comes first. Medical equipment and supply systems must work reliably and optimally for as long as possible without compromising quality and efficiency. Water must be available at all times and in hygienically flawless quality. Wastewater generated in clinics, research institutes and testing facilities may only be discharged into the sewer system when it is free of germs, pathogens, or hazardous substances.
The right expert for every task
When implementing the appropriate plant solutions and services for the – often complex – requirements of various water qualities, it is best to call on industry knowledge of experienced water management specialists. This allows the operators of health facilities to concentrate fully on their core area of expertise. The EnviroWater Group offers individual solutions for all possible water qualities, providing a range of benefits. Moreover, the holistic approach towards water management and wastewater treatment offers further potential for savings.
In health facilities, water must be treated in a number of areas:
Purified water (PW) and water for injections (WFI), i.e. for the in-house production of medications in hospital pharmacies;
Water for cleaning, cooking and preparation technology in large kitchens;
Boiler water for plants used to generate heat, steam and electricity;
Cooling water and cooling water recycling;
Heating water;
Water for exercise and therapeutic pools;
Wastewater treatment for the reliable removal of germs and pathogens, e.g. from quarantine stations; and
 Reliable decontamination of radioactive wastewater from nuclear therapy stations and PET centres.
The following practical examples show how water management experts from the EnviroWater Group have implemented custom plant solutions to achieve the water qualities required for the respective task.
Pharmaceutical water for the hospital pharmacy of RKH Kliniken Ludwigsburg-Bietigheim
A logistics centre and a hospital pharmacy were built as a new permanent building for the RKH Kliniken Ludwigsburg-Bietigheim group of hospitals.
The pharmacy is to have a variety of functional areas. Alongside sterile production, a facility was planned in which finished medicines were to be manufactured in single-part production and on a small industrial scale. These processes require purified water (PW) in line with the European Pharmacopoeia (Ph. Eur.). EnviroFALK PharmaWaterSystems customised, designed, manufactured, installed and tested the plants in line with all GMP guidelines. The PW treatment system was designed as follows:
Drinking water pre-treatment/filtration and water softening plant with thermal sanitisation;
pH-controlled dosing system for sodium hydroxide;
Fine filtration;
Two-stage reverse osmosis plant with thermal sanitisation, 60 litres per hour;
Stainless steel PW storage tank, 750 litres;
Storage and distribution system with approx. 100m ring line (stainless steel)
Ozone generator including an ozone measuring device, switchable;
UV disinfection/ozone reduction in loop;
Conductivity measurement in the return flow; and
Functional link of control cabinet with Siemens SIMATIC S7/300.
All quantitative and qualitative parameters of the generation system and the storage and distribution system were accepted by the operator within the scope of the qualification steps (DQ, IQ, OQ and PQ) and were successfully integrated in the production process.
The combination of thermal sanitisation of the generation system and ozonisation of the storage and distribution system ensures stable production of pharmaceutical water for the manufacturing of medicines at the hospital pharmacy.
Plant technology and water management for isolation ward
A hospital in Berlin houses a centre of expertise for the treatment of life-threatening imported infections, i.e., viral haemorrhagic fevers (VHF). The hospital is a treatment facility for soldiers working for a large German organisation but is also part of the German health system.
In the infection ward, patients subject to mandatory isolation are cared for in two separate units, each of which contains an airlock and a vacuum unit. This prevents the airborne spread of pathogens outside the wards.
Sterilisable instruments from the wards are treated in decontamination autoclaves. Only treated water is supplied here, as per the specifications of DIN EN 285. The strict limit values for pure water ensure that no infections or cross-contaminations are transmitted from the cleaned instruments. Pure water treatment systems from EnviroFALK easily adhere to the limit values specified in DIN EN 15883 and DIN EN 285:2021-12.
Alongside the pure water treatment system for supplying the decontamination autoclaves, EnviroFALK planned and installed the fully independent drinking water supply via a drinking water separation station. This category-five safety device as per DIN EN 1717 protects the hospital's entire drinking water network from contamination from the isolation ward.
In addition, EnviroFALK installed the central pure water treatment system in line with DIN EN ISO 15883, which is used to store and distribute pure and ultrapure water. Thanks to the special plant design, the desired water quantities and qualities are prepared for the individual areas of application in a cost- and energy-efficient manner. A complete ring circuit system for the treatment of pure and ultrapure water under cleanroom conditions was also planned and built. A filtration system conforming to the requirements of the Commission for Hospital Hygiene and Infection Prevention (KRINKO) was also installed, with terminal bacteria filters for highly immunocompromised patients.
EnviroFALK has been operating the water plants on behalf of the customer for a year. This includes the entire water management of the pure and ultrapure water systems.
Reliable inactivation of wastewater from BSL3 and BSL4 areas
The Robert Koch Institute (RKI) in Berlin and the National Institute for Public Health and the Environment (Rijksinstituut voor Volksgezondheid en Milieu, RIVM) in Utrecht, the Netherlands, are independent research institutes. Alongside government ministries, their clients include the European Union, the World Health Organization and the United Nations. EnviroDTS was commissioned to install wastewater treatment facilities for the new buildings of the RKI (2016) and the RIVM (2022). Laboratories conducted preliminary tests to determine the exact parameters for wastewater disinfection, which then served as the basis when designing the plants. At both institutes, thermal plants were used to disinfect five cubic metres of BSL3 and BSL4 wastewater daily at 121°C for a duration of 20 minutes. EnviroDTS also planned and laid the entire laboratory drainage system with welded stainless-steel piping free of dead spaces. When performing inspection work, the drainage pipes to the plant can be reliably disinfected by chemical means, while the pipes inside the plant can be disinfected thermally.
This article is from issue 24 of Health Europa Quarterly. Click here to get your free subscription today
Contributor Details