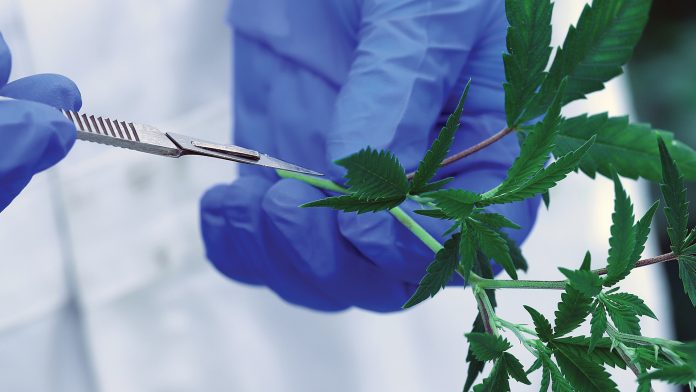 The medical cannabis producer, Wayland Group, is committed to building brands that consistently offer best-in-class products across medical & non-medical cannabis categories.
Wayland is a vertically integrated cultivator and processor of cannabis. Founded in 2013, the company is based in Burlington, Ontario, Canada, and Munich, Germany as well as Argentina, UK, Malta, and Italy. The company operates a cannabis cultivation, extraction, formulation and distribution business under federal licences from the Government of Canada, at its production facilities in Langton, Ontario. In addition, Wayland has production operations in Dresden, Saxony, Germany, and Regensdorf, Switzerland.
Strong foundations and talent
Wayland is built on the foundation of operating as a medical cannabis producer and engages in all lines of business according to global medical production standards. Its medicinal products are researched, developed and distributed with a patient-centric approach. Wayland believes in applying the same meticulous standards of its medical cannabis operations to all non-medical brands.
Committed to improving the communities it operates and lives in, Wayland shows their commitment by living its company values every day:
Innovation: Blazing new trails with a therapeutic plant with documented uses and applications throughout human history over thousands of years
Excellence: Leading together through superior performance, ensuring quality product, retail experiences, education and information
Respect: Operating alongside its business partners, customers and communities with the utmost integrity
Accountability: Guaranteeing that we always deliver on what we say and do
Balance: Being equally committed to customers, employees, business partners, investors and stakeholders.
The company supports its business with government relationships that ensure it successfully navigates complex regulatory environments with a focus on safety and accessibility.
Wayland's breakthrough R&D and manufacturing practices are at the very heart of its business and are delivered with close attention to the company's environmental impact.
The goal is to have the lightest and most sustainable imprint possible.
Wayland's strong background allowed for a seamless transition into the consumer cannabis market while maintaining the same medical standards across all brands. The company's background in medical cannabis also allows them to bring a unique perspective to the development and marketing of cannabis products spanning the non-medical and health and wellness spaces.
Wayland's long history of hiring and developing high-performing talent has been a key part of its success. The team is a carefully curated group of individuals, with extensive experience in healthcare, pharmaceuticals, alcohol, distribution and global entrepreneurship. Each member brings unique skills and insights to form a dynamic team that is stronger than the sum of its parts and is ready to take on the ever-changing cannabis industry.
Brands and retail
Wayland is committed to building consumer brands that consistently offer best-in-class products across the medical and non-medical cannabis categories. Wayland has taken a purposeful and consumer-centric approach to each of its brands and product offerings, validated and optimised with in-market consumer research.
The strains available under each brand were selected to align with brand positioning and satisfy the expectations of the target consumers.
Core brands
Kiwi makes it simple to enjoy cannabis on any occasion. Kiwi is a brand for beginners and novice users that explains cannabis concepts in a straightforward way, helping users learn about cannabis without condescension or confusing jargon. Kiwi's products are equally as simple, grouping strains under memorable product names that allow users to choose how they want to feel by analysing terpenes and genetic profiles. This brand allows users to enter the category with low-THC and balanced strains.
Northern Harvest is a familiar brand for light users who may have experimented with cannabis in the past but don't consider themselves regular users. Northern Harvest groups strains under consumer-friendly product names that make it easy to choose the right product for any occasion, whether it's at a backyard get-together with friends or before heading to a music festival. Northern Harvest is a brand that welcomes everyone with open arms and is always ready for a good time.
High Tide is a brand for experienced cannabis users who know what they want and are looking for high-THC strains. The High Tide products are strain-forward because High Tide users know exactly what they want. High Tide focuses on premium strains with a high percentage of THC, appealing to experienced cannabis users who are looking for some of the most powerful cannabis available.
Partnerships and technology
In the rapidly changing cannabis space, it is important to be nimble in order to stay ahead of the curve. Wayland has built partnerships that improve consumers' access to the best products around the world as well as invested in industry-leading research and development. This strategy allows the company to use leading technology to develop high-quality and technologically advanced cannabis products that are sold around the world.
Some examples include the following.
AI DATA GROW
Wayland captures all data: every drop of water that goes to each plant, light cycles, nutrients, humidity, temperature. We can build from this data to optimise future production, perfecting the environment and grow cycle, while removing the risk of inconsistencies from the loss of key individuals.
Rockwell automation
We are the first to take standard off-the-shelf automation and customise the software to create an automated cultivation facility. The Artificially Intelligent Master Grower can efficiently produce high-quality products.
Energy efficiencies
Natural gas cogeneration facility on site reduces electricity costs. All energy is from one source: heat, electricity and CO2. All water is recycled through a state-of-the-art biofilter, only 10,000 litres of waste in a year.
VESIsorb technology
Wayland has brought the best of the pharmaceutical world to cannabis. VESIsorb is used in lipophilic drugs (fat soluble) around the world and Wayland has the patent-protected global rights (ex-US) for use with cannabis. With both medicinal and non-medical applications for products such as beverages, edibles, capsules and transdermal products, VESIsorb provides for consistent and predictable dosing with rapid onset and greater absorption.
Global demand and presence
The global demand for cannabis is fast-growing and challenging a breadth of international players to bring best practices to a promising market. Wayland Group works tirelessly to bring innovative solutions to anticipate demand and enhance the lives of consumers with accessible products that facilitate physical and mental wellbeing.
Wayland is geographically diverse with operations in the following regions.
Wayland in Northern Europe: United Kingdom
By the numbers
Population: 65.6 million
2017 total healthcare expenditures: £221.7bn (~€256.1bn)
A global thought leader in the production, research and distribution of medical cannabis, Wayland has recently entered into an agreement to acquire 51% of UK-based Theros Pharma, an early-stage company that has successfully imported cannabis to the UK for patients with a prescription for medical cannabis.
This transaction enhances Wayland's global growth strategy and will provide the company with access to the UK market for sale and distribution of its products. Recent UK legislation allows for the prescription of cannabis from a medical specialist via a regular pharmacy model. Access to this burgeoning market, with National Health Service insurance coverage for medical cannabis to ensure patient outcomes, is a key strategic element of Wayland's global platform.
Wayland in Northern Europe: Germany
By the numbers
Population: 82.2 million
2017 total healthcare expenditures: €425.8bn
Proposed 820,000 square feet of clean-room cultivation, processing and extraction. 164 hectares (~405 acres) of outdoor industrial hemp cultivation
On 12 September 2018, Wayland shipped the first batch of Mariplant CBD capsules to be sold in Munich and the Greater Munich region followed by a shipment on 14 September 2018 to the Greater Cologne region
62% of patients have qualified for full health insurance reimbursement
The German patient population is growing exponentially – over 50,000 patients, up from ~800 in 2017
Export of 9,000 kg of EU-GMP certified cannabis flowers over a three-year term. Wayland agreed to supply
Cannamedical Pharma GmbH, who is a licensed, privately owned importer and distributor of cannabis in Germany to over 2,200 pharmacies
On 3 August 2018, Wayland's European nutraceutical subsidiary MariPlant commenced the harvest of approximately 405 acres of hemp.
Wayland in Northern Europe: Switzerland
By the numbers
Population: 8.4 million
2017 total healthcare expenditures: €54.3bn
Annual cannabis and hemp product sales: €87.9m
Currently producing from a 60,000-square-foot facility in Regensdorf, Switzerland, just outside of Zurich
Proposed facility upgrade to increase production by a factor of seven.
In Switzerland cannabis and hemp products can legally contain up to 1% THC, compared to the standard 0.2% seen across the rest of the continent. This legal quirk has led to a burgeoning hemp and CBD business, most notably of late, exemplified by the introduction of cannabis-infused cigarettes, which launched in 2017. Cannabis is a major contributor to the Swiss economy, with annual sales of legal cannabis and hemp products in Switzerland totaling around €87.9m annually or 1.5% of Swiss GDP.
Wayland in Southern Europe: Italy
By the numbers
Population: 60.6 million
2017 total healthcare expenditures: €54.3m
Established joint venture with CBD Italian Factory, a company of Group San Martino, November 2018.
Wayland in Southern Europe: Malta
By the numbers
Population: 440,000
2017 total healthcare expenditures: €887bn
• Finished dose, pharmaceutical manufacturing with EU GMP standards
• Access to local, highly skilled workforce with pharmaceutical background
• Ability to export into the European Union, avoiding 25% VAT
• Initial allocation of 2,750 square metres of industrial space.
Wayland in Latin America: Columbia
By the numbers
Population: 49.5 million
2017 total healthcare expenditures: COL$22.26bn (~€0.01bn)
Import/export opportunity
Bolster international supply chain
Proposed 415,000 square feet of greenhouse for processing, clone and vegetation
125 hectares of year-round outdoor growth.
Wayland in Latin America: Argentina
By the numbers
Population: 44.6 million
2017 total healthcare expenditures:
$43.4bn (~€38bn)
Member of the G20 with high rates of medical insurance coverage
Existing legality for medical CBD and medical cannabis research
Ideal micro climate in San Juan for cultivation
Existing infrastructure, including three phase power to multiple locations, fertigation in place with cement irrigation canals
New roads and hydroelectric dams to provide low-cost electricity and transport
Skilled labour force in San Juan.
Wayland in Canada
Langton is a low-cost, high-efficiency facility with a natural gas well and cogeneration facility on site, in addition to having all water recycled through a bio-pond. As a bonus, the incorporation of our Artificially Intelligent Master Grower, a highly automated system, allows for our labour force to cost a fraction of that of our competitors.
PHASE 1
218,940 square feetof grow and production space with annual capacity to grow up to 35,000kg per year.
PHASE 2A
Additional 196,392 square feet of grow space will add an additional 50,000kgs of production once fully completed.
References
The European Cannabis Report. July 2018. www.prohibitionpartners.com/europeancannabisreport/
Graham Farrell
Vice-President, Communications
Wayland Group Inc.
media@waylandgroup.com
Please note, this article will appear in issue 9 of Health Europa Quarterly, which is available to read now.