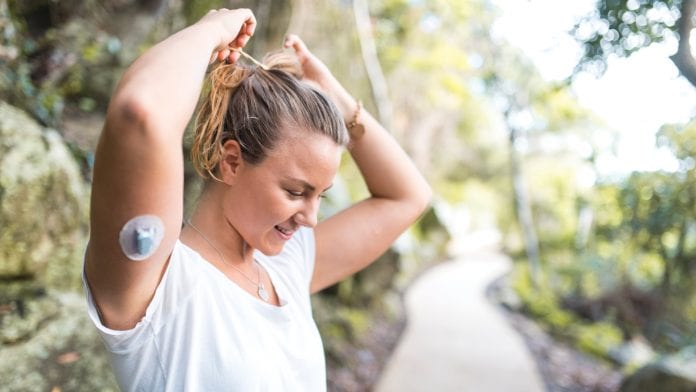 As digital technology becomes increasingly integrated into the practice of medical care, wearable medical devices are evolving both technologically and physically.
An estimated one in six consumers in the US reported using some form of wearable technology, from smart watches to heart rate trackers; and the market in wearable medical devices is projected to be worth €24.4bn by 2023. Devices and apps offering monitoring of physical data as a means of promoting behaviour change in order to enact preventive healthcare have grown in popularity; while the role of wearable technology in the health sector is seeing a shift from promoting overall wellness to active intervention and treatment of a variety of conditions.
Devices for diabetics hold more than 20% of the wearable medical devices market
Devices developed for the treatment and monitoring of diabetic patients held more than 20% of the market in wearable medical devices in 2018, with products on the market including glucose monitoring and insulin release systems.
Scientists and researchers are working towards development of further innovations for diabetes treatment, including contact lenses which detect the level of glucose in tears; an implantable capsule which performs the function of the pancreas; and socks and shoes which detect areas of the foot receiving inadequate blood supply.
North America holds a significant share in the wearable medical device market, with the US primarily responsible for the continent's high market share; due in part to the prevalence of diabetes across the US, which has 29.1 million diabetic residents. The market has shown slower growth in Europe, attributed to a relative lack of opportunity for new and emerging businesses to enter the market; however the dual factors of Europe's ageing population and a generous healthcare reimbursement policy across the EU mean this is expected to change – particularly as devices monitoring conditions traditionally overseen by medical professionals, such as heart health and diabetes, become more prevalent, leading to financial savings for medical providers and freeing up physicians' time.
One factor affecting the market growth of wearable medical technology worldwide is regulation: the US Food and Drug Administration strictly regulates the collection of data by third party apps; while in the EU, the General Data Protection Regulation commits companies operating within the bloc to stringent ethical guidelines.
Wearable brain devices
Wearable brain devices are marketed directly to consumers and often claim to confer benefits like boosting memory and modulating symptoms of depression – but despite the size of the market, little is known about the validity of these claims regarding the efficacy of wearable brain devices, and substantiated or not, the related ethical consequences or repercussions. A team of neuroethicists looked at the range of products being sold online and questioned the claims made by companies about these products.
Symptoms and side effects which could result from use of these products include redness or other irritation where the devices contact the skin, headaches, pain, tingling, and nausea.
Some of the products mention the possibility of side effects in their packaging, but no academic research has been conducted looking at how common or serious the effects may be; and the researchers noted that warning labels advising consumers about risk are largely lacking.
Additional caution may also be needed for use of neuroscience wearables in the elderly, another population that may have a higher risk of potential harm; as well as in children – to whom some of these products are marketed – who may be particularly vulnerable to their effects on the brain. Meanwhile the team raised concerns over the ethical implications of the wearable devices recording brain activity, highlighting that the collection and storage of data recorded by these devices had dubious implications regarding data protection.
Please note, this article will appear in issue 10 of Health Europa Quarterly, which is available to read now.