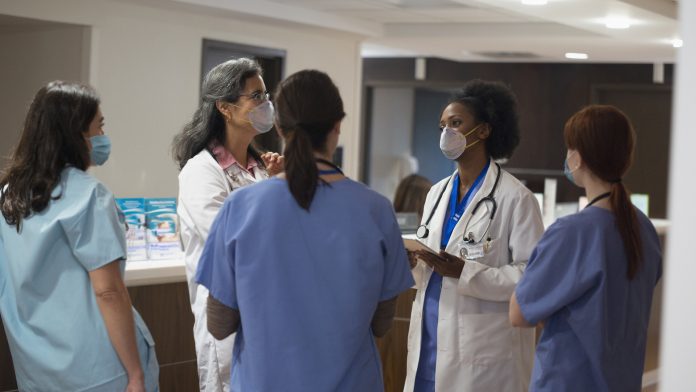 New research confirms that women in health and care sectors are paid 24% less than their male counterparts.
A comprehensive global analysis by the World Health Organization (WHO) has uncovered the shocking gender pay inequalities in the health and social care sector. This concerning data confirms that women in health and social care face a pay gap than in other economic sectors and men in the same industries.
The report is the most extensive analysis of gender pay in health and finds a raw gender pay gap of approximately 20 percentage points, jumping to 24 percentage points when accounting for factors like age, education and working time.
The joint report was headed by the International Labour Organization (ILO) and the World Health Organization (WHO).
The unexplained pay gap for women in health
The reasoning behind the pay gap is unknown. The list of potential explanations is extensive, from discrimination towards women to the fact the industry is female-dominated, driving wages down.
With women accounting for 67% of health and care workers, this highlights a major concern for the industry. Furthermore, typically the pay in these industries is lower compared to other sectors; this finding is consistent with wages being lower in other women-dominated industries.
The gender pay gap in the health and care sector: a global analysis in the time of COVID-19 report found that despite the critical role of health and care workers during the COVID-19 pandemic, wages increased marginally.
Additionally, they found a wide variation in gender pay gaps in different countries, which suggests that pay gaps in health and care are inconsistent. Within various countries, gender pay gaps are wider in higher pay categories, where men are over-represented.
The cost of being a mother in healthcare
Mothers working in the health and care sector appeared to face disparities in pay. For example, during women's reproductive years, employment and gender pay gaps in the sector significantly increase. These gaps continue throughout the rest of a woman's working life.
To understand what drives the pay gaps, the researchers analysed potential causes. Whilst differences in age, education, working time and participation of men and women in public or private sectors address part of the problem, it still does not explain why women in health are paid less.
"Women comprise the majority of workers in the health and care sector, yet in far too many countries systemic biases are resulting in pernicious pay penalties against them," said Jim Campbell, WHO Director of Health Workforce. "The evidence and analysis in this ground-breaking report must inform governments, employers and workers to take effective action. Encouragingly, the success stories in several countries."
Recommended Related Articles