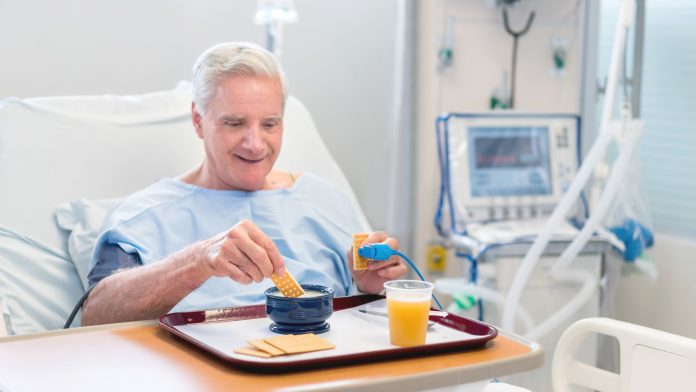 Integration of Datasym with WiFi SPARK® Media could save hospitals £182,000 (~€203,000) per year, helping to reduce food waste and improve patient catering in hospitals.
WiFi SPARK, a leading provider of WiFi and technology solutions for hospitals, today announces a new partnership with catering software company Datasym. By integrating Datasym's technology with WiFi SPARK's SPARK® Media platform, hospital patients can order meals using their own internet connected devices. The combined solution effectively replaces the current pen and paper process of meal ordering, essentially helping to reduce food waste, improve patient catering, and provides significant cost savings to hospitals.
Patient catering on another level
Today, meal ordering in hospitals can be a bureaucratic, inefficient and costly process. Hospitals that currently use pen and paper to collect meal orders face significant costs associated with printing forms, and delivering and collecting them on hospital wards – a time-consuming process.
This approach is also open to mistakes as it would be easy for staff to mistakenly offer meal choices to patients who are nil by mouth or offer diabetic patients options that may be high in sugar. Existing menu scanning systems provide a basic technical step forward, but don't take into consideration occasions when patients move beds, change wards or are discharged—their food is still delivered and goes uneaten.
Food wastage is a growing concern for the healthcare industry. According to WRAP, food waste costs the healthcare sector £1,900 a tonne—a combination of procurement, labour, utilities, and disposal costs, therefore making healthcare optimisation incredibly important. According to the 2017/18 ERIC report, NHS inpatient services wasted over 273 tonnes of food over a 12-month period.
By reducing costs and wastage, SPARK® Media Medic has the potential to save up to £182,000 per year in food-related errors for the average 600 bed hospital.
Reduce food waste
Chris Jones, Managing Director of Datasym, explains: "Food wastage is a huge problem for hospitals, which is why we're really happy to be partnering with WiFi SPARK to give patients, and hospitals, a better way to order food."
"With mounting pressures on hospitals to provide nutritional meals, the integration of our technology with the SPARK® Media platform ensures patients are able to make better food choices, all the while reducing pressure on staff, and on hospital budgets."
While the partnership gives patients the option to order meals through their own internet connected devices, or via devices supplied by hospitals, reducing costs by removing paper menus along with their distribution and collection, SPARK® Media also reduces food wastage in a number of ways.
A speedy, efficient system
As SPARK® Media is integrated with patient administration systems (PAS), medical conditions and history can be taken into consideration when patients order their meals. The PAS integration also means that patient whereabouts can be tracked, ensuring that food is not wasted. SPARK® Media also gives patients the option of different meal sizes (small, medium and large), to ensure that those who do not feel hungry, won't waste any food.
The Datasym and SPARK® Media partnership allows patients to view specific nutritional information for meals, helping to promote healthier choices.
For example, embedded allergy settings will mean patients are only presented with food that meets their specific needs, and won't be able to select certain foods from the menu, avoiding confusion and additional health risks when in hospital. Those on stricter diets will also have different options available.
While the technology is currently being used by patients, there is potential to deploy the solution for hospital staff, and improve staff catering services. It also has the potential to help the NHS meet its National Information Board: Paperless 2020 mission to reduce administration pressure and put more data in the patient's hands by shifting to digital platforms.
"Ultimately going to help the NHS save money"
"We chose Datasym because they're the best at what they do and it's really exciting to see the partnership come to life. Joining forces allows us to offer an important service through our platform, and one that is ultimately going to help the NHS save money," said Matt O'Donovan, CEO of WiFi SPARK.
"Our SPARK® Media platform is all about providing a better experience for the patient, and with the meal ordering services available through SPARK® Media, not only are we able to bring the hospital experience in line with consumer expectations, we can significantly reduce food waste and save hospitals hundreds of thousands of pounds per year."
WiFi SPARK and Datasym will be showcasing its joint solution at the Health Plus Care show, taking place on the 26 and 27 of June, on stand K45.
About WiFi SPARK
WiFi SPARK is the leading provider of guest and patient-access WiFi in the UK. The company is the owner and developer of the unique SPARK® Platform which delivers the most flexible, feature rich and scalable solution for guest-access WiFi on the market today.
WiFi SPARK specialises in WiFi in the healthcare sector and provides services to over 50% of the NHS Acute Trusts. WiFi SPARK has recently launched SPARK® Media, a revolution in patient entertainment, delivering TV, radio, educational content and more directly to the patients' device of their choice.