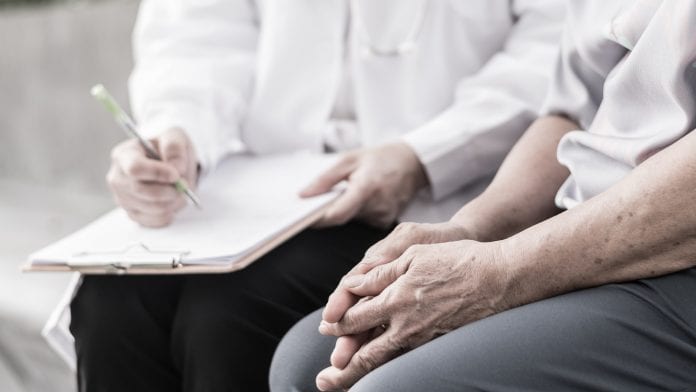 A team of scientists has developed a new method that offers the hope of developing a 'game changing' test that could diagnose and monitor the progression of Parkinson's Disease.
The team at The University of Manchester has developed a new technique that uses a skin swab to analyse compounds found in sebum – an oily substance that coats and protects the skin. It has been theorised that those living with Parkinson's Disease may produce more sebum – a condition known as seborrhoea – however, sebum is one of the lesser studied biological fluids in the diagnosis of the condition.
The study, which was funded by Parkinson's UK and the Michael J. Fox Foundation as well as The University of Manchester Innovation Factory, has been published in the journal Nature Communications.
Diagnosing Parkinson's
Funding for the study was provided following a demonstration by Joy Milne, whose husband was diagnosed with Parkinson's aged 45, whereby she was able to distinguish a distinctive odour of Parkinson's in individuals through her sense of smell – before symptoms emerged.
For this study, the team lead by Professor Perdita Barran from the University of Manchester and the clinical lead Professor Monty Silverdale at Salford Royal Foundation Trust, analysed sebum from the upper backs of 500 people using different methods of mass spectrometry. This analysis led to the identification of ten chemical compounds that are either elevated or reduced in people with the condition.
This allowed the scientists to distinguish people with Parkinson's with 85% accuracy and confirmed the team's earlier findings that volatile compounds on the skin can be used to diagnose the condition.
Monitoring progression
The team also found they can show subtle but fundamental changes as the condition progresses through using high-resolution mass spectrometry to profile the chemical signature in the sebum of Parkinson's patients.
The analysis showed that there were changes in people with Parkinson's in lipid (fat) processing and mitochondria – one of the hallmarks of Parkinson's.
Professor Perdita Barran said: "We believe that our results are an extremely encouraging step towards tests that could be used to help diagnose and monitor Parkinson's. Not only is the test quick, simple, and painless but it should also be extremely cost-effective because it uses existing technology that is already widely available.
"We are now looking to take our findings forwards to refine the test to improve accuracy even further and to take steps towards making this a test that can be used in the NHS and to develop more precise diagnostics and better treatment for this debilitating condition."
The skin swab could provide an important tool in clinical trials helping researchers measure whether new treatments are able to slow, stop, or reverse the progression of Parkinson's. The team is now seeking funding to further develop the test and explore the potential for using the test to 'stratify' patients.