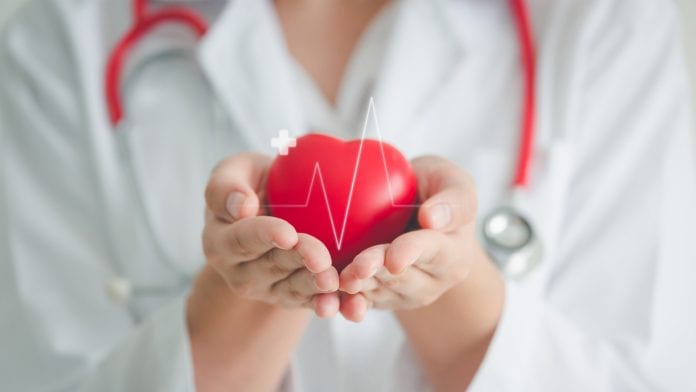 Today (29 September) marks World Heart Day, and new findings from the European Society of Cardiology shows that preventing heart disease could save billions for the economy.
Research published in the European Journal of Preventive Cardiology shows that preventing 10 years of coronary heart disease would save nearly $15bn (€12.80bn) in gross domestic product (GDP) by keeping people gainfully employed.
The release of the findings coincides with World Heart Day, during which employers are urged to invest in the heart health of their staff and governments are asked to adopt policies and regulations which foster better heart health, including sugar taxes, smoking bans, and reducing air pollution.
Heart care in Europe
Coronary heart disease accounts for a third of all deaths in people over 35 and many patients with coronary heart disease have more days of unplanned absence from work and are less productive while at work compared to the general population.
Feby Savira, a PhD student at Monash University, Melbourne, Australia, said: "Economic evaluations of disease typically focus on the cost for healthcare systems. Our study examined how much money could be saved by preventing heart disease, thereby enabling people to remain in work."
The researchers estimated the economic impact of stopping future cases of coronary heart disease in Australia over the next 10 years (2020-2029). Preventing all future cases would save nearly A$22 billion (or USD $15bn) in GDP due to reductions in coronary heart disease-related deaths, and increased productivity.
The authors argue that policymakers should view spending to prevent heart disease as an investment – for example by banning industrial fats and making it easier to walk or cycle to work.
Heart disease in Europe
Commissioner for Health and Food Safety, Stella Kyriakides, commented that people can play their part in helping to reduce heart disease by eating a healthy, well-balanced diet, exercising, drinking less alcohol, and not smoking.
Kyriakides stated: "In these unprecedented times of COVID-19, taking care of your heart has become more important than ever before. More lives are already lost to cardiovascular diseases in the EU and in the world than any other disease. Among the 4.5 million deaths reported in the EU in 2016, over 540,000 were due to coronary diseases, including heart attacks.
"The COVID-19 pandemic has made the lives even more difficult for the almost 49 million people currently living with such disease in the EU. Not only are they all facing an increased risk of falling seriously ill in case of infection, we have also seen many heart patients cancelling their regular appointments and scheduled surgeries during the pandemic – sometimes because they are too afraid to seek care. The restrictive measures imposed in many Member States have also resulted in many people neglecting physical activity and, even worse, stressful times has led to unhealthy habits like poor diets and increased alcohol consumption. The message is clear. We must take better care of our hearts.
"We work closely together with Member States to offer an integrated response, as many of the risk factors of cardiovascular disease are also risk factors of other non-communicable diseases. In our response, we focus on prevention across sectors and policy areas, tackling jointly common risk factors and scaling up actions on non-communicable diseases through the work of the Steering Group on Health Promotion, Disease Prevention and Management of Non-Communicable Diseases.
"We are supporting Member States in reaching the nine voluntary targets on non-communicable diseases of the United Nations and the World Health Organization by 2025 and the Sustainable Development Goal 3.4, aiming to decrease premature deaths from non-communicable diseases by one third, and to promote mental health and well-being by 2030."