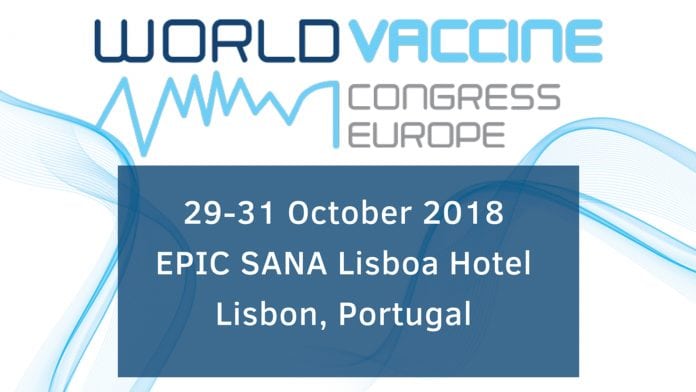 The World Vaccine Congress Europe is the place to be for the latest news and developments in vaccine research – from antimicrobial resistance to delivery and manufacture.
The World Vaccine Congress Europe is back for its 19th annual event in October (29-31) after the fantastic line-up last year. We have continued to grow the congress with even more scientific scope, breadth and relevant content in immunotherapy, respiratory infections, emerging and neglected diseases, clinical trials, antimicrobial resistance (AMR) and bacterial vaccines, new technology and bioprocessing, and delivery and manufacture.
And of course, our co-located 4th World Veterinary Vaccines Congress, and 3rd Immuno-Oncology Profiling World Congress are also back to complement your vaccine research.
What's new in 2018?
Here's five key reasons why you must join us on 29-31 October in sunny Lisbon, Portugal for World Vaccine Congress Europe:
The strongest agenda yet is governed by our Scientific Advisory Board, which includes 20 leading pioneers of the vaccine industry that have ensured the agenda, topics and speakers are relevant and cutting edge, so that your three days with us will be the most memorable yet;
More CEOs, CSOs and decision makers: Hear from over 170 senior speakers including Dr Gregory Poland, Mayo Clinic, Dr Annaliesa Anderson, Pfizer, and many more! We expect over 450 attendees. This is your best chance of the year to meet and network with hundreds of like-minded peers – this is not the year to skip this event;
Seven tracks and two co-located conferences: Attend focused sessions across multiple tracks and two co-located congresses. Take this unique opportunity to attend not only the sessions at the World Vaccine Congress but also the presentations at the 4th World Veterinary Vaccines Congress and 3rd Immuno-Oncology Profiling
World Congress;
Keynote plenary sessions you cannot miss:
a) Lord Jim O'Neil gives a keynote address about the status and threat of AMR as well as the role of vaccines with the World Health Organization (WHO), GlaxoSmithKline (GSK), MSD and many more;
b) Join the Coalition for Epidemic Preparedness Innovations (CEPI), the WHO and the National Institutes of Health (NIH), who will speak about the hurdles of pushing more vaccines into Ph1, especially diseases that are neglected and targeted for low and middle-income countries; and
c) The future of vaccinology? Who better to address this than Dr Wayne Koff, CEO of the Human Vaccines Project, Dr Rino Rappuoli from GSK, and Dr Gregory Poland from the Mayo Clinic; and
A special offer just for you: I'd like to offer you a personal discount of €520 off the regular ticket price. Simply visit https://goo.gl/a3jSiQ to register now.
Check out the full agenda to find out
more information.1
In short, this congress offers your best chance to gain key insights, meet existing and new senior peers, and take part in the forever evolving global vaccine industry.
If you have any questions at all regarding the programme, the other attendees, or anything
else, please drop me a line on wing-yun.cheung@terrapinn.com or call my direct line on +44 20 7092 1172.
Join us for another exceptional event.
Reference
Wing-yun Cheung, MSci
Project Director, Life Sciences
Terrapinn
+44 (0)20 7092 1172
wing-yun.cheung@terrapinn.com
This article will appear in issue 6 of Health Europa Quarterly, which will be published in August.
Recommended Related Articles