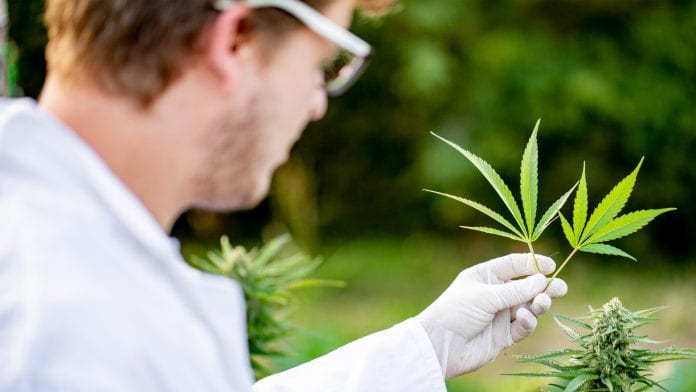 Cannadabis leverages its years of industry experience to craft proprietary and highly sought-after cannabis cultivation systems
Headquartered in Humboldt, Saskatchewan, Canada, Cannadabis Medical Inc is committed to the organic and holistic production of cannabis medicine and its related technologies. The company's flagship facility in Humboldt is an R&D-focused proving ground for state-of-the-art organic cannabis cultivation systems.
The company was founded in 2017 by Alexander Calkins and Markus Li, who have dedicated themselves to furthering the medical cannabis movement. Calkins and Li both have backgrounds in technical science, engineering, and business. Fuelled by passion and dedication, they are highly experienced cultivators and have a strong understanding of the Canadian cannabis industry. Their familiarity with multi-industry supply chains has leveraged them into multiple cannabis development projects that are simultaneously high-tech, yet old school and simple. Cannadabis has successfully built a multi-faceted business model based on sustainable practices, a strong genetics portfolio, disruptive technologies, hyper-specialisation, and holistic production.
The founders are leveraging their years of multidisciplinary industry experience to craft their proprietary and highly sought-after cannabis cultivation systems – which are medical-grade and highly self-sustaining – with the essential aim of adapting them for local, decentralised production. Their patent pending processes and industry disrupting technologies reduce costs, and increase throughput, while simplifying existing processes. Cannadabis has extensive experience manufacturing easy to use pre-made tissue culture mediums for both consumers and commercial customers. Our highly coveted tissue culture mediums and consumer-focused EZ-TC™ kits allow growers of every skill level to quickly and cost effectively leverage the many benefits of tissue culture.
Guided by its core values and responsibility as steward of its clients' wellbeing, Cannadabis is excited to be leading the development of new technologies in breeding, hybridising, polyploidy, cell fusion and pathogen-resistance marking. Cannadabis is also developing organic versions of their tissue culture methods as well as commercialising new automated cloning processes.
Tissue culture science
On its path towards improving growing efficiency, Cannadabis has developed proprietary tissue culture methods specifically for the cannabis market. These methods are based upon the decades-old horticultural practice that has been essential for the sterile propagation of ornamental and food cultivars: non-seed propagation.
Cannadabis' proven tissue culture system has the following benefits:
Tissue culture revitalises cultivars and produces more vigorous plants;
Regeneration from meristem eliminates systemic disease;
Eliminates pest invasion and loss of genetic inventory due to viruses and other pathogens;
Propagation is significantly more efficient than traditional cuttings and cloning:
With 200 tissue culture vials, cultivators can produce over two million clones annually;
Uses a tenth of the space of traditional cloning;
Per square foot, tissue culturing is more than 100 times more efficient; and
Cultivars can be stored inside a refrigerator with no need for continued care or maintenance for months to years.
Advances in breeding methodology
Cannadabis continues to invest heavily in R&D and is regularly discovering new advancements through a research licence granted at the University of Saskatchewan. Cannadabis' innovation roadmap currently focuses on three areas of excellence:
Quality control for EZ-TC premade tissue culture mediums;
Elimination of pests and pathogens from plant media using tissue culture methods; and
Development of novel cannabis varieties using advanced breeding methods: polyploidy, mutagenesis, genetic modification, and epigenetics.
Cannadabis continues to make progress in breeding its proprietary high-yield, high-potency, flavour-dense strains for commercial production in the domestic and international markets. Current Cannadabis cultivars include a selection of stabilised true breeds (landrace or F5+) for creating original F1 breeds.
Customers interested in ultra-premium cultivars will benefit from Cannadabis's in-house polyploidisation methods. These cultivars, which are derived from polyploidy and cell fusion, have many desirable benefits that can reduce operational costs and improve efficiency through increased yield, potency, flavour and vigour; increased trichome and terpene densities; drought and pest resistance; unique phenotyping; and sterile hybrids.
Consulting
Discover how Cannadabis's trusted advisory services can help you acquire the knowledge and knowhow you need to build a strong successful business. Cannadabis offers a variety of customised consulting solutions designed to help customers excel in their most critical issues and opportunities. We bring deep, functional expertise; and are known for our holistic perspective. We have a proven multiplier effect from optimising the sum of the parts, not just the individual aspects of a project.
Our industry experts have decades of experience with industry leading knowledge in cannabis cultivation systems, tissue culture methods, nodal and meristem propagation, pathogen remediation and indexing, facility design and equipment selection, standard operating procedures and training materials.
EZ-TC premade premium tissue culture mediums
Cannadabis has been manufacturing premium premade tissue culture mediums since 2019. These mediums are ready to use and currently available to customers in Western Canada, as well as through the Amazon Marketplace. Direct purchases from the Cannadabis website will be offered in early 2021.
The kits are designed using time-proven methods that do not require expensive laboratory equipment or large startup capital. Large commercial format mediums are available to customers looking for the best value and space-saving solutions. For larger cultivators, Cannadabis provides plant growth regulatory matrices to troubleshoot difficult cultivars more easily. Cannadabis can also custom blend and sterilise mediums to customer requirements.
Cannadabis' customer support team is available 24/7 to assist cultivators of any background with tissue culture information or help through the Cannadabis website.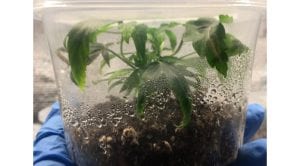 Turnkey tissue culture laboratory
In 2019, Cannadabis unveiled the industry's first portable turnkey tissue culture lab, complete with training materials and standard operating procedures. Cannadabis has developed this system for its own commercial use and has recently made the system available for other cultivators.
The compact size and cost efficient design make the lab the ideal addition to any commercial cultivation operation; and it can be shipped anywhere in the world. The laboratory allows customers to quickly establish themselves in tissue culture space and offers unparalleled value without needing to employ a team of dedicated in-house tissue culture specialists.
Pathogen-free clones
Cannadabis has an exclusive network of speciality cultivators and regulated genetic providers and can provide access to hard-to find strains, including namesakes, and exotic breeds that can be exported. All tissue cultured plantlets are thoroughly inspected and tested against a panel of diseases to ensure the highest quality.
Alexander Calkins
CEO
CANNADABIS Medical INC
+1 306 552 4242
alexander@cannadabismedical.ca
Tweet @cannadabis
cannadabismedical.ca
This article is from issue 16 of Health Europa. Click here to get your free subscription today.
Recommended Related Articles