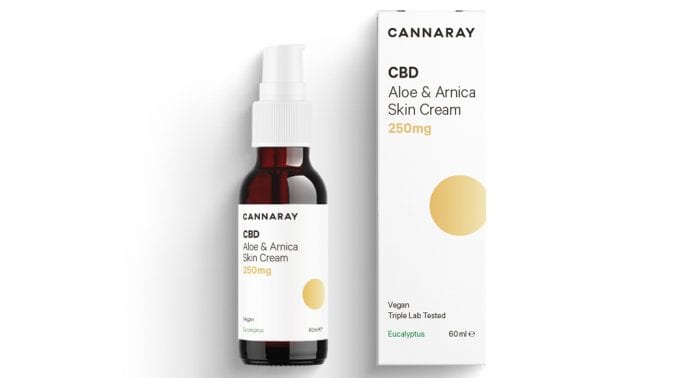 Cannaray is a leading European cannabis company stratifying medical THC and a CBD lifestyle brand – Medical Cannabis Network speaks with CEO M Scott Maguire to discuss the company's exciting future.
Cannaray is the next big thing in medical cannabis and CBD, focussed on making a positive impact on global health. The company is on a mission to heal people from within and firmly believe in the potential of medical cannabis to improve lives.
Medical Cannabis Network spoke with CEO, Scott Maguire to discuss his background in biotech, Cannaray's exciting future and how Bozy the dog sparked his journey into the cannabis industry.
What inspired you to move from your history in biotech to establish a medical cannabis company?
I was the Chairman and CEO of a biotechnology company which I took public on NASDAQ in 2016, but a year later I realised I was spending the majority of my time on quarterly reporting and regulatory matters rather than building a business. My day was consisting of sitting down with lawyers and accountants rather than building the business and enjoying my job.
The old adage 'find a career you enjoy, and you will never work a day in your life' simply no longer applied. I decided to go into semi-retirement in November 2017 to play golf and concentrate on my other business, a chain of dialysis clinics in the UK where I served as a Co-Founder and Non-Executive Director. However, after six months I was extremely bored and not enjoying retirement at all. I did not realise at the time that I enjoyed starting companies more than playing golf.
I then received a call from a hedge fund in May 2018 which had been an investor in a few of my previous companies. They informed me that they had a main board cash shell listed on the London stock exchange and they wanted to put a cannabis company into it with me as the CEO.
I knew nothing about cannabis at that time, so I laughed it off and I said thanks but no thanks. During the course of that summer the cannabis seed had been planted in my mind. I started to see articles coming out in the UK press and from there I started reading about what was going on in the US and Canada where the industry was progressing quite rapidly.
I started to read some of the peer-reviewed research publications about cannabis for a whole plethora of indications e.g. CNS disorders, chronic pain and CINV. I realised that there is clear, scientific and in some cases, clinical evidence; it is not just something that's dealt on the black market, but a product that has real medical potential.
Then I was dealt a blow in August 2018 when my beautiful nine-month-old puppy Bozy, a Cavalier King Charles Spaniel, was diagnosed with terminal cancer. We were in Switzerland at the time and he was diagnosed with stage five hepatic lymphoma at the Bern vet hospital, one of the leading vet hospitals in Europe. After not eating for ten days, we were told we should put him to sleep because he only had two days to two weeks to live.
Despite the dire prognosis, my young boys wanted to bring Bozy home to die. We brought him home and tried everything to get him to eat without success.
As a final shot, I went online and read about ways to boost appetite and cannabis appeared a number of times on my search. Cannabis was being trialled for AIDs wasting and anorexia in humans, so why not dogs. I immediately contacted a local ski instructor who smokes cannabis religiously, bought some cannabis from him and breathed it into Bozy's muzzle. Very shortly thereafter he attacked a grilled hamburger having not eaten for 10 days.
I repeated the cannabis-hamburger combination twice a day over the course of two weeks, his strength increased, and we were able to bring him back to London where our local vet was able to put him on a high dose of steroids. Bozy is still alive today.
Cannabis absolutely saved Bozy's life; steroids have sustained his life. We know that he hasn't been cured of stage five liver cancer, but he is alive today and given the family over a year of happiness because of cannabis. That was the epiphany which made me take the cannabis therapy and the industry more seriously.
What attracted you to base Cannaray in the UK rather than another European country with a more established medical cannabis framework?
I started my entrepreneurial life in London, so it was an obvious place to start Cannaray. All of the founders live in London and I have been living in London on and off for about 23 years. The companies that I have built have been based here, and my chain of 26 dialysis clinics are London based (a startup from 12 years ago). My biotech company that I listed on NASDAQ started as a spin out from the London School of Pharmacy.
We have some outstanding marketing, brand and design professionals in our team, people with retail experience like Clive Sharpe who was previously the chairman of Quorn as well as CEO and Chairman of a series of well-known FMCG companies. With his links to supermarket chains we're very confident we will be on supermarket shelves with our branded latest generation CBD in 2020. We also have the former Managing Director of Procter and Gamble Europe working with us and he is opening up connections all across Europe. We have spent the last year researching the market, defining our product and our messaging.
Are you hopeful that Cannaray's presence will contribute to increased access to cannabis-based treatments for UK patients and is the company planning to take steps to make this a reality?
We are partnering with key opinion leaders (KOLs) across a whole host of therapeutic areas, particularly those areas where it's currently legal such as pain, neurological disorders and palliative care. We have appointed many such KOLs to our Scientific Advisory Board (SAB).
These people carry a great deal of weight in their respective areas of expertise and they are also learning about the wonders of this of this plant and how it can treat patients in need of better therapies with less adverse effects in their particular sector.
Being medically led is the focus in the UK, but we are also launching in Germany which is a more mature market. We have appointed a German Managing Director; someone who had previously set up a medical cannabis sales and distribution company which was sold to one of the big Canadian firms. We're working with a producer on formulations to deliver medical cannabis to the UK and Germany. We know that the UK is going to be a slower growth curve whereas Germany went from zero to €150m in two years.
The medical community here in the UK is much more conservative having a long rich history in drug discovery with clinical trials underpinning drug launches. The General Medical Council has come out and stated that patients need to try every clinically trialled drug for their indication before cannabis can be considered an option. NICE (The National Institute for Care and Health Excellence) rightly want to see more data, so hopefully with the launch of Project Twenty21, a fantastic initiative for patients and the industry, perceptions and thinking will change in the medical community.
Epileptic patients, chemotherapy induced nausea and vomiting patients and patients with chronic pain should be able to access these treatments and there is no doubt in my mind that eventually cannabis will replace opioids as first line therapy for chronic pain. There is still a stigma around cannabis but this is dissipating rapidly to the point where ten years from now, we will look back and laugh about the legal barriers erected around cannabis.
The acquisition of Therismos Limited has enabled access to the relevant licences for handling, importing and exporting controlled drugs throughout the EU, what other benefits does this partnership present?
Obviously, the relevant licences are key to our strategy around importing and distributing medical cannabis across the EU. Without these licences, we would have spent substantial time and money applying for them with an uncertain result.
Furthermore, Therismos' strong relationships with the Home Office, having worked very closely with them throughout their lives as regulatory experts, is very helpful. We are going to apply for a 'cannabis growing' licence so we hope that the relationship with the Home Office and the credibility that these people bring to the organisation will assist in these efforts.
With the acquisition, there is a continuous revenue stream of £20m (~€23.7m) a year so in short order we were one of the largest European cannabis companies in revenue terms. We went from an idea with £7.8m investment to a viable European cannabis company.
How do you anticipate your alliance with the largest potted plant grower in the UK, Newey, will evolve and what opportunities does it present?
Firstly, it allows us access to four million square feet of greenhouse space, one of the largest greenhouse owners in the UK. We are applying for a commercial 'high THC growing' licence. We want to be in a position to grow and process cannabis thereby creating a medical product. The lack of GMP processing facilities and the expertise to grow to tight levels of consistency has resulted in an undersupply of medical cannabis in Europe.
We want to plug the gap in the European market in providing a medical product. It takes a lot of time, capital and expertise; Newey has general growing expertise and they have the facilities, but we need to complement these skills with medical cannabis specific expertise, so our relationship with them is very important. Quite frankly, the shareholders of Newey see where this industry will be ten years from now.
What kind of research are you undertaking into novel delivery forms and product development?
The cannabis plant has hundreds of different constituents and we're only just beginning to understand what the various constituents can do in isolation or in combination. It's really about doing some de novo research to understand all the different derivatives of the plant and how they can serve as a therapy. For example, myrcene is indicated for sleep so if you isolate myrcene you have a natural sleep compound. There are CBD receptors all over the body so the different compounds of CBD as well CBG, CBN; we're just scratching the surface. We need to better understand the plant, how the compounds work synergistically together; the entourage effect.
That's what excites me coming from the life science industry, the discovery and finding new compounds within the plant that can help various disease states. We have one of the world's leading drug delivery and formulations experts on our SAB, Dr Peter Laing. Peter and I worked together at a specialist drug delivery company. I was CEO while he was head of research. That company had over 200 patents with many of the patents resulting from Peter's ideas. Working on new and novel formulations is incredibly important to improve the formulations and delivery methods, ultimately making the end product more patient convenient and more effective. We want to ensure that we are pursuing cutting-edge research to better serve European patients.
We are in the process of working with a US supplier who has intellectual property around nano-particulate formulations of CBD and we're going to be launching those online in February 2020 and likely in a supermarket in March.
You have assembled an impressive scientific advisory board; how did you go about identifying its members and how do they assist Cannaray in its day to day operations?
They are key opinion leaders in their various fields neurology, pain, haematology, palliative care, a regulatory expert from Therismos, a pharmacologist and as previously mentioned, one of the world's leading drug delivery scientists.
I identified the leading specialists in the indications for which cannabis is legal and then you find out to what extent they've bought into the gospel of cannabis or are at least open-minded. Our scientific advisory board is the strongest component of Cannaray. We'll be adding additional members to our SAB with the intention of having this company medically led, effectively taking direction from the SAB.
We are working with one of the leading cannabis patient advocacy groups, the United Patient Alliance. It will be these groups representing the patients who will influence with the specialists, but it's the specialists that ultimately have to buy into cannabis as an alternative – or in many cases a better therapy with less side effects for various therapeutic areas.
Did you have a hard time winning over the people that are on your Scientific Advisory Board? You mentioned that they weren't from this kind of background. Was it difficult for you to convince them of the benefits of cannabis?
Of the nine people on our scientific advisory board I only had one rejection from a person that I interviewed and wanted on the SAB. We were very well received by many leading specialists, but we appointed those that want to make a difference and help patients in need of better therapies.
Coming from the life science industry myself certainly helped with recruiting SAB members. At the start of the interviews I would always ask 'are you open minded to cannabis as a therapy?'
Many of them had read about it and were open minded so it wasn't too much of a challenge. We also have a Chief Scientific Officer, Gregor Zorn, who is one of the leading cannabis scientists. He travels the world holding cannabis master classes. His knowledge of cannabis is second to none. He conducted such a class for all our SAB members, board members, and shareholders. After the class, it was clear to all that we needed his knowledge vested in the Company. All the participants were all fascinated and even more excited to be involved with Cannaray after his presentation on the plant and its potential.
We have a collection of outstanding people associated with Cannaray. Our board of directors also includes a former Deputy CEO of RBS, a former Global Chairman of DLA Piper, a former Managing Director of JP Morgan, a cannabis entrepreneur from the US and of course the key opinion leaders who form our SAB.
When do you expect your facility will be operational, produce its first harvest and what products will it create?
At the moment we are in the process of applying for the licence and we've already passed the first stage. We are now in the final submission stage where the security plan, the plan for the infrastructure, the commercial plan etc. is submitted to the Home Office. We hope to receive approval for high THC growing licence in March or April 2020. It is not an immaterial exercise in terms of cost.
We're still not going to get into GMP processing due to the large upfront capital demands. We will have our first harvest in Q4 2020 if all goes according to plan and we'll be working with a contract GMP processor so the products will be both flower and oils, both of which are the predominantly prescribed delivery methods.
As a medical product, it is highly regulated, but the industry is predicted to grow from roughly £400m across Europe this year to £50bn by 2028. Hopefully the UK with its long, rich history in biopharmaceuticals R&D will, along with North America lead the charge in this new and fast evolving industry.
What opportunities are available for strategic partnerships and investment?
We have already been contacted by a few large North American companies about strategic partnerships. Their experience and their expertise in this industry overseas which is six or seven years ahead of Europe is invaluable. The sharing of knowledge is important, they have made mistakes, so they understand how to do it better, how to effectively manage the supply, they know what the best distribution channels are and how to engage with the medical community.
All of that knowledge sharing I consider even more valuable than their capital; although the capital is obviously important for an early stage business. We will be looking to go out and raise additional capital because we don't need it at the moment, and that's the best time to you raise it when you don't actually need it.
We are engaged with strategic partners and will see where it takes us. At this point, having access to a wide range of EU GMP medical cannabis products and formulations is important for providing choices for the patient. Access to latest generation CBD technologies from North American companies will help Cannaray stay a step ahead of the other CBD companies and ultimately have more consumer friendly and more effective products.
Being based in the UK do you have any concerns surrounding Brexit on the UK medicinal cannabis industry? Does Cannaray have plans to ensure access to UK patients is minimally impacted?
We have established Irish subsidiary which we planned in advance, so we've planned for such an event. Also, our CBD products are currently imported from the United States. At the moment, the only supply for medical cannabis comes from the Netherlands but if there were to be any disruption to that we would simply pivot to our Irish subsidiary.
There is a great environment in the office, everybody is so excited to be involved in this new exciting industry and we're making a positive impact on human health – what more could you ask? It sure beats playing golf!
Follow up with Scientific Advisory Board member, Dr David Moorhouse
CBD is gaining more exposure in terms of treatment of neurological disorders: what do you believe needs to change before it could be considered a first line treatment?
Presently cannabidiol (CBD) is currently not indicated as a first line treatment for any neurological disorder. However, CBD is licensed in both the UK and Ireland for adjunctive treatment of spasticity in multiple sclerosis (Sativex combined CBD/THC product) which is considered unresponsive to the available anti-spasticity medications. Additionally, a pure CBD medication is licensed for two forms of treatment resistant paediatric epilepsy namely Dravet's and Lennox-Gastaut syndromes.
CBD products, either in isolation or in combination with THC, have been shown in observational and open label studies to be reasonably effective in symptom management in a variety of neurological conditions including, but not limited to, the motor symptoms in Parkinson's Disease, various headache syndromes, Alzheimer's disease and neuropathic pain of various aetiologies.
For CBD in isolation or in combination with THC to become a first line treatment for neurological conditions it will be necessary to conduct well-structured randomised controlled clinical trials which will compare CBD with standard therapies. Such trials will need to show significant treatment benefits and safety profiles which are at least comparable with, or superior to, medications presently used in neurological conditions.
For those neurodegenerative conditions in which we do not have very effective neuroprotective medications, such as Alzheimer's and Parkinson's diseases, more basic laboratory experiments are needed to see if CBD has beneficial in vitro properties which might lead to neuronal salvage.
Nevertheless, a number of clinical trials looking at possible neuroprotection are ongoing, and more are in the early stages of enrolment. Finding ways to delay the rate of neuron degeneration is the hope of all who care for patients with neurodegenerative disorders. Physician education, availability of medicinal cannabis of proven good manufacturing practice (GMP) and reasonable cost is a good start. Personally, I am excited about the potential benefits of medicinal cannabis for treatment of many neurological conditions in future.
What does your role on the Scientific Advisory Board entail?
The Scientific Advisory Board of Cannaray includes a pain specialist, pharmacist, neurologists, a palliative care physician and an intensivist, essentially physicians who specialise in the various areas where medicinal cannabis products have been shown to be of benefit. I am a Neurologist, Board Certified by the American Academy of Neurology and Psychiatry and also by the American Board of Electrodiagnostic Medicine.
I have been practising neurology in full time clinical practice for almost 30 years. Each week I see up to 30 new patients as well as a considerable number of long term patients who return for continuing care. I have been surprised that so many patients, on questioning, admit to being users of unregulated cannabis products in an effort to obtain some freedom from distressing symptoms.
I am deeply concerned that unregulated use of cannabis products may create many more problems for patients and for society in general. Having access to carefully formulated and regulated products of proven high quality in standardised aliquots can at least allow physicians, pharmacists, and scientists begin to carry out the essential clinical trials that provide the best evidence for patients and their families.
M Scott Maguire
CEO
Cannaray
scott@cannaray.co.uk
cannaray.co.uk
This article appeared in the first issue of Medical Cannabis Network which was out in January. Click here to subscribe.