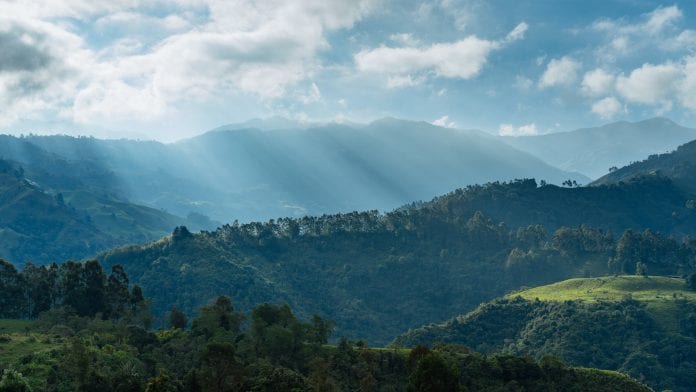 CannaVerde's goal is to become a low cost, high quality producer of medical cannabis extracts, with a further focus on product formulation and development.
Through its wholly-owned subsidiary, Green Health Colombia S.A.S, CannaVerde holds licences to cultivate, extract, produce, manufacture, domestically distribute and export both CBD (cannabidiol) and THC (tetrahydrocannabinol) medical extracts.
CannaVerde intends to build greenhouses and extraction facilities on its seven hectare property located in Bucaramanga, Colombia and has access to an additional 100 hectares of land.
The company recognises the significant role that Colombia's ideal climate, infrastructure and workforce will play in building a sustainable business at a fraction of the cost in other jurisdictions. Furthermore, the ideal location of Colombia gives the company access to approximately 640 million potential customers in Latin America. The directors and executives at CannaVerde have built a business plan focused on delivering cannabis-based extracts and products in Colombia and the international marketplace.
Medical Cannabis Network spoke with CEO Michael Nistorescu who introduced us to the company, its links to Canada and Colombia and the company's exciting future.
Can you provide a brief history of CannaVerde Pharma, its operations and milestones?
CannaVerde Pharma is a Canadian based holding company with operations in Colombia through its wholly owned subsidiary, Green Health Colombia S.A.S. We are licensed in Colombia to cultivate, extract, manufacture, domestically distribute and export both CBD and THC based derivatives.
Since acquiring Green Health Colombia at the end of 2018, we've been able to licence 7 hectares for cultivation, been granted a THC scientific quota for both cultivation and manufacture of derivatives, built two 10, 580 sq ft greenhouses and are near completion of the first of five 60, 000 sq ft greenhouses. Cultivation is well underway as we progress towards completing our first agronomic evaluation.
What has been its expertise in Canada related to the medical cannabis industry?
Canada became only the second country in the world to legalise recreational cannabis, and before that had a robust medical cannabis market. We are very fortunate to have core members on our team that have experience working for Canadian-licensed cannabis producers since the inception of the legal medical cannabis framework in Canada in 2014.
Our master grower, Shane Whelan-Stubbs, was a co-founder of one of the first licensed producers in Canada and one of the best growers in the country. Our Chief Science Officer, Dr. Peter Chen, has worked for two licensed producers and is an expert in extraction.
CannaVerde´s entry to the Colombian cannabis industry took place in late December of 2018. What potential did you see in the country to make this bet?
There are several clear advantages to growing medicinal cannabis in Colombia. First and most notably is the climate. Our operation is located 1,650m above sea level with abundant sun, 12 hour light/darkness cycle and consistent weather from January to December.
Second, the climate allows us to build hybrid greenhouses, at a significant cost advantage to almost every other jurisdiction on the planet. Third, Colombia has a long history of agricultural prowess, being a world leader in the export of fresh cut flowers, coffee and bananas. Lastly, the labour force is not only plentiful, but extremely capable of allowing us to cultivate medicinal cannabis at large scale.
With our ability to export and the large anticipated global cannabis market, we believe that these cost benefits will give us a significant competitive advantage.
What's the competitive advantage of being located in Bucaramanga?
Bucaramanga is considered one of the safest cities in Colombia. There's also a strong academic presence here which allows us to find and attract high level talent and establish collaborative research projects with one of the more prestigious public universities in the country, Universidad Industrial de Santander.
Although the climate in Colombia is generally well-suited for growing cannabis, some areas are better than others. Bucaramanga's temperate climate makes it an ideal location for our operation.
Why did CannaVerde choose Green Health as joint venture partner to enter and develop operations in Colombia?
We believe that people are the most important asset of an organisation. Green Health before CannaVerde achieved a fantastic level of success in terms of navigating the regulatory framework in Colombia. Given Canada's leadership in the medical cannabis space, the team in Colombia recognised that CannaVerde had a lot of expertise to offer, not only in terms of cultivation and extraction, but also in its ability to raise capital.
The team in Canada also realised that Colombia is one of the few places in the world where it makes sense to cultivate medical cannabis at scale, given its climactic conditions and its long history of commercial cultivation of flowers, coffee, and bananas. However, what really made this venture possible was the seamless combination of both teams and the ease with which we have complimented each other's skill sets.
In Colombia, medical cannabis has been evolving considerably in terms of regulation. So, how is CannaVerde taking advantage of this situation in order to become a leading company in the industry?
Colombia currently allows licensed producers to manufacture and sell CBD based topicals as long as the THC content is below 1%. Furthermore, Colombia is an attractive market in cosmetics, consumer health and wellness. These markets represent up to CAD $8.5bn (~€5.8bn) per year in retail sales. There is a lot of anecdotal evidence pertaining to the medical properties of CBD.
However, we are mindful that not all products should contain CBD and as such we are being selective in the type of products we associate ourselves with. With that in mind, we believe that CBD is a powerful ingredient and will be partnering with companies that already have established retail channels and we will be bringing CBD based products to market in Colombia and Latin America in 2020.
After a successful 2019, how are you planning to target your ambitions for 2020?
In 2019, we focused on obtaining the necessary licences to begin commercial cultivation of both CBD and THC medical cannabis and on taking all our strains through the agronomic evaluation. In 2020, our focus will shift towards completing our facilities, including our initial five 60,000 sq ft greenhouses and our extraction and processing facility.
At the same time, we anticipate beginning commercial cultivation, extraction and ultimately revenue generation in the first quarter of the new year. Of course, we will be bringing products to market in the early part of the year. We are proud of our accomplishments in 2019, but we recognise that we are only getting started and are looking forward to an exciting 2020.
What sets CannaVerde apart from the competition in Colombia?
We can't speak to what our competitors will be doing, but we are happy to be a part of this emerging industry that has massive societal and economic potential, not only in Colombia, but worldwide. Our focus from the very start of this venture has been revenue generation and cash flow positivity to sustain our business for years to come.
Further to that, we will strive to cultivate the highest quality medical cannabis. This will ensure that we stand behind our products with pride and will help our consumers become well informed about the benefits of this wonderful plant, but also about the active dose needed in each product. We will ensure that we deliver products that contain cannabinoids in quantities that fulfil their therapeutic potential.
Michael Nistorescu
CEO
CannaVerde Pharma
+1 416 882 9006
michael@cannaverdepharma.com
Tweet @Canna_Verde
www.cannaverdepharma.com/
This article will appear in the first issue of Medical Cannabis Network which will be out in January. Click here to subscribe.