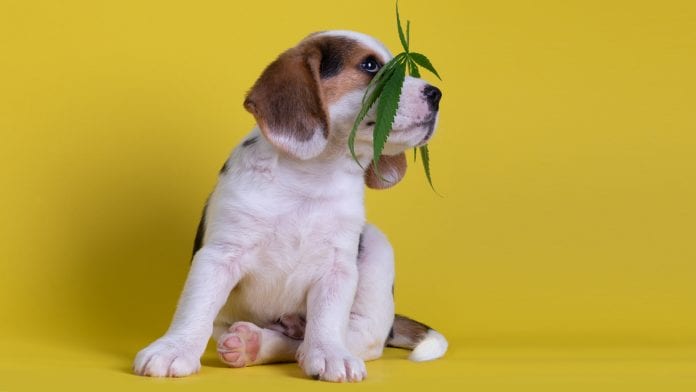 Halloween is a stressful time for our furry friends – who are often scared by loud noises from fireworks. Can CBD oil for pets make them calmer?
CBD is a non-intoxicating cannabinoid derived from the hemp plant that consumers and patients use for a wide range of wellness applications. The market is continuing to expand with CBD products for pets, including tinctures, treats, and topicals. Pet stores, online retailers, national chains, and local dog and cat boutiques are among those seeking to capitalise on the booming trend.
CBD oil for pets could help dogs and cats calm down on All Hallows' Eve. For a number of years now animals have been prescribed CBD for anxiety and for its calming effects – meaning fidos and felines can rest easy during the chaos of Halloween – no howling at the doorbell or growling at visitors in costume.
Endocannabinoid systems
Dogs and cats, like humans and other vertebrates, have endocannabinoid systems and CBD oil interacts with the receptors in this endocannabinoid system to help support the overall well-being of pets. Every animal with a spine has an endocannabinoid system: a network of receptors and natural signalling molecules throughout its body that help to relax, heal and stay balanced. But many animals struggle to maintain healthy levels of endocannabinoids when injured, stressed, sick or in old age.
The British Veterinary Medicines Directorate considers that veterinary products containing Cannabidiol are veterinary medicines, stating: "We consider that veterinary products containing Cannabidiol (CBD) are veterinary medicines and should be regulated as such.
"We have made this decision on the basis that products containing CBD fulfil the following definition of a veterinary medicine in the Veterinary Medicines Regulations (VMR) by virtue of the effects they have: any substance or combination of substances that may be used in, or administered to, animals with a view either to restoring, correcting or modifying physiological functions by exerting a pharmacological, immunological or metabolic action, or to making a medical diagnosis.
"CBD products for use in animals therefore now require a marketing authorisation before they can be sold or supplied in the UK. There are currently no CBD based products that have been granted a UK veterinary marketing authorisation.
"As there are currently no CBD products authorised in the UK for veterinary use, a veterinary surgeon may prescribe a legally obtained human CBD product under the provisions of the prescribing cascade. Administration of an unauthorised product containing CBD without a veterinary prescription is an offence under Regulation 8 of the VMR. Companies supplying CBD products for human use in line with the requirements of the Medicines and Healthcare products Regulatory Agency must not indicate or recommend their products for use on animals.
"We will be writing to UK CBD suppliers and manufacturers to inform them of our decision and to ensure products containing CBD satisfy the requirements of the VMR. We will continue to provide regulatory guidance to any company wishing to apply for a marketing authorisation."
An online survey of over 2000 US veterinarians, published in the January 2019 issue of the journal Frontiers in Veterinary Science, found that 61.5% of veterinarian respondents were comfortable discussing the use of CBD supplements with their colleagues. Veterinarians reported that they had talked to clients about using CBD for pet issues such as: pain, anxiety, seizures, gut issues and storm and fireworks phobias.