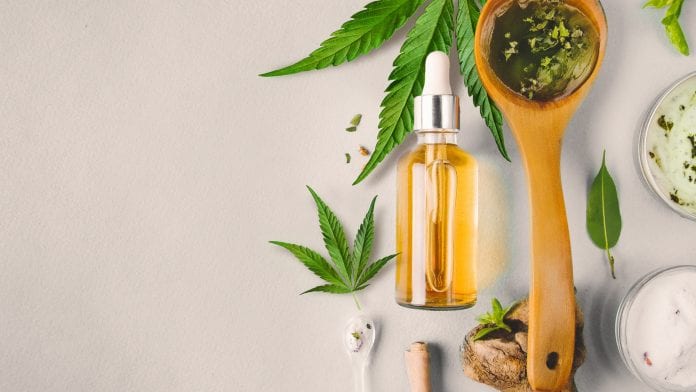 Cloud 9 Group leverages its strong principles and high quality standards to produce premium hemp and cannabis products.
The Cloud 9 Group of private companies comprises the founding company Cloud 9 Switzerland LLC, and its subsidiaries in Jamaica and France. All three are active in the health and wellness sectors, developing, producing and commercialising pharmaceuticals and nutraceuticals based on medicinal and aromatic plants – notably hemp/cannabis sativa L. Since its founding in July 2017, the group has focused on developing and commercialising premium hemp and cannabis products, building a unique portfolio of food, beverages and cosmetics; selective third party brands; and prescription and over-the-counter (OTC) medicines. Not only do we offer great products, we believe our focus on quality, regulatory compliance and ethical business practices as foundational principles will continue to ensure our success and long term viability.
Our focus
Cloud 9's initial and ongoing premise has been to focus on the higher end of the value chain, developing hemp and cannabis products which will improve patients' quality of life by leveraging the healthy benefits of hemp/cannabis sativa L; alongside managing business and economic risks. Building on our core strengths in product development; regulatory matters; technical and scientific knowledge; and our extensive professional network, we focused our energies in the food, beverage and cosmetic space. This allows for a faster route to market, relying on our experience with co-manufacturers and developing relations with reliable hemp product suppliers. Our value added is in our management of the sourcing; product formulation; finished product design; and commercialisation, retaining intellectual property.
In January 2019 at the International Sweets and Snacks Trade Fair ISM Cologne Germany, we held a soft launch of our first product: a premium healthy hemp-infused Swiss dark chocolate, branded 'VIVA'. In the medium to longer term, we are laying the ground for our forthcoming pharmaceutical activity, which necessitates approval from health authorities and the successful negotiation of licensing agreements with pharma distribution partners. We have begun developing cannabinoid pharma products for the treatment of glaucoma, asthma and pain; and we anticipate our first products will be ready for market launch by Q2, 2021.
Since July 2017 we have been busy developing our product portfolio and business activities, having initiated revenue generation in mid-2019. Today, we have reached an important stage in our development; and are finalising our first round of investment that will allow us to expand our business and drive revenues.
Organisation
We are a lean organisation, with main offices located in Montagnola in southern Switzerland and a logistics centre in Milan, enabling us to serve our Italian customers: Italy is Europe's second largest cannabis market. In May 2018, we founded our Jamaican affiliate company in Kingston. We consider Jamaica to be the modern day birthplace of medical cannabis, as this is where the world's first cannabis-based prescription medicine was approved in 1983 by the Jamaican Ministry of Health for the treatment of glaucoma and dispensed in Jamaican pharmacies today. To better serve our EU customers, our French affiliate company was founded in 2019 in Nice; giving us direct access to the EU and establishing a foothold in France, which will likely become one of the top three cannabis markets in Europe.
We have placed a great importance on developing relations with the medical community; patient associations; and academic establishments including the University of Milan and UNIMONT in Italy, the University of Technology (UTech) College of Health Sciences in Jamaica, and more recently the neurosurgery department of the University of Florida at Gainesville; from which we appointed Professor Brent Reynolds, acclaimed for his discovery of brain stem cells, as our Chief Medical Advisor. These relationships allow us access to world class analytical laboratories and scientific medical expertise. Furthermore, we are members of the International Association of Cannabinoid Medicines (IACM), the European Industrial Hemp Association (EIHA) and the Swiss Academy of Pharmaceutical Sciences.
Business development
Our key differentiating factor has been to propose value added finished products which can be put on shelves in the health food, pharmacy, para-pharmacy and drug store retail channels. The overview of all our products is shown in Fig 1. The very first products we commercialised in the European market, under a distribution agreement with United Cannabis Corp USA, were the Prana Hemp range which made us the first European company to successfully import US-made hemp-based finished products into Switzerland and the EU.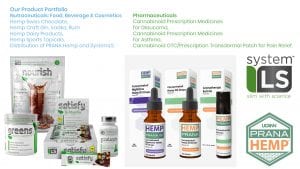 While the world has been dealing with the Covid-19 pandemic, we have been anticipating a heightened consumer desire for healthy nutritional products: products which are aligned with our philosophy of leveraging the healthy benefits of plants. In April 2020 we took on the distribution of SystemLS, an innovative range of food supplement products targeting weight loss and sports nutrition, in Jamaica and the Caribbean, Switzerland, France and Italy. Also in April, we signed an agreement for our VIVA brand of healthy hemp Swiss chocolates to be distributed in Australia in collaboration with our partner Rapid Nutrition PLC. Soon Australians will be enjoying VIVA 50 Dark, Orange and Ginger, and Moringa and Mint 50g bars, containing 100mg (10mg per piece) of EU certified hemp.
Research and development: cannabinoid pharmaceuticals
We currently have in the pipeline three cannabis-based pharma products for the treatment of glaucoma, asthma and pain. The glaucoma and asthma products are nearing completion and are scheduled to be on the market by Q2 2021. The glaucoma product takes the form of sterile eye drops and the asthma is an orally administered liquid. Both use specific natural cannabinoids, which are selected to maximise their efficacy as a preventive medicine and have a long and safe history of use. A particular advantage of these products is the absence of side effects and compatibility with other drugs, allowing patients the possibility of undergoing combined therapy.
Our third product is in an earlier development stage: it is a patient-friendly nano-transdermal cannabinoid patch, with the potential to deliver more than 95% of the active principle ingredient (API) across the skin membrane into the bloodstream, through a time-controlled release. The nano-fibres holding the encapsulated cannabinoids dissolve on the skin, leaving no residue. Not only does this allow for a highly efficient delivery mechanism of the API when compared to conventional patches, which typically deliver between 5% and 20%, but it also allows for zero waste of API in the disposable patch cover, thereby eliminating the need for specific recycling procedures in the clinical environment.
Poised for growth
The Cloud 9 Group is continuing to pursue its ambitions at this remarkable time in history. Our ability to do this is due to our principles and core values, which are based on honesty, respect, care and a win-win approach to conducting business. As we enter the post-COVID time and a new phase of growth, we are proud and grateful to the world class network of experts and business partners with whom we have developed a strong relationship. Post-COVID will see us accelerate our geographic expansion and we welcome interest from new retailers and distributors.
Dr Francis Scanlan
Managing Director & Founder
Cloud 9 Switzerland LLC
+41 (0)79 616 4000
info@cloud9ch.com
Facebook
Instagram
www.cloud9switzerland.com
This article is for issue 3 of Medical Cannabis Network. Click here to get your free subscription today.