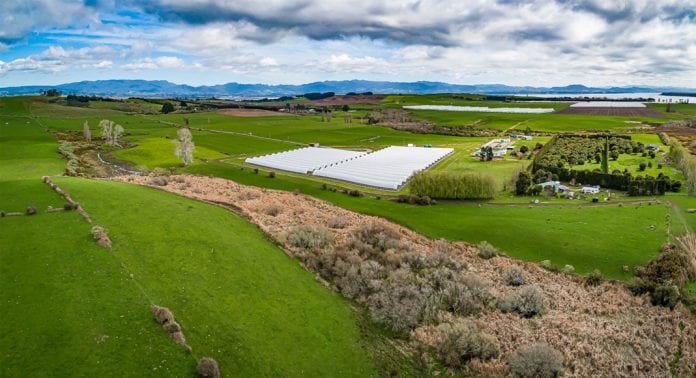 Eqalis Pharmaceuticals Limited combines horticultural expertise with a passion for wellness to produce innovative medical cannabis products.
The sunny orchards of the Bay of Plenty on New Zealand's North Island are home to some of the world's best horticultural operations. The birthplace of the internationally renowned billion dollar kiwifruit industry, the region is also famed for its avocado growing and New Zealand's foremost honey producer.
Establishing a medicinal cannabis growing facility in this fertile, subtropical environment was an easy choice for Eqalis Pharmaceuticals Limited, a diverse team of horticultural experts, doctors, pharmacists and prominent local iwi (Maori tribe) members dedicated to growing and manufacturing high quality plant-based medicines that will address the enormous demand for natural pain-relief in New Zealand and beyond.
Director Greg Misson, an industrial extraction expert, says people are the heart of their operation: "We aim to build a sustainable industry that benefits all New Zealanders, particularly the nearly a quarter of a million Kiwis who take medication for chronic pain. Our vision is to deliver cannabinoid-based relief of the highest medical standard, affordable to everyone in need of peace, restoration and dignity."
Eqalis was set up in early 2019 in the small farming town of Katikati. A pristine coastal region blessed with 125km of white sandy surf beaches, the Bay of Plenty enjoys one of New Zealand's most favourable climates with mild temperatures, long sunny days and rich soils combining to make it a grower's paradise.
"When we founded Eqalis we knew that the Bay of Plenty would be one of the very best places in the world to grow medicinal cannabis. Our initial investigations in the area quickly attracted the attention of some of the biggest names in the local horticultural industries and, with their investment and support, Eqalis has become a significant newcomer to the medical cannabis industry," says Misson.
Horticulture heavyweights
Eqalis investors Alan Bougen the Co-Founder of Comvita, New Zealand's foremost honey producer, Murray McBride a large-scale Kiwifruit grower and founder of BayGold an orchard management firm and Tony Ponder a director of Southern Produce and the chairman of the Avocado Growers Association see the potential to develop Eqalis into a significant agri-industry to rival the kiwifruit sector, creating hundreds of jobs across the region.
McBride is relishing the opportunity to bring his kiwifruit knowledge to another emerging horticultural industry: "It's genuinely exciting bringing a whole new class of products to the market. With kiwifruit we've seen such an amazing growth curve and we've weathered the rollercoaster of international markets to establish a world leading industry. There's enormous potential to replicate that success with medicinal cannabis using the systems we've spent decades perfecting."
As well as their practical experience to steady the ship through the rough waters of an emerging industry, these seasoned pros bring to Eqalis a real passion for the natural health benefits of plant-based medicine.
"My passion has always been in the wellness area. This business model aligns with my values and I'm excited to be part of an industry that can help so many people," says Bougen.
Medical cannabis operations around New Zealand are in a holding pattern at the moment as they await government legislation, expected in early 2020, to approve the production of cannabis-based products. New Zealand currently imports all of its medicinal cannabis and local businesses want to be able to supply product to the one in five New Zealanders currently struggling with chronic pain for around a third of the cost.
As the industry seeks to establish itself, product diversity, world class research and supply chain advancements are going to be critical to success. The pathways established by Eqalis' avocado, kiwifruit and honey experts are set to provide fast, easy access to already established markets giving them a significant head start.
On standby
While the wait continues for the new legislation, the Eqalis team have been hard at work preparing to meet an expectant market. Since their inception they have become the first Bay of Plenty medical cannabis firm to secure not one, but two growing licences and they have also built a world-class GMP growing facility on the outskirts of Katikati. Eqalis is currently growing plants indoors as well as outdoors under plastic hoop houses and intend to grow outdoors on an industrial scale in 2020.
It is illegal in New Zealand to smoke or inhale medicinal cannabis so the Eqalis product range will comprise of ready to use oils. Using high-quality cannabis grown in their Katikati facility under carefully monitored conditions, they will produce cannabis extracts using state of the art supercritical fluid CO2 extraction technology. This process extracts the major cannabinoids (THC and CBD), as well as the minor cannabinoids, terpenes, and flavonoids, resulting in a highly concentrated resin.
Local flavour
Eqalis are acutely aware that other nations are well ahead in terms of product development, distribution and research. The team have identified a sharp focus on innovation as critical to their entry to the market and intend to accomplish this through ongoing strategic investment in research and partnerships with disruptive brands and organisations. A partnership with local iwi is one such innovation currently underway. Eqalis are collaborating with iwi to develop products that blend medicinal cannabis science with Rongoa (traditional Maori medicine).
Researchers and Rongoa specialists are investigating and standardising traditional 'legacy' formulations derived from New Zealand's native plants and herbs which have been used over generations. Heritage plants such as the kawakawa (Piper excelsum formerly known as Macropiper Excelsum), widely known for the curative properties of its leaves to heal skin diseases as well as various internal ailments, offer a wealth of applications when used in conjunction with cannabis. Creating niche products such as these with a strong 'Kiwi' identity will enable Eqalis to carve out a place in international markets.
Serious science
Eqalis are privileged to have head researcher Elizabeth Plant leading their team. A former President of the New Zealand Pharmaceutical Society, Plant's wealth of experience in risk management, government policy and clinical research are a huge asset to the company.
Previously an advisor to PHARMAC, the New Zealand government agency that decides which medicines are funded in New Zealand, Plant developed an interest in the potential of medical cannabis several years ago: "Cannabis is such an exciting drug because it mimics the body's natural defence mechanisms that regulate things like pain and inflammation. To be able to provide a non-opioid pain relief solution to help such a large group of patients is ground-breaking," she says.
Eqalis: rebalancing your body & enhancing your quality of life
The Eqalis brand is all about balance. Our bodies need to be in a state of homeostasis, or equilibrium, in order to function at their very best. Balance in our bodies leads to balance in our lives and the desire to improve the quality of the lives of all New Zealanders is at the heart of the Eqalis brand. By growing and producing the finest quality ingredients under the strictest conditions delivered at the best possible price, Eqalis hopes every member of their local community can have access to an equally high quality of life and can effectively manage the impact of disease and ill health.
Creating a thriving industry that provides economic benefits to the Bay of Plenty region through employment and investment in local businesses is a broader principle behind the foundation of the Eqalis brand. Improving pathways for local iwi will also bring balance to the diverse communities of the region.
Representing the Eqalis brand is the Statera icon, designed to symbolise balance, wholeness, symmetry, targeted relief, and continuous development. The suggestion of a flower references the horticultural heritage of the Eqalis products and their firm belief in the power of natural, plant-based medicine.
Brendon Ogilvy
Co-Founder & Business Manager
Eqalis
+64223551769
brendon@eqalis.co.nz
eqalis.co.nz/
This article will appear in the first issue of Medical Cannabis Network which will be out in January. Click here to subscribe.