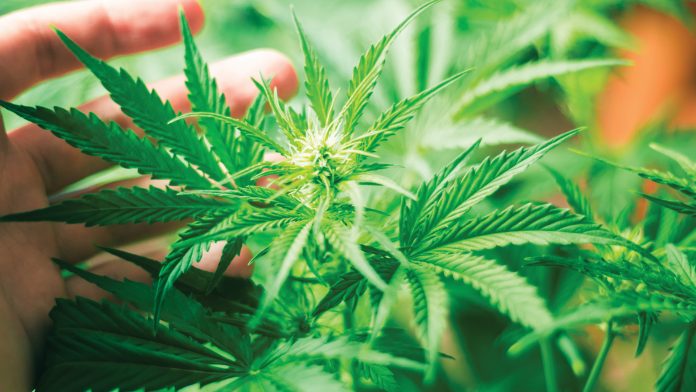 Full Moon Investments, has quickly made a name for itself in the US medical cannabis industry and is now looking to expand its footprint to Europe and South America.
As the fledgling medical cannabis industry continues to grow exponentially worldwide, a sort of modern-day gold rush is taking shape. From growers and retail operators to investors and the types of business support services medical cannabis business owners require, thousands are working to obtain a foothold in the industry. Full Moon Investments, which provides financial capital and operational expertise to medical cannabis licensees, has emerged as one of the leading firms driving the industry's growth in the USA and has set its eyes on Europe and South America.
With offices in New York, Atlanta, Georgia, and Greenville, South Carolina, Full Moon's principals have completed more than $90m in cannabis related and other private equity and debt investment transactions, with another $30m (~€35m) targeted to commit for future deals. Their completed and targeted investments are in medical cannabis businesses in several states in the USA and include more than 100,000 square feet of indoor warehouse cannabis cultivation and laboratory facilities, as well as over 100 acres of outdoor and greenhouse cultivation.
As jurisdictions in Europe and Latin America legalise cannabis for medical and/or recreational use, the financial capital and operational expertise Full Moon provides is increasingly in high demand. A brand-new industry is being built where none previously existed, which presents unique challenges and opportunities for participants, and Full Moon is literally writing the playbook for newcomers to the industry to follow.
The firm's leadership combines expertise in finance – including market and financial assessment, investment valuation, and the development of debt and equity deal structures that provide the investment and working capital that new entrants to the medical cannabis business need to execute on their licences. Full Moon couples this with expertise and experience in all facets of a medical marijuana business, including operations, sales and regulatory compliance.
The team includes a chief cultivation and scientific officer with 15 years of experience in the design and implementation of more than 40 cultivation operations, and who is charged with design and implementation of laboratory processing facilities. As a result, Full Moon brings unmatched expertise, experience and value to both investors and licence holders.
Access to investment capital
David Engel serves as Full Moon Investments' chief investment officer and managing partner. He has more than 20 years of experience structuring private placement investments in a variety of industries, including the medical cannabis industry and real estate with sophisticated debt and equity structures. These capital engagements include traditional and mezzanine debt, convertible debt and equity capital raises.
In a nutshell, what Engel and Full Moon do is raise equity and debt capital from accredited high net-worth individuals and family offices to finance the design, construction, buildout and working capital requirements of medical cannabis licence holders. Full Moon has an existing investor base of more than 250 accredited investors and seeks to expand that investor base in Europe by providing high-quality, financially prudent and lucrative investment opportunities to investors based on private investment fundamentals, including cash flow and profits.
Full Moon seeks investments in jurisdictions with high barriers to entry for licensees or that have sustainable international cost or other competitive advantages. Typically, the licence holders receive much-needed financing to launch and scale their businesses, along with specialised equipment, facility design and construction oversight, along with business execution and operational expertise.
Full Moon's investors are able to participate in investments with the benefit of Full Moon's experience and execution to position investors for significant risk-adjusted returns on investment, which typically involves ultimate ownership in a cash-flowing cannabis business.
While that hews to a fairly standard start-up equity investment model, Engel notes Full Moon's medical cannabis transactions include some important structural advantages for investors. Perhaps the biggest is using as collateral the medical cannabis licence granted by the permitting jurisdiction. This gives Full Moon and its investors significant security.
"We offer something very unique," Engel explained. "Generally, we buy a minority interest, although some licensees would rather retain a minority interest and have Full Moon acquire a majority interest and take the responsibility of managing all operations and executing the day-to-day business plan.
Generally, we loan the licence holder the money with a convertible note facility, we fund construction of their cultivation, laboratory and dispensary facilities as construction occurs, and we capitalise the interest during the ramp-up and construction period, much like banks do in the United States on traditional construction projects.
Full Moon helps licensees implement a workable business plan more quickly, with the objective of speed to market, to gain first mover advantage, and take them to the 'promised land' of revenue, cash flow and profits.
"Regardless of our eventual minority or majority interest, we generally have the ability to drag the licensees into a public market liquidity event such as an initial public offering (IPO), a reverse takeover (RTO), or other liquidity event such as sale to big pharma, tobacco or beer. The strategy is to use our substantial ultimate United States, Latin America and European footprint to convert the private market companies which we have invested in based on fundamentals and conservative earnings multiples, into a liquidity event at public market multiples, which are trading at many, many times more than private market companies' multiples."
Providing that real and significant premium price exit strategy is a major advantage Full Moon provides that individual 'mom-and-pop' operators cannot achieve on their own. Full Moon's existing and ultimately even larger international footprint makes it very attractive to public companies looking to invest in the medical cannabis industry, or existing cannabis public companies seeking to achieve rapid growth and synergies through acquisitions, and international diversification, Engel continued.
Operational expertise
Engel, meanwhile, is also the founder and managing member of P&V Partners, LLC, a consulting company engaged in investment, business and valuation consulting, debt and equity capital raises, and financings. Futhermore, P&V Partners and Engel have significant experience consulting in the retail space. Since 2014 P&V Partners has been raising capital and consulting in the medical cannabis industry.
Full Moon's financial expertise in the industry combined with that of chief cultivation and scientific officer Michael Kupferman's , and Engel's retail and construction experience and background, gives Full Moon a deep wealth of medical and recreational cannabis knowledge, in the cultivation, laboratory and dispensary operations and execution of the design and construction buildout of facilities required to have successful outcomes for licenses.
One of Full Moon's capital clients from Boston, Massachusetts, described how their company benefitted. "Full Moon not only provided the capital needed to support our large-scale medical cannabis operation but also provided a world of experience," said Nancy Koury, president of Middlesex Integrative Medicine. "This business is very complex, but having an educated partner like Full Moon has allowed for informed decision making and the avoidance of mistakes, which has been very valuable to our company.
This starts with providing the capital to build the operation, but it involves much more than that. Full Moon oversees the lab design for new licensees. Cannabis labs are highly specialised, and their design requires engineers and architects who are specially trained in cannabis labs and facilities; Full Moon brings these cannabis specific expert relationships to the table.
Many new licensees have cost themselves time and money by doing otherwise or by hiring 'basement chemists and growers'. The 'underground' skillsets and lack of processes for these translate into poor efficiencies and production, which are not accretive to large-scale commercial cannabis operations. Full Moon learned from its own mistakes in this area, and much of the value it provides is in keeping new licensees from going down the wrong path.
"We help licensees implement quickly and not make the mistakes we made when we first started," Engel said.
"We are there guiding them to not make those mistakes to get them faster to market. Admittedly, when Full Moon started, we made lots of mistakes. We relied on so-called basement growers, too. Full Moon's guidance on what not to do may be just as valuable as what to do. That's where the value lies: a safer, surer and speedier execution on valuable cannabis licences. We know how to guide them to keep them from spending money they don't need to spend and invest in technology and efficiency the proper way."
The legal framework that regulates the medical cannabis industry varies from state to state and nation to nation, making Full Moon's significant experience and adaptability in different jurisdictions important. As a result, few, if any, firms can match Full Moon's in-house expertise navigating different regulatory systems, nor its ability to quickly gain an understanding of the rules that will guide the medical cannabis industry in new jurisdictions and get a handle on how best to get an operation up and running under those regulations.
It is another way in which Full Moon helps operators save time and money – and avoid costly mistakes.
"Our goal is to achieve financially prudent growth based on fundamentals to build a large and diversified footprint in jurisdictions all over the world, and then when the legal barriers start dropping and as public acceptance grows, the multiples we are to get for the combined footprint will expand to exciting levels for our licensee capital and expertise clients, and very importantly our investors. It is a sometimes overused cliché, but we truly have a 'win-win' formula, which is a unique phenomenon of our particular business model when applied to the nascent cannabis industry," Engel said.
International expansion
Full Moon has a foothold or seeks opportunities for capital commitment in the USA in the states of Arkansas, California, Massachusetts, Michigan, South Carolina, , as well as the South American country of Colombia. In recent months, Full Moon has begun to turn its attention to the expanding medical cannabis market in Europe.
International diversification would not only place Full Moon in a unique position in the medical cannabis industry, it also could create new partnerships, cost benefits, and synergies on the operational side. This includes everything from processes to products and ultimately economies of scale, and finding high-quality, low-cost production areas worldwide, Engel said.
"Especially when you consider jurisdictions like Colombia, where we seek to expand to have thousands of hectares of cultivation in one of the lowest cost cultivation environments on the planet.
"We get excited at the prospect of growing there and exporting cannabis products, at the world's lowest prices, to other jurisdictions where the licences allow it, and to significantly benefit all our licensee clients and create sustainable competitive advantages of price in their particular jurisdiction. Imagine vertical integration on an international level, that's where this business is heading.
"If you are a high-income, high-net-worth investor, family office or private equity firm and are accredited by your jurisdiction's laws, we are interested in talking with you about investing with us," Engel said. "If you are a licensee, we can help you maximise the long-term value and cash to you from your cannabis licence."
Are you interested in investing with us, or a cannabis licensee in need of capital? Contact David Engel via the details below.
David Engel
Managing Partner
Full Moon Investments
+1 404 993 7077
david@fullmooninvestments.com
www.fullmooninvestments.com
Please note, this article will appear in issue 9 of Health Europa Quarterly, which is available to read now.