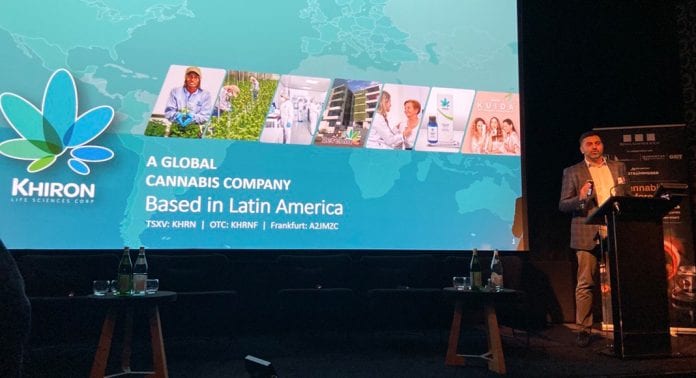 Khiron Life Sciences is a cannabis pharmaceuticals company with operations and a presence across Latin America, joint venture entry into the US consumer market, and expanding activity into Europe, and is providing cannabis trials with medical products.
Khiron Life Sciences has cannabis cultivation capacity across multiple jurisdictions, as well as scientific research, clinical trials, and education programmes to raise awareness of medical cannabis across Latin America.
The company is working with one of the most important cannabis pilots to date in Europe and the UK – Project Twenty21 – by providing medical cannabis products to the patients taking part. Medical Cannabis Network speaks with Tejinder Virk, President, Europe at Khiron to find out more.
For those who are not familiar with the company, can you describe Khiron and its mission?
Khiron is a vertically integrated global medical and CPG cannabis leader with core operations in Latin America and Europe. We currently have distribution throughout various countries in Latin America, along with activity in North America and Europe.
The company is licensed in Colombia for the cultivation, production, domestic distribution, and international export of both low and high THC medical cannabis products from Colombia to UK, Peru, and Uruguay/Brazil.
Our mission as a medical cannabis company is to improve people´s quality of life.
Khiron has an established profile as a medical cannabis leader in Latin America. How does that experience inform how the company is participating in the European market and the Project Twenty21 cannabis pilot? 

Khiron has been the early leader in developing the medical cannabis market in Colombia with a fully vertical operation, regulatory ability and permits to export products internationally. Today, Khiron stands apart from its Latin American publicly traded competitors with a fully developed product pipeline, strong supply chain, doctor education programmes, patient and consumer network, growing revenue streams, and a strong balance sheet.
Our regulatory expertise and quality products were key to Khiron being invited to participate in the cannabis pilot in Europe – Project Twenty21 – as the only medical cannabis product supplier from the Latin American region. Project Twenty21 is the largest research project of its kind in Europe, strengthening our first mover advantage, building awareness for our capabilities, and bringing our quality products directly to UK patients.
European countries each have their own legislative approach to medical cannabis. How does that impact Khiron's activity in the market?

In a highly regulated industry, we bring experience and learnings from Latin, South, and North America. However, we must ensure that we address legislative issues, and market needs specific to the European market. This includes working closely with universities, legislators, health authorities, and patient associations in a collaborative environment in which we can all benefit.
This experience combined with an established European regulatory team and EU GMP supply chain allows us to participate in the market effectively. We have UK authorisation for our medical cannabis products and have also fulfilled the regulatory requirements necessary to import and distribute 11 Kuida CBD cosmeceuticals SKU´s into Europe, with sales in the UK through Nabino.com and the TJC network.
Where do you see strong growth potential for Khiron in Europe, and what is the company's timeline to get there?

Our model has been to educate doctors on medical cannabis applications in each region that we operate in, and as we work with the Project Twenty21 cannabis pilot team this allows us to deepen our medical relationships and create market opportunities in Europe.
Awareness is growing as the medical cannabis sector rapidly globalises, but what is Khiron doing to be sure that both doctors and patients are informed about treatment options?
Research and education have been central to our goal of building medical cannabis awareness and knowledge. We partner with leading universities, such as Tec of Monterrey, where we are educating up to 1,500 physicians through our online education platform.
We have also launched a telemedicine service that makes it easier for patients to ask their doctor questions about how medical cannabis might be beneficial for them, and on that point, we are deploying last-mile delivery options in Colombia so that patients can receive product directly to their home.
Khiron's Kuida cosmeceutical brand is now available in the UK. How does this connect to the medical side of the business and where are you seeing growth opportunity?

In addition to revenue generation, Kuida allows us to build distribution partnerships as we enter new markets. This becomes a valuable asset that we can then expand on with our medical cannabis products. Digital channels in particular offer opportunity to reach customers, and in turn patients.
How is Khiron adapting its medical cannabis activities as a result of the COVID-19 pandemic? Are there experiences from Colombia that you feel could work in Europe?

With the dramatic global impact from the COVID-19 pandemic, we acted swiftly, securing authorisation to remain operational in Colombia as an essential service while adjusting our global priorities. The health of all our staff and their families remain a priority for us and as we emerge from the pandemic; we will continue to provide support for their wellbeing and for our community.
We launched our teleconsultation service in Colombia giving patients access to health services and doctors trained to prescribe medical cannabis, and we see this as a model that can grow in Europe, subject to local regulatory conditions. Our e-learning platform gives us the ability to continue to engage with and educate doctors in ways that are safe, informative and cost effective. Coming out of the pandemic we anticipate doctors and patients to be more receptive to online channel strategies.
Through the pandemic and for long term we must continue to be good corporate citizens. In Colombia we have donated COVID-19 testing equipment to the Santa Clara Hospital in Bogota, while we are providing community health support to residents in the Doima region, where we operate.
To find out more about Khrion Life Sciences, please visit: www.khiron.ca/en/home.