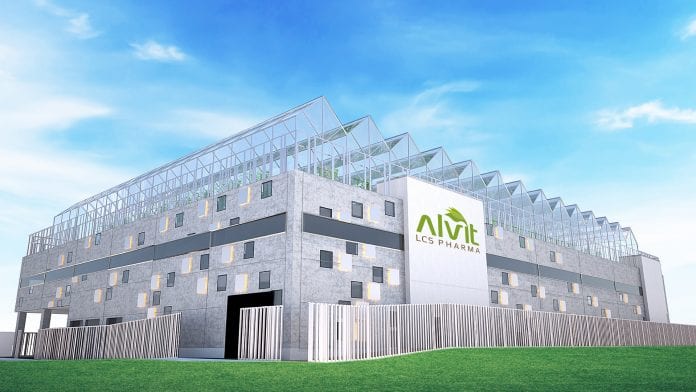 Discover how Alvit LCS Pharma is targeting the EU medical cannabis market.
Europe will be the largest cannabis market in the world and Alvit LCS Pharma is positioned to be a leader in that market. The company is already constructing its first of two EU-GMP certified facilities in Malta and will start exporting cannabis flowers to Germany in Q2, 2020.
Alvit's second facility is a massive state of the art 12,000 square metre cultivation, extraction, and pharmaceutical grade product manufacturing facility that will be completed in late 2020.
This facility will make Alvit the first truly vertically integrated cannabis company in the world with everything from cultivation of proprietary strains to the R&D of drug delivery technologies such as sublingual and extended release tablets, suppositories, sprays, and creams.
The EU market today is where the Canadian market was five years ago. The Canadian market, with 35 million people, has generated more than $50bn (~€44.74bn) in market capitalisation. The EU, with over 20 times the number of people, will be an enormous source of wealth generation over the next five years.
For medical cannabis to become legalised throughout Europe, the European Parliament must approve the measure, the Council of Europe, comprised of the Member States, must approve the measure, and the European Commission must craft legislation.
However, given the fact that there is no agreement on the legalisation of cannabis amongst EU states and that the legislation process is slow, it is unlikely that the EU will create a unified policy for the legalisation of cannabis any time soon.
To remedy this situation, some EU states are moving forward independently to approve the use, or limited use, of medical cannabis. For example, Austria legalised medical cannabis in 2008. Italy, Romania, and the Czech Republic followed suit in 2013; Poland and North Macedonia in 2016; Germany, Cyprus, and Greece in 2017; and most recently, Denmark, Lithuania, Malta, and Portugal in 2018.
'Legalisation' means vastly different things in different countries. Some EU states have only legalised cannabis-based drugs, others require special licences, others only allow cannabis for specific medical situations, and some are just researching it and running trial programs while restricting its approval for many potential patients. Despite this positive trend of state-based legislation, many EU countries have not legalised medical cannabis for any use.
EU Demand without EU supply
Another problem facing EU states with legalised medical cannabis is the problem of cultivation. For example, even though medical cannabis is legal in one way or another in many EU states, it is still illegal to cultivate medical cannabis on a large scale in these countries. Therefore, any medical cannabis distributed in these countries and prescribed to patients must be imported.
The Medical Cannabis in Europe Report estimates the amount of medical cannabis flower sold in the EU during 2018 ranges from 4.5 tonnes (Marijuana Business Daily (MBD)) to 7.93 tonnes (BMO's Global Opportunity Report). According to the MBD, the Netherlands supplied approximately 2.2 tonnes, Canada 1.6 tonnes, and Italy 0.16 tonnes of the annual quantity.
In the first half of 2019, Germany, the largest medical cannabis market in Europe, imported approximately 2.75 tonnes of cannabis flowers, close to its entire annual import amount for 2018.
There are about 741 million Europeans, more than double the number of Americans. That means Europe is poised to become the largest medical cannabis market in the world. The critical question is how to produce enough supply to keep up with the projected and growing demands of such a large market?
Europe's regulatory quagmire
The EU states with legalised medical cannabis and a growing prescription market cannot import cannabis flowers from any cultivator in the world. The supplier must meet strict EU guidelines and the stricter the guidelines, the smaller the number of potential suppliers.
The basic regulation required by all EU states is that the harvesting, drying, curing, extracting, processing, QC, and packaging of cannabis flowers, all conform to EU-GMP standards. These standards include the ability to standardise, repeat and document all processes and procedures, and the ability to track, monitor, and document the movement of materials and goods within a facility according to SOPs, equipment and process validation.
If a cultivator operates in an EU member state and is EU-GMP certified, then it is automatically recognised by all EU states and any EU state can relatively easily import its production.
However, if the cultivator operates in a non-EU state, then the EU-GMP certified cultivator is only recognised if the host state has a Mutual Recognition Agreement (a 'MRA') that includes cannabis with the specific EU state that is importing its production. If an EU-GMP certified cultivator operates in a non-EU state that does not have an MRA with the importing EU state, then the EU state must approve the specific cultivator as a supplier of cannabis products after an on-site inspection.
There are few EU cultivators with EU-GMP certification and many non-EU states do not have MRAs with EU states. This situation has led EU states to begin approving EU-GMP cultivators in non-EU states that do not have MRAs that include cannabis. For example, Canada has an MRA with Germany that does not include cannabis, but several cultivators have recently been approved as flower suppliers.
Germany is another case in point. Due to its exploding demand for medical cannabis, Bonn has no choice but to approve EU-GMP cultivators in non-EU states that do not have MRAs. It is the only way Germany can efficiently meet its demand today.
However, as soon as there are enough EU-GMP cultivators within the EU itself that can supply its market with flowers, then the need to approve EU-GMP cultivators from countries such as Canada may vanish or be deemed illegal. The ad hoc approval of individual importers is only a temporary solution to Europe's need for cannabis flowers on the one hand and getting around its regulatory bottleneck on the other.
Tiny Malta is big in cannabis
Malta is an EU state with approximately 475,000 people. Its government is pro-actively encouraging companies to set up businesses in Malta with an eye to developing its economy. Malta offers foreign companies access to Europe and its 741 million customers.
One of the many industries that Malta targeted was medical cannabis. Its government offered incentives such as land, permits, licences and a favourable tax structure to ten foreign companies. Israel-based Alvit was one of the companies that was approved, and which is already constructing its production facilities on the island.
Alvit's European gambit
Alvit was issued a LOI to import, cultivate, extract, sell, manufacture, research and export cannabis flowers, oils and pharma-grade products to Europe and other international markets.
Alvit's first EU-GMP certified facility is in its final phase of construction and will be operational during Q2, 2020. This facility will initially import flowers, process them, and export the finished products to Europe, with its initial shipments to EU distributors expected in Q2, 2020. Alvit is already pre-selling its 2020 production capacity.
Alvit's second 12,000 square metre EU-GMP certified facility is slated to be operational by the end of 2020. It will cultivate ten tonnes of cannabis flowers a year and have a self-sustaining nursery to support its local cultivation operation. The facility will employ ethanol, cold press, and CO2 extraction technologies. It will house multiple pharma clean rooms to produce sublingual and enteric coated tablets, sprays, suppositories, creams, soft gelatine capsules, cosmetics, and wellness products. It has an in-house QA/QC laboratory which will be used for testing and analysis. The facility also includes large warehouse and distribution areas, including cold storage and a vault.
According to the MCE Report, the amount of cannabis flower sold in the EU during 2018 ranges from 4.5 to 7.93 tonnes. If this total amount were to double by 2020, Alvit will have the facilities in place to supply the EU demand.
Cultivation to extended release
In the long run, cannabis flowers are only one segment of the burgeoning EU and international medical cannabis markets. The medical cannabis market is projected to evolve in many different directions and Alvit is already positioned for the future. Alvit is developing a range of drug delivery technologies such as sublingual and enteric coated tablets, sprays, suppositories, creams, and soft gelatine capsules. These technologies will incorporate full spectrum CBD and THC.
Alvit has its team in place, its strategy defined, and its facilities being constructed. The company expects that 2020 will be the year that it becomes one of the largest suppliers of medical cannabis products to Europe in the world.
Yona Levy
CEO
Alvit LCS Pharma
+972 508555007
yona@alvitpharma.com
www.alvitpharma.com
This article will appear in the first issue of Medical Cannabis Network which will be out in January. Click here to subscribe.