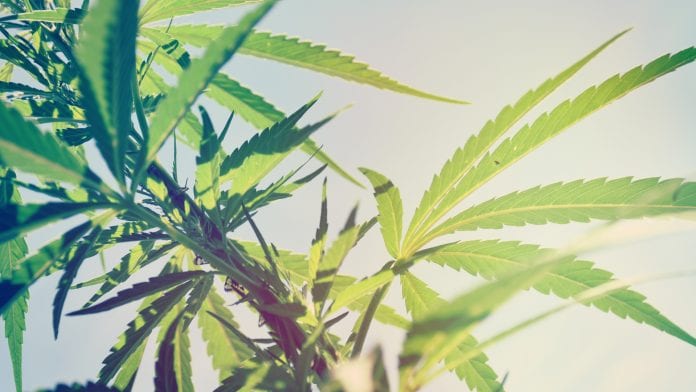 Ops at the speed of light: a profile highlighting the career of Rudy Roma, Compassion Center DevOps and Cannalogix research fellow.
Cannalogix Foundation, Compassion Center and Rudy Roma are synonymously known throughout the global hemp, cannabis and healthcare industries as professional educators, disruptive innovators and public policy advocates.
Going back as far as 1995 and 2001 respectively, both organisations are rooted in patient advocacy and policy innovation with reputations that speak for themselves. It was no wonder that Roma would find his way into their ranks, working among other disruptively innovative leaders from around the globe.
While many have come to know the 'why' behind Cannalogix and Compassion Center: people. What many may not know is Roma's why.
In this profile, Cannalogix Foundation and Compassion Center are honoured to showcase the contributions made by Roma, 'his why' and some of the programmes that have been developed for the people by the Cannalogix-Compassion Brain-Trust DevOps group, in co-operation with other disruptive innovators and community leaders, in service to the people and the many communities served by these bleeding edge models.
Roma is a Cannalogix Research Fellow, standardisation and supply chain subject matter expert and Compassion Center C-Suite executive based in the Central Valley of California.
He oversees the production, procurement and supply chain operations for Compassion Center and its various subsidiaries.
Roma's roots run deep in the hemp and cannabis space and span back to 2013 when he and his wife officially launched 420InSight.com as an online health and wellness informational platform that educates those interested in expanding their core knowledge on cannabis and how cannabinoids may help certain disorders and ailments. Roma was inspired to create 420InSight.com after working for a school district in Central California where he was exposed to children with epilepsy and autism – some of which used cannabis as a seizure and antispasmodic medicine, sedative and pain reliever.
This was a critical turning point for Roma, the exposure led him on a pathway of discovery, education and enlightenment. Roma's research into cannabis, and its effects on children was more than profound, it was inspiring and invigorating. One of the most notable cases Roma came across during his research was a child in Oregon who had used cannabis to overcome Acute Lymphoblastic Leukemia (ALL) – the very same cancer that claimed the life of his daughter Ralina Jane Roma in 1985. Here, Roma met his purpose.
The Roma family began to heal from the tragedy suffered during the summer of 1985 when Ralina, their beautiful baby girl, passed away from Acute Lymphoblastic Leukemia (ALL) at just 15 months old. While nobody knew it at the time, Ralina was destined to forever change the world as we knew it. One could never forget Ralina's infectious smile, or the fact that she brightened the day and captured the hearts of all she encountered while she was here. Solidifying her legacy, Roma continues to maintain the Ralina Jane Roma Acute Lymphoblastic Leukemia Relief Scholarship Fund under the Cannalogix Foundation Research Institute – Children's Categorically Complex-illness Research Institute. This dedicated scholarship fund provides for exams, care, medicines and transportation costs for children and their families, who seek legal alternatives for all.
For information on Roma, the scholarship or CFRI, please visit Cannalogix.org or Compassion-Center.org.
Once 420InSight.com was operating, Roma felt compelled to create the Awaken America Events (Hemp and Cannabis), launching each programme as an outreach, awareness and education campaign to engage and empower professionals, patients and other community leaders.
From the very first event, Roma recruited and introduced a collaboration of top researchers, doctors, scientists, healthcare providers, advocates and patients; so, people received an education. What transpired, exceeded expectations and today, the Awaken America Events and Phyto Conference brands educate and empower patients, providers and global leaders on the benefits of hemp and cannabis for food, fuel, fibre, medicine, energy, textiles and emerging technologies, so the emerging industries can fully evolve to their highest potential.
The new event series is being presented in Las Vegas, Nevada, USA, October 2020, with early bird tickets available at discounted prices to members of Cannalogix, Compassion Center and 420InSight.com. For information on the conferences please visit; phyto-conference.com and awakenamericatohemp.com, respectively.
Today, 420InSight.com is an extension of the Cannabaceae Wellness Institute (CWI) and Compassion Center, providing up to date information and community resources for patients, professionals and other educators seeking information on cannabis and cannabinoids.
CWI is a nonprofit education, research and development institute commissioned in partnership with Gerry Bedore, PhD, MBA, Julie Monteiro, RN, BSK, Cannalogix Foundation Research Institute (CFRI) and the Center for Incubation & Findings Research (CIFR). CWI was founded to co-develop globally accredited syllabi and curriculum revolving around the socioeconomic, agronomic, medical, and environmental uses of cannabis and hemp, with specific attention to the following.
Healthcare
CWI utilises data collected from patients and specialty trained providers to co-develop leading edge courses and educational programmes to compliment bleeding edge technologies, empowering healthcare and research professionals to make a positive difference.
Essentially, educating the next generation of healthcare providers and researchers with the knowledge and practical skill sets necessary to use cannabis and hemp in therapeutic practice. From a safety perspective, CWI ensures each provider is trained on contraindications at the same time they are trained on disease indications and effective dosing techniques.
CWI invests into the innovation and development of the most up to date curriculum, continually evaluating and integrating newly published research studies, tracked outcomes and real time patient data, organising subjects, results and outcomes onto an expansive cloud-based platform so students can easily access and learn from the latest data.
Agronomy
CWI utilises data collected throughout the farming process, analysing variables from each stage of growth to develop and innovate syllabi and a curriculum that increases the yield per acre without decreasing the quality or safety of the harvest.
CWI develops agronomy curriculum around a variety of subject matters ranging from soil amendments and propagation to planting, harvesting and manufacturing as well as production, distribution and supply chain management in an effort to empower a diverse syllabi and curriculum capable of educating and empowering the next generation.
CWI educates students on the crossovers between food, supplements and healthcare while maintaining the importance of developing an industry that meets consistency and quality standards for pharmaceutical and ingredient manufacturing.
Socioeconomics
CWI utilises data collected from various demographics and points of reference to identify socioeconomic trends and patterns that have contributed to prohibition, a failed drug war and the instability of an emerging industry, to develop syllabi and a curriculum that empowers a new generation of local community leaders. Culturally, cannabis breaks all cultural and societal barriers considering that there are people from every culture, race and age demographic who use cannabis.
However, few want to admit that cannabis prohibition has become a social and cultural crisis, mostly out of fear of judgement or prosecution. Since responsible cannabis regulation will inevitably result in safe, consistent cannabis standardisation, CWI develops courses, syllabi and curriculum to educate, empower and advance society's knowledge on the subject matters, equally.
Educational, political, cultural and regulatory barriers faced by the hemp and cannabis industries are vast. Without proper access, education and support, people, businesses, and communities are destined to fail. CWI is developing a matrix of courses developed around; unified standards, data collection, healthcare, pharmaceutical, phytopharmaceutical, chemical, agricultural, agronomy, energy, insurance, finance, and law with a focus on the vertical integration of hemp, cannabis and Cannabaceae related subject matters.
CWI is developing a series of advanced, accredited and expertly crafted courses, curriculum and syllabi exclusively designed for global distribution through institutional (college and university) outlets as well as online distribution platforms such as theCannabaceae.org and related organisational platforms.
Back in 2016, CFRI and the Compassion Center partnered to co-develop Cannalogix Wellness. Learning from patients and professionals, researchers are developing and utilising a series of tools ranging from an advanced diagnostics platform to DNA and genomic sequencing – as well as cannabis and exercise – with experts from an emerging discipline known as 'nutrigenomics' working to optimise wellness, both cognitively and physically.
Creel recruited Monteiro, of Medical Cannalyst Consulting Group, a professional nurse educator, conference organiser and publisher of Cannabis Nurses Magazine, to oversee the development of provider education and professional outreach.
Monteiro was responsible for educating nurses across the country on the safety, efficacy, indications and contraindications of cannabis, cannabinoids and terpenoids – through a global network and medical conference she had founded in Las Vegas, Nevada, USA. For more information about Cannalogix Wellness or Monteiro, please visit Cannalogix.org and Compassion-Center.org respectively.
In 2016, Creel traveled to New York at the advice of Vincent Brown, MA, to meet with Harris Shapiro, an investor relations expert, finance strategist and private banker from Wall Street to discuss strategies for funding Cannalogix Wellness as a global social purpose model. Creel previously partnered with Brown, a consultant in healthcare, insurance and finance with a niche expertise in strategy, startup incubation and real estate from Staten Island to develop Cannalogix Wellness into a global solution.
Creel, Brown and Shapiro entered into a strategic partnership, specifically to develop revenue streams capable of supporting programme. This partnership elevated their group of organisations into prime positions, allowing each of the partners the ability to innovate, incubate and develop brands, companies and models. Some of these brands have become global entities, and continue to expand, despite the volatility of the hemp and cannabis industries. For more information on the funding mechanisms used to support the emerging global socioeconomic ecosystem, please visit bbsh.info and cannalogix.info, respectively.
Early in 2018, CFRI partnered with Anantlife Canada to create a commercially available DNA/genomics kit for Clinical Endo-Cannabinoid Deficiency (CECD), based on the advice of Brown and Shapiro. Cannalogix then partnered with Compassion Center to deliver the CECD genomics kit exclusively. Compassion Center became the flagship model for compassionate care delivery, utilising integrated holistics and professionally trained providers.
In mid-2018, Compassion Center began integrating into mainstream healthcare as a vertically integrated management services organisation (MSO) offering everything from scheduling to billing, including patient/client acquisition and retention. By late 2018, Cannalogix Foundation and Compassion Center had commissioned the Center for Incubation & Findings Research (CIFR) to establish, incubate and launch the Holistic Health Now (HHN) platform as a new type of integrated managed care consortium.
Hospitals are closing at an alarming rate because the healthcare system as a whole is in a state of failure, despite our levels of education or our country's reputation for innovation. Noticing this concerning trend, Compassion Center conducted a round table meeting with experts from healthcare, insurance and policy to address the cause of these hospital closures, and the systemic issues that are destroying community healthcare systems across America.
A series of breakdowns were identified. Insurance premiums and medical bills are on the rise, yet hospitals in some of the largest cities are being forced to close (Google: Hahnemann) at alarming rates because more and more people are unable to pay their medical bills, much less pay for insurance.
CIFR, Compassion Center and Cannalogix Foundation developed Holistic Health Now (HHN) strategically to acquire and house these failing hospitals – before they fail in most cases – repurposing them into a community driven healthcare model, under the law, developed under both Compassion Center and Holistic Health Now brands.
HHN was created as a global solution to the failing healthcare system. To develop the platform properly, the Compassion Center partnered with Michael Phillips MBA, a renowned hospital developer, CEO and CFO, known for creating care models that have earned Consumer Reports ranking of #1 in Patient Safety.
Phillips was recruited by Brown, Chief Strategy Officer to serve as Chief Financial Officer and Co-Chair of the Strategic Finance Committee for Compassion Center, laying the foundation, expanding a group of healthcare innovation experts, in an effort to save the community healthcare system.
Compassion Center will reinvent healthcare by shifting the focus of the provider from 'symptom and disease management' to 'cognitive and physical wellness optimisation,' utilising a variety of natural, plant-based compounds, nutrition and exercise as a first step towards treating disease or improving outcomes.
Compassion Center shall serve as a Management Services Organisation (MSO) overseeing the Holistic Health Now Continuum of Care. CIFR is incubating the HHN network of providers and organisations into a global wellness solution providing patients all-inclusive access to alternative, holistic and conventional care – under a unified consortium, providing single-source access to dedicated providers and organisations.
In 2019, Cannalogix and Compassion Center entered negotiations with Roma to consolidate his supply chain development firm, GreenWave Services LLC (GreenWave Distribution), positioning it under the Bluebird & Blacksheep Specialized Holdings LLC's (BBSH) global supply chain management framework. Roma, recognising the need for consistency in the supply chain, had spent years developing GreenWave as a solution to supply chain development and management. Roma, utilising his experience from developing some of the first cannabis related ASTM standards had facilitated every aspect of the process from obtaining certifications for the farms and processors – to creating the actual distribution platforms and sales processes that ensured safety, consistency and accountability for buyers and end-users.
Creel and Roma worked together to structure a consistent supply chain for the Cannalogix Foundation, Compassion Center and the Holistic Health Now Consortium built around safety, sustainability and accountability and adopted it as an essential component. Since hemp and cannabis are going to be used in the programmes, these standards became essential.
Roma and GreenWave's supply chain combines decades of experience in automation, business, operations and standards development to responsibly incubate the sellers and qualify products for entry into a standardised ingredient supply chain. In contrast, Roma's division has perfected the process of qualifying buyers, verifying product and confirming funds, alongside efficiently distributing materials and goods into the hands of serious buyers.
The GreenWave consolidation laid the foundation for a unified global supply chain second to none, expanding GreenWave's network by 400% and increasing their distribution capacities. Today, GreenWave manages a network of licensed producers, suppliers and certified laboratories distributing and delivering quality, standardised and certified hemp products, biomass and various other manufactured goods into a supply chain built on consistency, accountability and transparency.
Shortly after GreenWave became part of the Cannalogix-Compassion Brain-Trust DevOps Group, Roma recruited Garry Singh Saini and nominated him to the Compassion Center C-Suite. Growing up in the shoes of his father, Jesse Singh, Saini is a respected global philanthropist and disruptive innovator, with a sixth sense for noticing talent, just like his Dad.
Roma asked Creel to meet with Saini in California to tour a facility so Saini could develop an understanding of the positions he was being recruited for. Upon meeting, Creel and Roma agreed Saini was a perfect Chief Governmental and Industrial Relations Officer candidate. Both nominated Saini as a Co-Chair for the Executive Recruiting Committee. Saini now recruits current and future leaders from around the globe, to aid Cannalogix and the Compassion Center in creating socioeconomic solutions that lead to equal access to energy, technology, prosperity and healthcare – something Saini and his father, believed strongly in.
Saini empowers Cannalogix and Compassion Center by combining a diverse skill set and experience from his agriculture, energy and disruptive technology innovations. Saini entered the cannabis and hemp space to fix a broken supply chain in cultivation, extraction, distribution and packaging of cannabis, hemp and natural food products, managing USDA certified organic facilities, working directly with Roma, Creel, Monteiro and Brown overseeing DevOps.
Today, Cannalogix, Compassion Center and GreenWave Services work towards the goal of unifying, incubating, and elevating small family farmers, processors, packagers and distributors, from all over the globe. GreenWave models are used to solidify supply chains, incubate sustainable practices into the family farm, and promote access to prosperity and healthcare while introducing third world countries to models that lead to a healthy global marketplace. The HHN model is not new, but a newer approach to an existing model that has proven to be very successful, continuing to serve patients in eight states today.
Once fully developed and launched, HHN will provide its members access to on demand healthcare through mobile technology and mail order pharmacies and supplies – while providing families access to conventional clinics, hospitals, recovery centres, rehabilitation and nursing homes. Each HHN member will have the ability to move about freely, accessing HHN facilities all over the world utilising cloud-based healthcare records, standardised products and health plans to access wellness – no matter where, because lives aren't stationary.
For convenience, readers may visit any entity or organisation associated with the Cannalogix-Compassion Brain-Trust DevOps Group and use discount code HEALTHEUROPA2020 to save 15%1 off the costs of all specialty consultations, education seminars, conference admissions, clinical exams and specialty diagnostics.
References
1 Restrictions apply and services vary by laws governing each state, country and/or jurisdiction, facility or provider delivering service.
Please email: Admin@compassion-center.org for specifics, and additional details.
Rudy Roma
Compassion Center
+1 844 842 2667 Ext:1
Admin@Compassion-Center.org
www.Compassion-Center.org
This article appeared in the first issue of Medical Cannabis Network which was out in January. Click here to subscribe.