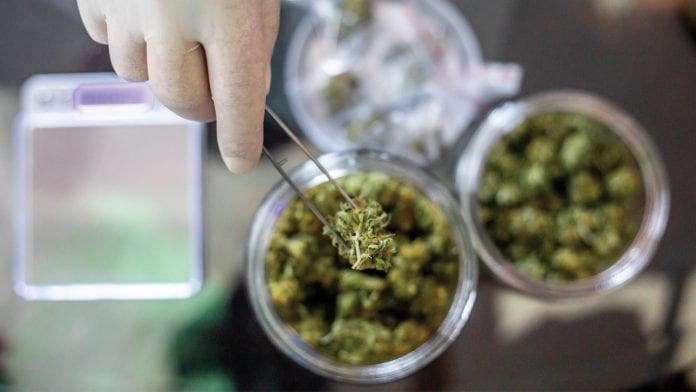 Professor Kent Hutchison speaks to Health Europa Quarterly about his groundbreaking cannabis research and establishing an online cannabis education course on its medical applications at the University of Colorado Boulder.
Professor Kent Hutchison PhD is a professor of psychology and neuroscience at the University of Colorado in Boulder, and is the Founder of the Center for Research and Education Addressing Cannabis and Health (CU REACH). As an NIH funded scientist for 20 years, Hutchison has published numerous papers in the area of substance use.
Recently serving on the National Academy of Sciences committee, that published a comprehensive report on the health effects of cannabis in late 2016, Hutchison has also recently given two congressional briefings on the subject matter.
Hutchison is also the principal investigator (or co-investigator) on three new NIH funded studies that examine the effects of cannabis products (e.g., flower, edibles, concentrates) purchased in the state of Colorado. Specifically, the studies are designed to compare the effects of CBD only products, THC combined with CBD, or THC only on cognitive outcomes, anxiety, and pain, using a mobile pharmacology lab.
This research focusses on a number of patient populations, including pain patients, individuals who want to stop using opiates, veterans, and the elderly. The mobile lab allows for the assessment of blood levels of THC and CBD and a test of whether blood levels of these cannabinoids predict the effects of cannabis on key outcomes (e.g., reductions in pain and opiate use).
Importantly, this approach is also consistent with federal laws that have restricted cannabis research in the past.
Medical cannabis education course and research
Professor Kent Hutchison has launched an online educational programme at the University of Colorado which is focused on cannabis and health. The course can be found on the Coursera website.
The CU Center for Research and Education Addressing Cannabis and Health (CU REACH) is a rigorous, multidisciplinary centre that is devoted to the development of evidence-based knowledge regarding the effects of cannabis.
The ultimate objective of the research is to provide empirical data that will improve lives, in particular the lives of those who suffer from disease states that may be alleviated by cannabis. Centre faculty are diverse, examining the effects of cannabis at the genetic, molecular, neural, behavioural, and dynamic social systems levels of analysis.
Specific research questions are:
Can Cannabis play a positive role in solving the opiate epidemic?;
Is Cannabis an effect approach to pain management? And if so, in what forms and what doses?;
What is the impact of cannabis use in individuals with PTSD and other psychological disorders?;
How is information about cannabis spread through social systems?;
Deep characterisation of cannabinoids and cannabis plant genetics; and
Understand the risks and side effects of cannabis – which routes of administration, combination of cannabinoids, and doses are least risky?
How did you first become aware of the medicinal properties of the cannabis plant and what led you to study it further?
My background is in substance abuse research; I did not think much about the medicinal properties of cannabis until Colorado legalised it in 2013 and families started moving to Colorado so that their children with epilepsy could get extractions from high-CBD strains of cannabis. I found those stories to be both moving and compelling in terms of the need to study the plant regarding the potential benefits as well as potential risks.
My mother suffered from a long-term autoimmune illness and chronic pain; and her experience was also informative – mostly in terms of how hard it was for her to get decent information about the risks and benefits. That was part of what inspired both the research efforts, with the aim of generating more data on potential benefits and risks, as well as our efforts towards education and dissemination.
People really need to understand the risks and benefits in order to make sound decisions. They also need to know how to use various products to avoid or minimise the risks and often this information is not conveyed in detail to patients by either healthcare providers or by dispensaries. When I talk to people, this is a common theme: patients are not getting good information from their health care providers or from other trusted sources. The course is designed to change this situation.
Have you experienced any stigma in actively researching cannabis as a medicine? How can this be addressed?
I have not experienced any stigma. I think it helps that I work in Colorado, where the culture and attitudes have evolved quite a bit.
How did you come to establish CU REACH and what kind of research is the unit conducting?
CU REACH was established once we were able to secure several NIH (National Institutes of Health) grants. We worked closely with the university to come up with a research approach which was compatible with federal law; and that research approach is what led to our success at securing grants.
You have created a course designed to educate patients, care providers and those who wish to work in the cannabis industry. How challenging was it to create something which will benefit all three groups?
It is definitely challenging to create content for individuals with such different backgrounds.
As an example, I provide a fair amount of detail on the pharmacology and biology in the first course; but I am careful to tell students that they do not need to feel obligated to learn all of the details. I make them available so that people can take a deeper dive if they wish. On the other hand, there is basic information on disease states (for example for Alzheimer's disease) in the second, third and fourth courses that healthcare providers will want to skip, but which might be helpful to patients or family members.
The reason to create one set of courses was that I wanted people to have the same basic information and I wanted them talking to each other – healthcare providers, dispensary workers, patients and family members. I cannot yet say for sure how well that is working, as we have just launched the series.
What areas does the course focus on? Are you planning more for the future or considering other methods to educate people based on your research?
There are areas of content that I need to add to the courses. For example, I have nothing on autism and developmental disorders; but that area has become a very hot area of research. I also hope to revise some of the learning exercises or perhaps devise new exercises – but all of this will be based on feedback from students and it will take some time for that to happen.
Professor Kent Hutchison
Founder
The CU Center for Research and Education Addressing Cannabis and Health (CU REACH)
Department of Psychology and Neuroscience
University of Colorado Boulder
+1 303 492 8163
kent.hutchison@colorado.edu
Please note, this article appeared in issue 11 of Health Europa Quarterly, which is available to read now.