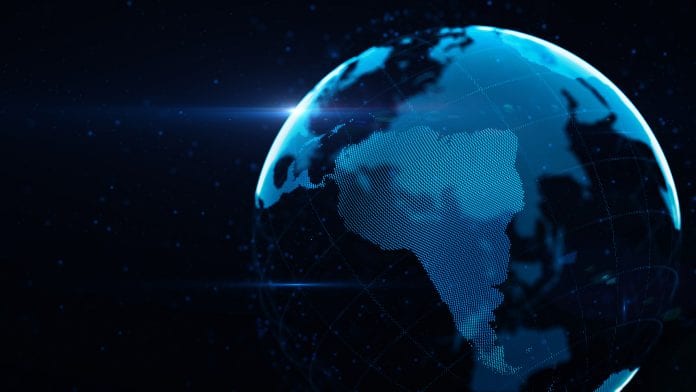 Khiron extends expertise towards the growing EU medical cannabis market.
Khiron Life Sciences is a patient-focused, global health and wellness company capitalising on the fast-growing international cannabis market. With operations spanning nine countries across three continents, Khiron was the first company authorised to sell medical cannabis in Colombia, in addition to successfully exporting and filling prescriptions in Peru. Khiron is active in multiple Latin American markets and has a growing presence in Europe.
Since its inception in 2017, Khiron has been committed to becoming the dominant medical cannabis brand in Latin America. It is now recognised as the market leader, operating wholly-owned clinics in Colombia which see close to 10,000 patients monthly. With rising numbers of medical cannabis prescriptions filled in the country, Khiron recently became the first company to export THC-based medical cannabis products to Peru. The company has established market-leading cultivation, research, product development and commercialisation capabilities in Colombia, as well as operational activities in Brazil and Peru. In Mexico, the company has partnered with Tecnologico de Monterrey, a leading Latin American university, to bring medical cannabis education to over 1,500 doctors and healthcare professionals and announcing recently their first medical cannabis international course for 2021.
EU market potential
Entry into the European market has been a significant aspect of Khiron's global strategy to bring the company's medical cannabis expertise from Latin America to key EU jurisdictions. The company continues to believe that international markets will be a priority within the cannabis industry; and that Khiron itself is uniquely positioned to succeed in Europe due to its highly skilled team, asset-light approach, differentiated medical education platform and focus, and experienced leadership base. Khiron is particularly optimistic about the UK and German markets, where it sees an opportunity to establish industry leader status.
Khiron has successfully applied its physician education programme in Latin America and is now focused on building physician and patient loyalty in the UK and Germany. While the company's asset-light approach means it could comfortably expand to other European markets, Khiron believes that these markets represent leaders among the EU region and offer the largest patient population base. Khiron's robust European supply chain ensures that its products meet the highest quality standards and that the team can focus essential resources on educating EU doctors and meeting patient needs.
In the UK, Khiron expects to be one of the leading brands in the country through its participation in Project Twenty21, an observational study which aims to enrol 20,000 patients by 2021, and in which over 9,000 UK patients have already registered an interest. In Germany, the company plans to compete on product quality, service, and medical education, as it does elsewhere; and will soon launch its proven medical education platform.
The Khiron EU approach
A key differentiator in Europe is Khiron's asset-light approach, wherein the team is focused on building a diverse supply chain to complement an exceptional patient experience. Rather than operating its own cultivation or distribution assets in Europe, Khiron saves time and money, allowing it to focus on service and patient experience. Currently, Khiron is working with multiple EU Good Manufacturing Practice (EU-GMP)-certified partners to create products with specified genetic profiles. Over the longer term, Khiron may look to import Colombian product; however, building a loyal patient following over the near term is a top priority for the EU market.
"We have seen a clear and demonstrable market need in Europe, and with our globally recognised medical cannabis capabilities and expertise from Latin America, we are well positioned to help improve people's lives in the region," comments Tejinder Virk, President of Khiron Europe. "Our initial market entry into the UK and Germany is strategic, allowing us to work with our education and supply chain partners to bring Khiron product to countries with the most significant market potential."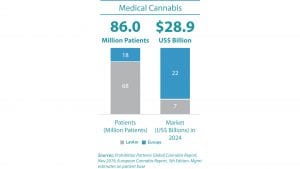 Medical education platform
Doctor education continues to be a core strategy for Khiron; and in the third quarter of 2020, the company launched its globally validated e-learning programme in the UK in partnership with the Medical Cannabis Clinicians Society (MCCS). Leveraging real-life patient data from its clinics in Colombia, along with a highly trained medical team, Khiron intends to provide doctors with a differentiated continuing education experience which bridges the gap between theoretical education and the practical aspects of prescribing medical cannabis.
Meeting UK patient demand
Khiron is entering the UK market as one of five suppliers to Project Twenty 21, a patient registry which aims to assess the efficacy of medical cannabis by monitoring the outcomes of 20,000 medical cannabis patients. Medical cannabis in the UK is positioned for significant growth over the next five years, with just 277 cannabis prescriptions issued in 2019, versus the 1.4 million UK residents believed to be self-medicating with cannabis products. As an early entrant, Khiron has an unparalleled opportunity to build a dominant position by delivering an exceptional and differentiated patient and physician experience.
While medical cannabis has been legal in the UK since 2018, a recent Care Quality Commission report found that in 2019 only 18 cannabis prescriptions were issued through the NHS, in addition to 259 prescriptions issued through the private sector. Project Twenty21 aims to change this by facilitating patient access and collecting data on the safety and efficacy of cannabis-based products for medicinal use. To date, more than 9,000 individuals have registered their interest in Project Twenty21; however, the UK market could eventually reach between 0.7 million and 1.3 million patients (based on a 1-2% market penetration rate).
The Project Twenty21 registry will make up Europe's largest body of evidence on the safety of cannabis-based medicine. Its founder, Drug Science, hopes the findings will help integrate cannabis into UK healthcare. While only specialists can prescribe through Project Twenty21, the registry reduces liability for doctors and broadens the breadth of conditions for which a physician may prescribe. Set up in November 2019, the project is open to patients who suffer from conditions such as chronic pain, PTSD, anxiety, Multiple Sclerosis, Tourette's, and Substance Use Disorder. On 4 August 2020, Project Twenty21 officially launched and registered its first patient for a medical cannabis prescription. Khiron made history by issuing one of the first prescriptions through the study. Additionally, Khiron's partnership with MCCS provides medical cannabis education and training to participating doctors across the UK through its cloud-based learning platform.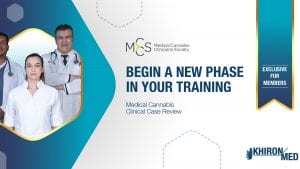 Germany: Europe's most advanced medical cannabis market
Since legalising medical cannabis in March 2017, Germany has historically been the largest medical cannabis market outside of North America. Key characteristics of the German market include high growth rates, insurance coverage, and world class quality standards. Demand for cannabis in Germany has been doubling every year since 2017, reaching a record high of just under €15m in March 2020; and the German cannabis market is estimated to reach €7.7bn by 2028. Additionally, recent estimates of 60,000 patients would put the size of Germany's patient base roughly on par with Canada in mid-2015 and Florida in mid-2017, and it is anticipated that Germany will represent a market of over one million patients by 2024. These North American markets experienced high growth rates as patient barriers fell and product selection and access improved.
In Germany, cannabis is treated much like a standard medicine and is broadly covered by insurance. In fact, in 2019 60% of medical cannabis reimbursement applications under German health insurance programmes were approved, increasing affordability and positioning the country for rapid growth.
At present, Germany is one of the largest importers of medical cannabis in the world and data shows that medical cannabis imports continue to trend upward, despite the global pandemic. The country has increased the number of producers and countries from which it sources medical cannabis and is expected to be vastly dependant on imports for oils and dry flower for the foreseeable future.
Alvaro Torres, CEO and Director of Khiron, says: "From day one our mission has been to work with and educate physicians to bring a greater understanding of the benefits of medical cannabis to patients. We have set a target to reach one million patients by 2024, and this includes the European markets in which we operate."
Despite what some may see as a slow start to global cannabis markets, the next five years should see substantial expansion around the world, including in Europe. As an early entrant to the region, and with its supply chain, significant Latin American patient data and insights, Khiron is ideally positioned to scale and meet patient demand.
Bijan Christoph Hezarkhani
Business Development Manager, Europe
Khiron Life Sciences Corp
bhezarkhani@khiron.ca
www.khiron.ca
This article is from issue 16 of Health Europa. Click here to get your free subscription today.