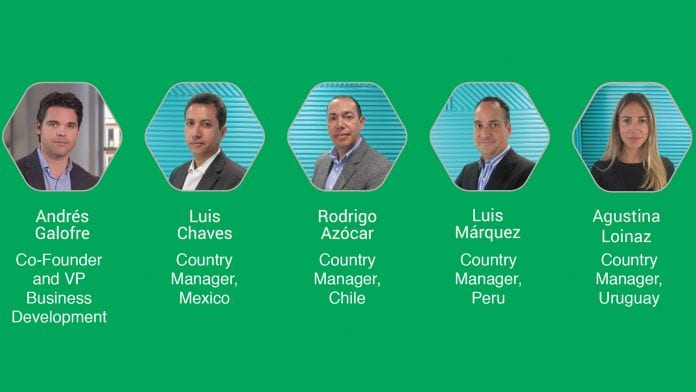 At Khiron, the company has sought to build a team of highly knowledgeable leaders allowing them to hit the ground running as the cannabis industry evolves across Latin America.
Spanning across Peru, Uruguay, Mexico and Chile, the extensive experience and incredible insight of Khiron's country managers has been invaluable for our successful market expansion across Latin America – and so, we are very pleased to introduce our team!" – Andres Galofre, co-founder and VP Business Development at Khiron Life Sciences.
Luis Chaves – Country Manager, Mexico
What is the state of cannabis regulation in Mexico currently?
Legalisation in Mexico has gained a lot of momentum, and change is happening very rapidly. In 2017, a decree was issued that modified the General Health Act and the Federal Criminal Code, in order to regulate the commercialisation of medicines with cannabis. Towards the end of last year, the country's Supreme Court made two rulings that deemed the prohibition of recreational marijuana unconstitutional, building on three previous rulings that came to the same conclusion.
This spurred the newly elected government, headed by Andres Manuel Lopez Obrador, to introduce a bill that would legalise cannabis for medical use. This comprehensive cannabis bill is currently expected to pass through the Mexican congress in October 2019.
Once legislation is passed, what will the market in Mexico look like?
Mexico is going to be a massive market, and a huge opportunity for Khiron. With approximately 124m people, it will also be the most populous market to legalise cannabis.
That's roughly 3.5 times more than Canada – much like in Canada, we expect to see the industry in Mexico ramp up rapidly, with global companies turning their attention to this considerable market and trying to carve out their own share within it. At Khiron, Mexico has always been on our radar: our research early on identified 11.7m potential patients for medical usage alone.
We were among the first companies to recognise the potential of the cannabis industry in Mexico, and to realise the regulatory changes that were occurring. One of our board members, Vicente Fox (who was president of Mexico from 2000 to 2006), is one of the earliest and most influential advocates for legalisation.
Therefore, we are very much tuned into the changes that are taking place within the country. We've been focused over the past two years on establishing connections with consumers, patients and physicians in Mexico and building awareness for our brand there, and that is going to be a huge advantage for us once the market opens.
What presence does Khiron currently have in the Mexico market?
Right now, Khiron is strategically positioned to enter the Mexican cannabis market. We've done an in-depth assessment of market needs, we've conducted an extensive review of regulations for the country's legal cannabis landscape, and we have our Mexican subsidiary incorporated and ready to go.
Most importantly, we've built many strong relationships that will allow us to hit the ground running once regulation is finalised.
In April, we co-hosted the CannaMexico World Summit, in partnership with Centro Fox, a think tank founded by President Fox that concentrates its efforts on creating a new understanding of medical cannabis within the Mexican patient and medical community.
At CannaMexico, we had over 2,000 industry leaders coming together as part of this event we co-organised, and we are very proud to be prominent champions of collaboration and development across the cannabis industry.
Alongside events like CannaMexico, Khiron also runs medical conferences around the country to help build networks of doctors who are knowledgeable about cannabis and its benefits.
Through these efforts, we've developed unique ties and received endorsements from some of the most important medical associations in the country for our medical cannabis symposium KhironMed, including the Mexican College of Internal Medicine and Mexican Academy of Neurology.
As Khiron's Country Manager in Mexico, my role is to further cultivate these relationships, to develop country-specific brand strategies, and to guide legislative affairs as our company continues to grow in the Mexican market.
Rodrigo Azócar – Country Manager, Chile
Describe the current market for medical cannabis in Chile
Chile has historically been a first mover when it comes to medical cannabis. It was the second country in Latin America to legalise cannabis for medical use, passing legislation to this effect in 2015. Since then, cultivation has been decriminalised for medicinal use, allowing the creation of pharmaceutical medicines with cannabis derivatives.
As a result, Chile has an established medicinal cannabis culture and combined with the country's stable economy, this makes for a strong market for cannabis. Our numbers show 1.8m potential patients that could benefit from medical cannabis and Khiron products.
Does Khiron have a presence in Chile?
In January 2019, we signed two agreements, one with Fundacion Daya and another with Dayacann SpA, a joint venture between Fundacion Daya and AusCann Group Holdings Ltd, Chile's leading medical cannabis institutions.
Apart from expanding to another jurisdiction, this was a momentous step for multiple reasons. Fundacion Daya is the first holder of a cultivation permit which allowed them to do clinical research with cannabis derivatives, while the following cultivation permits had been granted to Dayacann SpA. Fundacion Daya is also one of the main movers-and-shakers in the country's cannabis industry and was a driving force behind legalisation.
Essentially, under our agreement, we've secured access to cannabis cultivation in Chile, with up to 1000kg of dried flower to be cultivated for Khiron's use in two product formulations targeting patients with neuropathic pain and a neurological pathology. It also grants Khiron access to participate in clinical trials required to request the commercialisation permits and to meet the needs of patients across the country.
How does this agreement with DayaCann fit into the company's strategy?
Cultivation in multiple jurisdictions is a core part of our strategy. Partnering with Dayacann in Chile fast-tracks our entry into this market, giving our company a first mover advantage in meeting legislative cultivation requirements, and commercialising medical cannabis products.
We have always been focused on a first-to-market strategy, and this agreement with DayaCann furthers that strategy considerably and helps to realise our mission of becoming the medical cannabis market leader in Latin America.
Luis Márquez – Country Manager, Peru
What is Khiron's outlook for Peru?
In 2017, Peru legalised medical cannabis, allowing for the production, import and commercial sale of cannabis for medical use. While the country is still in the process of finalising its regulatory framework, we expect that Peru's pending regulations will be one of the most favourable in Latin America.
Combined with the country's strong economic growth and population of 32m, this translates into a viable and welcoming environment for our business, and a strong appetite and market for medical cannabis and Khiron products.
What steps has Khiron taken to enter the Peruvian market, and what are its next steps within the country?
Last year, we received our first approval to commercialise our Kuida line of CBD cosmeceutical products in Peru, which was a big step towards introducing our brand to this very important new market.
The approval we received, granted by the executive director of the Directorate of Medical Devices and Health Products of the General Directorate of Medications, Supplies and Drugs (DIGEMID), allows for the commercialisation of an initial portfolio of four products and provides a strong foundation to grow the Kuida brand.
Moreover, the country's cosmetics sector is also growing at a rapid clip. With the introduction of Kuida in Peru, we are bringing the benefits of CBD to this fast-growing skin and body care sector and addressing a relatively untapped gap in the market.
Next, we're also looking to expand on this, and are actively exploring opportunities to commercialise other products where CBD can bring benefits and is in demand. Ultimately, that's our greater goal – to fulfil the unmet needs and demand of 620m people across Latin America.
Agustina Loinaz, Country Manager for Uruguay
Uruguay made waves in 2013 when it became the first country in the world to legalise marijuana for both recreational and medical use. What presence does Khiron have in this very significant market, if any?
In June 2019, Khiron completed the acquisition of NettaGrowth and its wholly owned subsidiary CannaPur, a Uruguayan company which has obtained the first licence to produce and export medical cannabis with THC for commercialisation in Uruguay.
By acquiring NettaGrowth and CannaPur, Khiron entered its third cultivation jurisdiction, and will be licensed to grow up to 120,000kg of medicinal cannabis in an area located in Juan Lacaze.
What was the strategy behind Khiron's acquisition of NettaGrowth?
The acquisition by Khiron of NettaGrowth provides us with the opportunity to address a broader demographic of consumers and to export products to key regions of the world.
Entering Uruguay allows us access to an export market of Southern Brazil through the Mercosur regional free trade bloc, so the aim was to have our cultivation in Uruguay focus first on the domestic market, then on servicing the medical needs of the 75 million population in Southern Brazil. From there, we expect to move quickly across the region's trading countries.
The acquisition of NettaGrowth also allows us to align our strengths and accelerate our strategy. In expanding the Khiron family to include NettaGrowth and CannaPur, Khiron now has an established footprint in Uruguay, and we will continue to build upon CannaPur's patient network as well as its research and development mission by tapping into Khiron's extensive expertise across the Latin American region.
For Khiron, the acquisition also adds considerable capacity and product diversity potential to our company's portfolio of assets. Compared to the extract-only medical market of Colombia, the Uruguayan regulations permit the international distribution of flower.
This is an excellent complement to our product focus in Colombia, and to our mission of delivering medical cannabis products across Latin American and eventually, the global market.
Jessica Cuervo
Khiron Life Sciences Corp
+57 1 7442064
communications@khiron.ca
www.khiron.ca
Please note, this article will appear in issue 10 of Health Europa Quarterly, which will be available to read in July 2019.
Recommended Related Articles