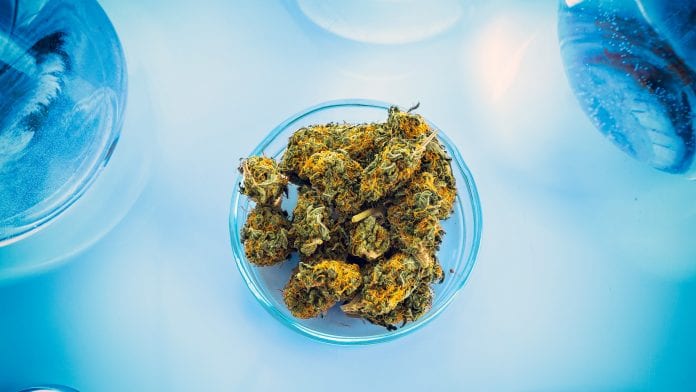 The father of medical cannabis research announced a new finding that has the potential for stronger therapeutic effects than CBD.
Raphael Mechoulam headlined the list of more than 50 speakers and presenters at CannMed 2019, that took place from September 23-24 at the Pasadena Convention Center, Pasadena CA.
Professor Mechoulam, EPM Head of Research, revealed the science and the chemistry behind his latest innovation. The innovation is a new family of synthetic, stable cannabinoid acids molecules with a demonstrated higher potency compared to existing cannabinoids and offering potentially promising therapeutic effects.
Ever since his discovery of the human endo-cannabinoid system in the 1960's, and his subsequent nearly 60 years' work identifying cannabis' complementary phyto-cannabinoids, Mechoulam has been widely acknowledged as the 'father of cannabis research'.
Synthetic cannabinoid compounds
Mechoulam discussed his new finding of cannabidiolic acid methyl ester (HU-580) and its potential to have better therapeutic effects for conditions such as depression than CBD.
Derived from CBDA, it is naturally occurring but very unstable, and is much stronger than CBD with no side effects. Results showed it has great nausea-reducing effects, and that HU‐580 may be even more potent than CBDA in reducing stress‐induced anxiety.
Professor Mechoulam said: "There are many things that are still not known in the field of cannabis. The plant produces a group of compounds called cannabinoid acids. The acids were not investigated until recently, not very thoroughly at least, because they are not stable; they break down.
"The medical industry, the major medical industry, wants to have pure compounds that have been investigated and thoroughly tested. So, a few years ago we decided to go ahead and try to stabilise these acids, and we were able, chemically, to stabilise them. Now it is possible to investigate them.
"The company that I work with, EPM, works on the acids of the cannabinoids. We are looking into the activities of these acids and they seem to be important and very important particularly in a variety of fields. Chances are that we have something of considerable medical importance, and I am sure that there will be ways to introduce these compounds as medical agents.
"Collaboration is absolutely a necessity. Cannabis and cannabinoids are not a tiny project – one compound for one disease – however, I show that it is really a very, very wide field of research.
"We need good new drugs in a large number of fields, and this is an open field for new drugs, new preparations. I believe there will be a lot of work in this field over the next decade or so, or maybe two decades."
Raphael Mechoulam
Raphael Mechoulam was born in Bulgaria in 1930 and immigrated with his family to Israel in 1949 where he later studied chemistry. He received his PhD at the Weizmann Institute, Rehovot (1958), with a thesis on the chemistry of steroids.
After postdoctoral studies at the Rockefeller Institute, New York (1959–60), he was on the scientific staff of the Weizmann Institute (1960–65), focusing on the isolation, structure elucidation and total synthesis of the main active principles of cannabis.
Professor Mechoulam moved to the Hebrew University of Jerusalem, where he became professor (1972) and then the Lionel Jacobson Professor of Medicinal Chemistry from 1975, where he established the Department of Natural Products. His major scientific interest is the chemistry and pharmacology of cannabinoids.
In 1994 he was elected as a member of the Israel Academy of Sciences and Humanities.
Since the inception of his research in the 60s, Professor Mechoulam has been nominated for over 25 academic awards, including the Heinrich Wieland Prize (2004), an Honorary doctorate from Complutense University (2006), the Israel Prize in Exact Sciences – chemistry (2000), the Israel Chemical Society Prize for excellence in research (2009) and EMET Prize in Exact Sciences – Chemistry (2012).
Lifetime achievement award
The Arcview Group, leading investment and market research firm in the cannabis industry, will honour 'The Father of Cannabis Research' with a Lifetime Achievement Award and a $10,000 research grant in their first annual cannabis awards presentation at the Arcview Investor Forum: The Evolution of Cannabis: 2020 in New York on Thursday, October 3, 2019.
Th award recognises his cutting-edge cannabis research and breakthrough discovery of THC, one of at least 113 cannabinoids identified in the cannabis plant.
Arcview will be preserving and continuing to honour the invaluable work and contributions by Raphael Mechoulam's work by naming future recipients of this award the Arcview Raphael Mechoulam Lifetime Achievement Award.
The Arcview Group CEO and co-founder Troy Dayton, said: "Cannabis research has never been more critical to the future of our industry, especially as the federal government begins processing dozens of pending applications for the steps necessary to improve access to marijuana research.
"As the first person to synthesise THC, identify the endocannabinoid system and illustrate the medicinal properties of cannabis, no one is more deserving than Raphael of our Lifetime Achievement Award. We can't wait to see what he uncovers next."