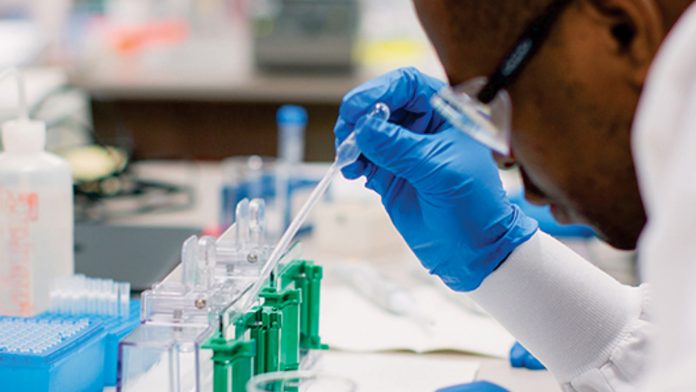 Go Life International speak about how they've built a cannabis industry to not just benefit Southern Africa, but Africa as a whole.
Go Life International Limited is registered in the Republic of Mauritius and was listed on the Stock Exchange of Mauritius on 7 July 2011. The Company successfully completed a secondary listing on the Johannesburg Stock Exchange (JSE) on 23 November 2016. Go Life, as a multi-faceted healthcare entity, is able to offer a spectrum of healthcare solutions to satisfy the philosophies, values and goals associated with sensible economic healthcare principals. This is not only pertinent in healthcare but also in healthcare related commerce – and now they're taking on the cannabis industry fort eh greater good of the continent.
Under the general umbrella of healthcare, many disciplines are covered. This includes pharmaceutical manufacturing, research and development, direct marketing, packaging and distribution, retail pharmacies, medical doctors, traditional healers, clinics, hospitals, retail outlets and many more. Healthcare should also include food production and nutrition education, dreaded disease awareness programs and probably the most important consideration, precautionary treatment and bio pharmaceutical supplement supply, to promote natural resistance to health threats. Every one of the healthcare facets mentioned above offers a micro economic environment for training, skills development and sales channelling, in even the most remote rural areas of South Africa.
Go Life Biotech
To remain relevant in the complementary and alternative medicinal sector and compete as a leader in the world of healing, participants need to remain competitive through innovation and by staying abreast of global scientific and technological developments. The Go Life Biotech division and its subsidiaries are tasked to research, develop and source excellent quality medical materials and manufacture class leading medicinal remedies.
Go Life Healthcare
Complementary, natural and alternative medicine was the spark that ignited Go Life. These products will remain at the core of development and product offerings to our market. Products and the tangible benefits that are derived there from, by the clients of Go Life, form the backbone of the business. Although a more holistic approach to the market is eminent, Go Life will continue to pursue innovation and excellence in this field to ensure the delivery of the most beneficial products to its clients.
At Go Life we believe that in addition to a healthy lifestyle, our range of supplementary medicine can help people avoid many ailments and support the goal of ongoing good health. The Go Life range of products is the culmination of scientific research by a renowned team of scientists. At Go Life we encompass a proud tradition of innovative, natural supplementary medicine, designed to make a real difference in people's lives.
The herbal, vitamin and health product market
Under the Gotha Health Products brand, the medicinal value of Magnesium, L-Carnitine, L-Arginine as well as the natural healing advantages of Leonotis Ocymifolia among others. The range of products has been very popular in South Africa and has gained interest in Europe. By applying the wealth of advantages contained in collagen, the Sontal range of products by formulating the ingredients in an innovative and intelligible way. Cutting edge technology ensures the highest quality Collagen, called Peptan, with a variety of scientifically combined ingredients. This range is exceptionally popular among athletes and active consumers.
The Nissi range of products has long been an active and popular participant in the herbal, vitamin and health product market. This product range is available in major pharmaceutical outlets throughout South Africa. Nissi Healthcare takes pride in researching and developing nutritional, herbal and vitamin health products that are scientifically sound and very effective yet cost effective. Naudé is adamant that the paradigm in international health circles describing 'primary healthcare' should dramatically change. Primary healthcare should be aimed at preventative care. Preventative care should include nutrition as a basic medicinal advantage.
Hospicare
Frail care is an international phenomenon and service to that sector is a proven concept and further provides an excellent outlet for the full spectrum of products that Go Life offers. Go Life in collaboration with BonHealth provides frail care services to 230 patients in 5 facilities currently focused in the Western Cape of South Africa. Go Life intends to expand its care program through participation in community clinics, pharmacies and hospitals.
Go Life MediTech and FinCare
The MediTech division, through its software program 'Explorer', which was developed by Prof Hukins, will be able to specifically manage and monitor medical practices, by applying artificial intelligence to curb unnecessary or erroneous medical treatment. The aim is to globally contribute to more effective medical treatment and cost-efficiency in medical expenditure. Moreover, in terms of Go Life FinCare this division aims to bring an affordable insurance product to the market. Medclear has identified the need for a niche product that will cater to the needs of a major portion of the South African population in need of affordable healthcare plans. The intent is to extend the service into Africa in time.
Go CannaGroup
Gone are the days where cannabis is associated with lazy smoke hanging in the back-alleys of South African Metropoles. Gone are the days that lazy recreational users and shady traders on street corners owned the cannabis industry. In South Africa, 2018 has been hailed as the 'year for cannabis.' The industry rejoiced at the Constitutional Court's decision last year that legalised the use and cultivation of cannabis in the privacy of your home. Pretoria hosted the first African Cannabis Expo in late 2018.
As headline sponsor, Go Life International joined the fray of building a cannabis industry to benefit not only South Africa, but the whole of Southern Africa. "The time has come for cannabis to emerge from the shadows and to flourish as an investment opportunity in the Southern Africa Region." These are the words of Mr. Gerhard Naudé, founding member of Go Life International. Global spending on legal cannabis is expected to grow by 230%, to reach $31.3bn (~€24.8bn) in 2022, in comparison to the $9.5bil in 2017.
During his budget speech in parliament, Minister Tito Mboweni confirmed that he would like to see change in the cannabis policy to end in a decriminalisation of cannabis and the regulation of the industry for export. It is known that there are many civil society and business organisations that are working with government to develop and craft legislation. Lesotho has already reaped the benefits as a hotspot for global cannabis production.
Lesotho became the first African Nation to legalise the growth of cannabis for medicinal and research purposes. Zimbabwe followed suit in 2018, making cannabis legal for research and medicinal purposes. Various other African Nations such as Malawi and Botswana are investigating cannabis as a replacement since foreign exchange earner tobacco has dwindled due to decades-long global anti-smoking legislation.
Embracing the cannabis industry to create employment in South Africa
Naudé is adamant that agriculture, as a focus area to drive economic growth in South Africa, should embrace cannabis to create employment and develop the related industries that Hemp offers the economy. Naudé says that rural farmers should not be locked out of the cannabis cultivation market. Go Life International has already negotiated cultivating and processing licences in Lesotho, Zimbabwe and Malawi. The company was approached by government officials from Botswana to comment on products for medicinal use purposes and international trade.
The Cannabis Expo in Durban confirmed the international appetite for Sativa derived CBD Oil. Interest from China, Russia and European countries engrained the market and export capability for cannabis derived medicinal products. Go Life International has received global off-take agreement requests, that far outweighs its capacity to deliver without serious investment from international investors. Go Life is able to produce laboratory tested cannabis products to compete in the current market. In collaboration with its partners, Go Life is able to honour current off-take agreements.
The market offers exceptional scope for growth and with investment, Go Life will be able to profitably participate to the benefit of its investors. The performance of the United States Marijuana Index reflects excellent growth in share prices. This confidence could easily be paralleled in South Africa, should government finalise legislation to benefit economic growth in the country.
Naudé is of the opinion that cannabis offers an enormous global market. South Africa is already falling behind the likes of other SADC countries in promoting commercial cultivation of cannabis. Naudé further recommended that policy makers in South Africa move with haste to favourably position South Africa to play a leading role in the global medicinal cannabis market. He said that the yield per m2 of cannabis would favour small holding owners. The fact that South Africa has appropriate weather and have had cultivating expertise for the last 30 years could create a game changer for the South African economy. The SADC region hhas the further advantage of reasonable labour costs in comparison to Europe and in relation to other continents such as Asia. This should further entice investors to participate in the local cannabis industry.
A non-tincture based approach
Go Life International has already instructed its research and biotech subsidiaries to investigate the medicinal value of cannabis, especially the way in which cannabis medication is administered. The medicinal value of cannabis varieties lies in the cannabinoids which are largely oils. A very small percentage of ingested cannabis extracts such as CBD are taken up systematically. Less than 15% of cannabinoids are actually bio available, with a vast majority of the oil-based extract being excreted.
According to Mr. Greg Gilbert, head of Go Life Biotech, a non-tincture-based approach in technology is used to solubilise the cannabis extracts and enhance systemic uptake. This results in a much lower dosage level required to achieve therapeutic effects. It further offers better control over dosage levels and consequent safety due to lower dosage levels. It evidently is also taste-masking and offers the convenience of dosage from pills and capsules.
Stem-cell technology and healing attributes
Go Life International (GLI), apart from all the benefits contained in the cannabis industry is also a stern believer in the healing attributes presented in stem-cell technology. To this end, GLI acquired 50% of Cryo-Save SA which forms part of an International cord blood banking group that was formed in 2000. Cryo-Save SA boasts state of the art cord blood and cord tissue processing and storage facilities. The company is a licensed stem cell establishment with International (AABB) accreditation for the collection, processing, cryo-preservation storage and distribution of umbilical cord blood stem cells.
The collection techniques for umbilical cord blood and tissue are non-invasive and risk free. The procedure is completed within a few minutes after the birth of the baby and does not interfere with the delivery process at all. Numerous international clinical trials show promising application of stem cells in the treatment of various medical disorders. In addition to the established use in transplantation for haematological disorders, recent published data from a number of clinical trials, conducted at credible International institutions, indicate that umbilical cord blood stem cells may play a significant role in the treatment of neurological conditions such as autism spectrum disorder and cerebral palsy.
Go Life under the style and token of GML Laboratories, is seeking investment to direct research towards adult stem cell extraction and application as well as veterinary vaccine initiatives. This venture will include research into stem cell-based skin rejuvenation. It also has excellent technology that will put it at the forefront of animal vaccine technology. Given the fact that more than 260 conditions are potentially treatable through stem cell technology. This unit will enable Go Life to expand its product range Internationally.
Investment opportunities
The described projects in Go Life offers excellent investment opportunity and promises exceptional return on investment possibilities.
Co-investments in strategic-beneficial and profitable healthcare partnerships
The cannabis market represents a new global hype. Many healthcare companies are seeing opportunities for the growth and application of cannabis in the medical and pharmaceutical industries, especially in Africa. Go Life aims to partner with companies mostly within South Africa and to a lesser extent, other stable neighbouring countries in the Southern African region as it is known to be the 'perfect climate' for the cultivation of cannabis. The legal cannabis market reached an astounding $9.2bn in North America in 2017 (Arcview Market Research, in partnership with BDS Analytics). That represents an unprecedented 33% increase over 2016 figures.
In an African context, by 2023, the South African domestic market for cannabis and related products, will be worth around R27 bn (Pro-marijuana consultancy Prohibition Partners in a new report). Go Life, currently at the forefront of this industry in South Africa, aims to yield the gains from this market which would exponentially increase revenue streams. With adequate investment in the Go CannaGroup ventures, Go Life will be favourably positioned to equal or better international growth figures in the medicinal cannabis industry.
Strategic healthcare initiatives
To expand the current stem cell market by developing an adult stem cell product offering to include after-birth harvesting of stem cells through skin biopsies. Evidently, substantial investment in establishing viable laboratories is needed in extension to current stem cell banking facilities hosted in Cryo-Save South Africa (Pty) Ltd.
The market for adult stem cell extraction, through skin biopsy, is estimated at double the rate of cord blood extraction.
Expansion of existing brands
Go Life, especially with its pharmaceutical and nutraceuticals products, has a strong brand recognition in the Eastern Cape and aims to increase its representation through a direct sales model initiative. Go Life intends to build a strong brand recognition and leverage the brand equities associated with the company like Gotha Health Products, Sontal and Nissi Healthcare.
As is evident in the historical financials of Go Life, the pharmaceutical and nutraceutical sector of the company is on a steady upward growth curve. With the right marketing initiatives, it follows that growth will significantly escalate in the future.
The solution to illnesses and other medical conditions is shifting from a treatment culture to that of a preventative culture in the minds of the International healthcare market. Healthy habits and healthy lifestyle adjustments are important, but the most significant cornerstone is consuming the correct quantities of macro and micro-nutrients to enable our bodies to function in a healthy and optimal manner. In closure, Naudé stated that the healthcare environment is rapidly changing to shift from mass generalisation to mass customisation and precision in the application of healthcare, be it natural or a chemical treatment culture. Go Life International aims to participate in this drive, not only to benefit Africa but with the world in mind.
Gerhard Naudé
Go Life International Ltd
+27 87 057 7722
+27 67 606 9550
gerhard@golife.co.za
www.golifegroup.com
Please note, this article will appear in issue 10 of Health Europa Quarterly, which will be available to read in July 2019.