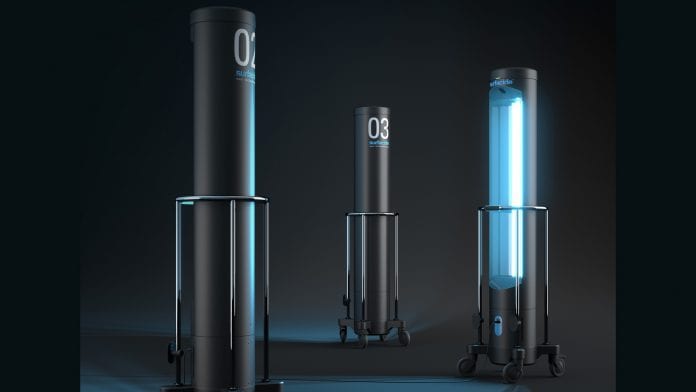 Why do patients and healthcare workers around the world choose Surfacide as a trusted partner in infection prevention?
The overarching mission of Wisconsin-based UVC systems producer Surfacide® is to provide patients and healthcare workers with a safe environment and continuous support, especially during uncertain times. Surfacide produces the Helios® UVC system, the world's only patented triple emitter 'robotic' UVC system currently available on the market, providing optimal efficiency and flexibility in the ongoing fight against viruses and other hospital-acquired infections (HAIs). Surfacide technology has been deployed in more than 500 hospitals, fire stations, prisons, police stations, long-term care facilities, commercial business premises, hotels and other public venues around the world.
Scientifically proven to combat coronavirus
The Surfacide Helios system is the only patented triple-emitter system on the market with the documented ability to inactivate coronavirus in as little as five minutes.1 Using three UVC towers, the Surfacide Helios system provides floor-to-ceiling UVC coverage and rotates 360 degrees for maximum efficacy and a shorter cycle duration. No other system is as efficient in saving time and labour costs while providing evidence-based, automatic UVC room disinfection. Surfacide also has the proven capacity to reduce the pathogenic bioburden of multi-drug resistant organisms including Clostridioides difficile (C. diff), MRSA, VRE, CRE, and Acinetobacter.
Trust the data
Research shows that up to 50% of surfaces are not cleaned during the terminal cleaning process. This potentially leaves behind harmful viruses and bacteria that could make you sick or lead to serious infection. Surfacide's technology adds an extra layer of protection when you need it most. Disinfect your environment with a powerful, hospital-grade UVC solution that is scientifically proven to reduce harmful microorganisms throughout your environment.
Not all UV is the same
With three distinct 'robotic' emitters, the Surfacide Helios system is able to cover a greater surface area than single-emitter systems during a single cycle. Single emitter systems – including pulsed xenon gas systems – simply cannot reach all high-touch surfaces in a single disinfection cycle. With Surfacide's three emitters operating during the same disinfection cycle, more surfaces are exposed to UVC energy. The result is reduced shadows, distance, time and labour.
Safe and reliable
Surfacide has the ability to detect anyone entering the room and shut off its emitters instantly, ensuring the safety of patients, visitors and employees. Our three-emitter system has been internationally certified and credentialled.
Setup, support and care
Our implementation specialists will spend multiple days onsite to train and prepare your environmental services team to take charge of your UVC programme. We are dedicated to solving issues promptly; and where necessary we provide a specialist onsite support service to ensure the Helios systems are fully operational.
We respect and admire the dedication of healthcare professionals and in turn, deliver the advanced technology that your team needs to provide the best care possible. Surfacide provides you with peace of mind by providing you with flexible service and software programs that work best for your institution. Partner with us to take care of your maintenance and software updates for worry-free customer service.
References
Bedell K et al. Infect Control Hosp Epidemiol 2016;37:598.
This article is from issue 16 of Health Europa. Click here to get your free subscription today.
Contributor Details