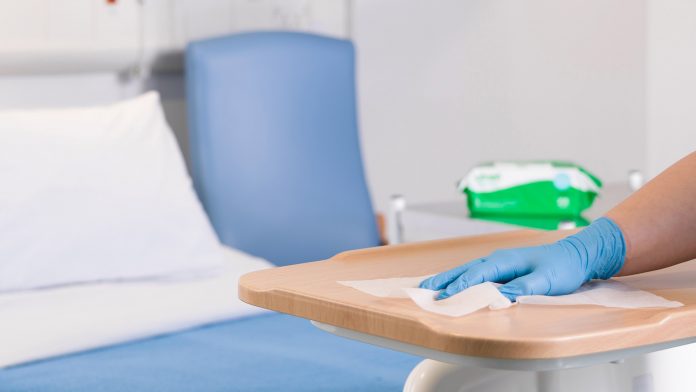 From infection prevention specialists GAMA Healthcare, Clinell Universal Wipes reduced MRSA acquisitions in a large teaching hospital in the UK.
In 2021, new guidelines were published for the management of methicillin-resistant Staphylococcus aureus – or MRSA1. This update came 15 years after the last publication and included a library of new evidence including a study where Clinell Universal Wipes produced a 55% reduction in MRSA acquisitions.2
This study is one of the first to demonstrate that switching to a combined detergent-disinfectant significantly reduces MRSA acquisitions.
Time for a change
It is well known that efficient decontamination requires two steps: cleaning and disinfection. The first step, cleaning, removes dirt and microorganisms allowing the disinfecting agent to work effectively. While these two steps are critical, they are time-consuming.
Queen Elizabeth Hospital Birmingham, a teaching hospital that provides clinical services to nearly one million patients every year, took part in a study to revise its decontamination processes. The change saw them replace their two-step process with a combined cleaning and disinfection wipe to reduce MRSA acquisitions.
Choosing the wipe for the job
Before implementing a new wipe, they first set about selecting the right wipe for the job. This decision was based on defined differentiators:
Ease of use
Log reduction (a measure of killing efficiency)
The range of microorganisms killed
Staff preference
Clinell Universal Wipes were most preferred by staff, after being identified as one of the most efficacious wipes when tested for efficacy against a range of nosocomial microorganisms.
Moving away from alcohol disinfection
This one-step cleaning and disinfection wipe was chosen to replace the hospital's previous protocol which used two wipes. The first a detergent, the second an alcohol wipe.
Using a two-step approach takes time: time for the detergent to dry, time to collect multiple items, and time to carry out two separate steps – but there is another challenge to consider specifically when using alcohol-based disinfectants: compatibility.
A disinfectant has to be effective, killing a range of pathogens; in a certain time; to a certain level. However, just because a disinfectant is harsh against microorganisms, it cannot be harsh on surfaces.
Some disinfectants, including alcohol3, cause damage after repetitive use. Cracked surfaces are not just a cost for hospitals to replace, they provide another place for pathogens to hide and avoid disinfection4.
Supporting protocol compliance
Not forgetting the importance of education when implementing a new process, an education package was delivered by GAMA Healthcare's team of Clinical Educators.
The package involved teaching 1,160 ward nurses and staff:
How to use Clinell Universal Wipes for surface and equipment decontamination.
Importance of decontaminating high touchpoints.
How to store Clinell Universal Wipes correctly.
When to use a new wipe (when dry, heavily soiled or moving onto a new piece of equipment).
Another challenge with two-step decontamination is compliance. The elongated process is time-consuming, confusing and requires multiple products. By streamlining this process, and supporting staff with education, decontamination can be carried out more efficiently – to the benefit of the staff.
Reducing MRSA acquisitions
After introducing Clinell Universal Wipes, the number of MRSA acquisitions reduced from 20.7 to 9.4 per 100,000 patient bed days (p <0.005).
Importantly, compliance with MRSA screening was high (>90%) and audits revealed no significant changes in hand hygiene compliance, the appropriate use of personal protective equipment (PPE), or environmental cleanliness during the study. This suggests that the reduction in acquisitions was largely due to the wipe change.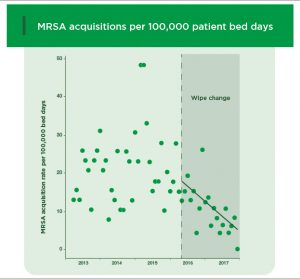 Looking to the future of MRSA
The results from this study established the role of detergent-disinfectant wipes in reducing MRSA acquisitions, and it seems likely that these findings could be transferable to other microorganisms.
Living on surfaces for weeks, MRSA can survive for extended periods in the healthcare environment. Following this thread, it is possible that other microorganisms such as carbapenemase-producing Enterobacteriaceae (CPE), vancomycin-resistant Enterococcus (VRE) and Acinetobacter species would be impacted by employing a one-step cleaning and disinfecting wipe.
This paper, along with others, provides an evidence-based foundation for removing multi-drug resistant organisms from the healthcare environment. Its findings highlight one of several clinically effective measures for preventing infection transmission: environmental decontamination.
References
Coia JE, Wilson JA, Bak A, Marsden GL, Shimonovich M, Loveday HP, Humphreys H, Wigglesworth N, Demirjian A, Brooks J, Butcher L, Price JR, Ritchie L, Newsholme W, Enoch DA, Bostock J, Cann M, Wilson APR. Joint Healthcare Infection Society (HIS) and Infection Prevention Society (IPS) guidelines for the prevention and control of meticillin-resistant Staphylococcus aureus (MRSA) in healthcare facilities. J Hosp Infect. 2021 Dec;118S:S1-S39.
Garvey MI, Wilkinson MAC, Bradley CW, Holden KL, Holden E. Wiping out MRSA: effect of introducing a universal disinfection wipe in a large UK teaching hospital. Antimicrob Resist Infect Control. 2018 Dec 19;7:155.
Del Re D, Ikeno C, Smid K, Swift D. Effects of disinfectant wipes on sensitive healthcare surfaces. Antimicrob Resist Infect Control. 2015;4(Suppl 1):P40.
Junk AK, Chen PP, Lin SC, Nouri-Mahdavi K, Radhakrishnan S, Singh K, Chen TC. Disinfection of Tonometers: A Report by the American Academy of Ophthalmology. Ophthalmology. 2017 Dec;124(12):1867-1875.
Special Report Contact Details