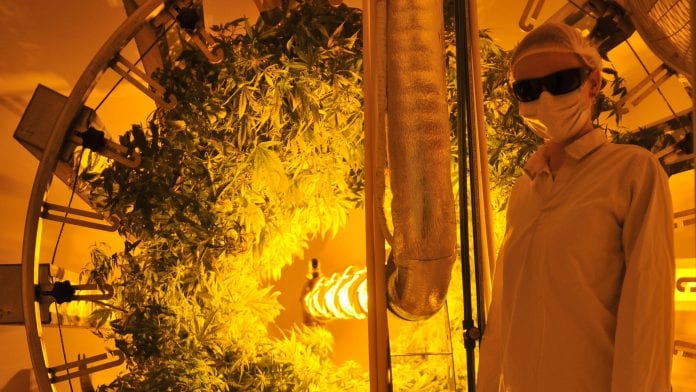 Agro Grow Technology VZW showcase their innovative growing solutions.
Technological progress solves many contemporary problems related to health; a balanced lifestyle of modern society, nutrition, ecology and the negative impact of man on the environment.
Modern technologies in the cultivation of medical cannabis support the pharmaceutical industry and have a significant impact on obtaining the highest quality product through total control of the production process.
Agro Grow Technology has designed the Rotary Garden to offer cultivators innovative growing solutions.
The Rotary Garden
The Rotary Garden hydroponic system is a combination of traditional hydroponic cultivation already known to breeders, and innovative solutions designed to increase breeding efficiency and reduce operating costs.
The main advantages of the system include:
Saving space;
Light source efficiency, consumption up to 60% less electricity;
Lower water consumption, 50% less than in traditional cultivation;
Obtaining a high quality product in less time (up to five cycles per year);
Reduction of staff's workload;
Automatic rotary system that simultaneously performs the function of plant irrigation and plant stimulation through the action of variable gravity; and
Reducing human interference when growing plants reduces the likelihood of contamination of the medical product.
Currently, representatives of Rotary Garden and Agro Grow Technology VZW are in Uruguay, where they co-operate with a leading company in the production of CBD medicinal plants with a high content of CBG, CBN and medicinal products for humans and animals in food and cosmetics, with the potential to supply the local market and exports.
The purpose of the co-operation is the production of the highest quality medical plants in accordance with WHO guidelines on good agricultural and harvesting practices (GACP) for medicinal plants. Obtaining a high-quality, pure product is only possible in a clean, controlled environment in which the plants grow.
Achieving our goals is also possible thanks to help and co-operation with organisations, universities and participation in various projects; research and development are our common concept.
We welcome any research institutions and investors who want to help expand the capabilities of our team.
Growing vegetables, herbs and flowers in the Rotary Garden system
Our system will make vegetarian food or medicinal plants cheaper and more accessible to people.
Rotary Garden hydroponic systems are automated and can be integrated with existing production facilities. This is a new approach that can ensure the integration of efficient agriculture in the heart of cities – leading to more efficient urban space management. Plants growing in the centre of cities reduces transport, packaging, pollution and eliminates the need for pesticides and preservatives.
Our solutions allow for constant and guaranteed supplies of plant materials for processing products on the pharmaceutical, nutraceutical, phytopharmaceutical and cosmetics market.
Advantages of indoor hydroponics:
Due to the global decrease of freshwater resources, saving water;
The possibility of growing medical cannabis in countries with unfavourable climatic conditions such as too high or low a temperature, insufficient sunlight, and deficiency of potable water;
Cultivation cycle;
Picking clones from selected mothers;
Rooting clones in rockwool substrate – about 10-14 days;
Placement of rooted clones in an aeroclonator for developing root systems – about 7-10 days;
Transplant plants into large rockwool cubes and place them in the machine;
Vegetative stage in the machine – about 7-14 days;
Flowering – nine weeks; and
Harvest.
To conclude, total cultivation time in the machine is 11 weeks, and with preparing each process in the aeroclonator in advance it is possible to obtain up to five cycles per year.
Average amount of dried flowers obtained from one plant per cycle: approx. 30-40g (depending on genetics and cultivation technique);
Example amount of yield per cycle: 266 plants x 40g = 10640g (depending on genetics and cultivation technique);
Average amount of dried flowers per year obtained from four cycles: 10640g x 4 = 42560g; and
20m2 of cultivation area inside the machine's cylinder; the space in the room occupied by one machine is 8.5m2. The number of plants in the machine is twice as many compared to traditional horizontal cultivation.
Technical data
Wheel diameter-180cm
Height-220cm
Width-250cm
Length-340cm
Size of cultivated area – 20m2
All construction elements of the machine are made of stainless steel, meeting the GHP and GMP standards. The Rotary Garden machine has a European certificate.
Effective usage of light source and water: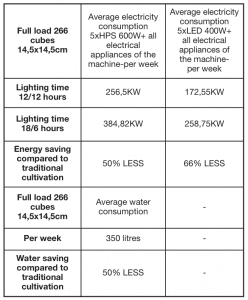 Artur Szwede
Director
Agro Grow Technology VZW
+59 893 338 794
artur.szwede@gmail.com
http://rotarygarden.eu/
This article will appear in the first issue of Medical Cannabis Network which will be out in January. Click here to subscribe.