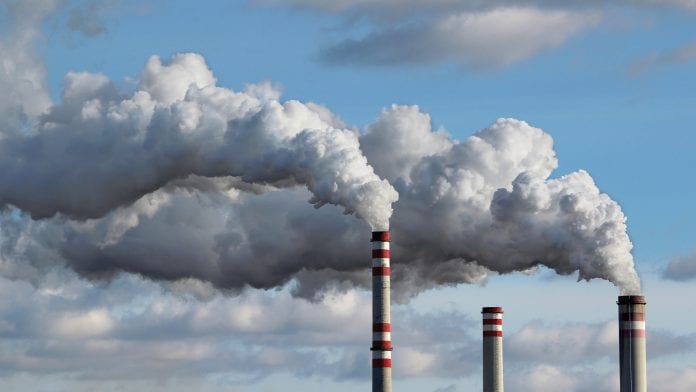 Recent research suggests that particles from air pollution could cause abnormal foetal development.
Air pollution has long been linked to abnormal foetal development, but new research from Queen Mary University of London (QMUL), UK, has now provided direct evidence that soot from toxic air is capable of reaching the placenta, and scientists say it is quite possible that these particles are entering the foetus, too.1
The research, which was funded by Barts Charity and presented in September at the European Respiratory Society (ERS) International Congress, marks the first time that evidence of tiny particles of carbon, a by-product of fossil fuel combustion, has been found in placentas.
Is there a relationship between abnormal foetal development and air pollution?
A growing body of work suggests that pregnant women's exposure to air pollution can be linked to a range of adverse health events, not only causing abnormal foetal development but also affecting their offspring:
Premature birth: 2017 research by the Stockholm Environment Institute at York, UK, found that as many as 2.7-3.4 million pre-term births in 2010 could be associated with outdoor exposure to fine particulate matter.2
Low birth weight: 2013 research by Newcastle University, UK, showed that pregnant women exposed to air pollution from vehicles and coal power plants are significantly more likely to have smaller babies.3
High blood pressure in childhood: 2018 research by Johns Hopkins University, US, found that children who were exposed to higher levels of air pollution during the third trimester of their mother's pregnancy were more likely to have elevated blood pressure in childhood.4
Infant mortality and childhood respiratory problems have also been associated with in-womb exposure to air pollution.
"We've known for a while that air pollution affects foetal development and can continue to affect babies after birth and throughout their lives," said Dr Lisa Miyashita, a postdoctoral researcher at Queen Mary's Blizard Institute.
"We were interested to see if these effects could be due to pollution particles moving from the mother's lungs to the placenta. Until now, there has been very little evidence that inhaled particles get into the blood from the lung."
How did the researchers arrive at these findings?
Five non-smoking pregnant women took part in the study, all of whom lived in London and had planned c-sections at the Royal London Hospital. Each woman had an uncomplicated pregnancy and gave birth to a healthy baby, after which they gave permission to the research team to study their placentas.
The team had a particular interest in the placental macrophages – large white blood cells that play an important role in the immune system and help to protect the foetus. This could help to identify the occurrence of any abnormal foetal development.
Using a high-powered microscope, the team examined some 3,500 placental macrophage cells from the five placentas. 60 of them contained 72 small black areas that the researchers identified as carbon particles.
The team then used an electron microscope to study the placental macrophages of two placentas in more detail. Once again, they discovered evidence of tiny carbon particles.
According to Dr Norrice Liu, a paediatrician and clinical research fellow at the Blizard Institute, these findings represent the "first evidence that inhaled pollution particles can move from the lungs into the circulation and then to the placenta".
He added: "We do not know whether the particles we found could also move across into the foetus, but our evidence suggests that this is indeed possible. We also know that the particles do not need to get into the baby's body to have an adverse effect, because if they have an effect on the placenta, this will have a direct impact on the foetus."
Could this research lead to real-world change?
More research is yet to be done in order to pinpoint the occurrence of abnormal foetal development, but the study is nonetheless a clear indication of the dangers of pollution, which kills more people than tuberculosis, HIV/AIDS and malaria combined.
Commenting on the findings, ERS president Professor Mina Gaga said that the new research "should raise awareness amongst clinicians and the public regarding the harmful effects of air pollution in pregnant women".
She added: "We need stricter policies for cleaner air to reduce the impact of pollution on health worldwide because we are already seeing a new population of young adults with health issues."
Reducing harm from placental complications
RCOG – the UK's Royal College of Obstetricians and Gynaecologists – has issued new guidance on how to reduce harm associated with placenta praevia and placenta accreta, which have both been linked to abnormal foetal development, specifically high maternal and neonatal morbidity and mortality.
Placenta praevia occurs when the placenta attaches in the lower part of the uterus, near to or over the cervix. This can result in heavy bleeding during pregnancy and childbirth.
Placenta accreta is a rare complication that occurs when the placenta attaches to or invades the muscle of the uterus and/or nearby structures such as the bladder. This can lead to bleeding during delivery of the placenta, which might result in a hysterectomy. It can also cause injury to the bladder.
Placenta praevia and placenta accreta are becoming more common thanks to rising rates of caesarean births and the growing use of assisted reproductive technology such as IVF. The highest rates of harm to both mothers and their babies occur when these complications are diagnosed at delivery. RCOG guidance is therefore aimed at helping clinicians to diagnose these complications early, in the prenatal period.
The risk of placenta praevia and placenta accreta, which are often combined, increases with the number of previous c-sections. The guidance as such recommends that women are informed of this when discussing a possible caesarean birth. It comes accompanied by a detailed leaflet that offers comprehensive information to women who may suffer from one or both of the complications.
It also suggests that women with placenta accreta be cared for by a multidisciplinary team in a specialist centre with expertise in diagnosis and management.
Professor Eric Jauniaux, lead author of the guidance and consultant obstetrician and senior lecturer at University College London, UK, said: "We hope this updated guidance will support healthcare professionals during discussions with women and their partners who may be considering assisted reproduction, particularly IVF, or an elective caesarean birth.
"Guidelines should also help clinicians diagnose these potential complications early, and to discuss with women the safest possible ways to give birth and the advantages and disadvantages associated with each approach to ensure the best possible outcomes and to ensure personalised care."
References
Abstract no: PA360, 'Late Breaking Abstract – Do inhaled carbonaceous particles translocate from the lung to the placenta?', Norrice Liu et al.; Occupational and environmental lung diseases: asthma and the airways, 08:30 CEST, 16 September, Paris Expo Porte de Versailles
Preterm birth associated with maternal fine particulate matter exposure: A global, regional and national assessment. Christopher S Malley et al. Environment International 2017
Maternal Exposure to Particulate Air Pollution and Term Birth Weight: A Multi-Country Evaluation of Effect and Heterogeneity. Payam Dadvand et al. Environmental Health Perspectives 2013
Maternal Exposure to Ambient Particulate Matter ≤2.5 µm During Pregnancy and the Risk for High Blood Pressure in Childhood. Mingyu Zhang et al. Hypertension 2018
This article will appear in issue 7 of Health Europa Quarterly, which will be published in November 2018.