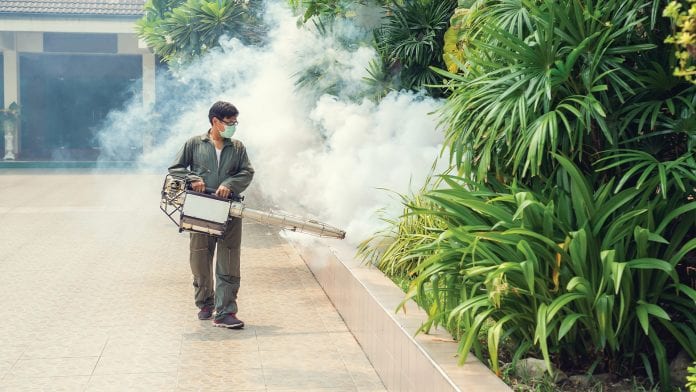 Driven by Earth Observations in Vietnam, D-MOSS, Dengue Mosquito Simulation from Satellites, is a dengue virus early warning system for Vietnam.
D-MOSS is developed by a project funded by the UK Space Agency's International Partnership Programme, and couldn't come at a better time. The prevalence of dengue fever poses a global health issue; the World Health Organization estimates that half the world's population is at risk from this mosquito-borne viral infection (WHO Dengue Factsheet April 2017). Found in tropical and sub-tropical climates worldwide, mostly in urban and semi-urban areas, the infection causes a flu-like illness which can develop into a potentially lethal complication known as severe dengue. Non-profit distributing research organisation HR Wallingford is leading a new project which uses Earth Observation technology, funded by the UK Space Agency's International Partnership Programme, to develop an early warning system which will help to predict dengue fever outbreaks in Vietnam.
Since 2000, there has been an increase of over 100% in the number of cases of dengue fever in Vietnam, with ~185,000 cases occurring in 2017. There is currently no system in place to forecast the probability of future dengue outbreaks. This new project will develop innovative tools which will allow beneficiaries to issue alerts for related dengue epidemics several months in advance. This will help public health authorities to take decisions as to where to mobilise resources to those most in need. The same methods could also be used to forecast outbreaks of Zika, which is transmitted by the same species of mosquito and which has recently begun to be reported in Vietnam.
Here, the team at HR Wallingford tells Health Europa more about the project.
How will Earth Observation be utilised in the project to predict likely dengue outbreaks?
The D-MOSS project is developing a forecasting system in which Earth Observation datasets are combined with weather forecasts and a hydrological model to predict the likelihood of future dengue epidemics up to eight months in advance.
UK Met Office seasonal forecasts are used to drive a hydrological model, whose outputs are combined with Earth Observation-derived variables (such as land use and a range of hydro-meteorological variables) to generate monthly forecasts of water availability. The water availability forecasts are subsequently fed into statistical forecasting models of dengue incidence. The dengue model integrates the water availability forecast with a range of other Earth Observation-derived covariates important for dengue transmission. The system is calibrated against historical data.
An overview of the system is shown in Fig. 1.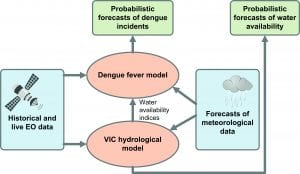 How can these tools be used to forecast dengue outbreaks under different climate change scenarios?
Major factors causing dengue epidemics include population growth, urbanisation, lack of effective mosquito control, and movement of new dengue virus subtypes between different areas. It has been estimated that by 2061 to 2080, the global land area suitable for Aedes aegypti and Aedes albopictus, the species of mosquito that spread dengue, will increase by 8% under moderate and 13% under high greenhouse gas emissions pathways. The annual number of people exposed to the mosquito is projected to increase by 59% to 65% when considering climate change and a development pathway associated with population growth that peaks mid-century and then declines (Ebi K & Nealson K (2016) Dengue in a changing climate, Environmental Research 151 (2016) 115-123).
As part of the D-MOSS project we will be using the latest climate change scenarios for Vietnam (updated in 2016), published by the Ministry of Natural Resources and Environment in Vietnam, to investigate how incidents of dengue fever could change up to the year 2100. We will develop key datasets relating to the impacts of stressors like climate change, water use and demand, land-use change (including urbanisation) and demographic, societal, and public health factors.
The tools produced will assist with increasing the understanding of climate change-related health risks, during a period when Vietnam is developing an updated National Adaptation Plan in line with its Paris Agreement obligations.
In what other ways will the tools be used to benefit public health and disease control/planning in Vietnam?
Ultimately, the project aims to provide forecasts of dengue fever and improve the proportion of dengue warnings that are acted upon by the Vietnamese Government by providing early warnings of dengue epidemics at a province level. In our four pilot provinces, we expect the incidence of dengue fever to go down over the project lifetime because local communities will be better able to mobilise to eliminate mosquito-breeding sites in response to early warnings of dengue epidemics.
At national level, the project will strengthen the capacity of Vietnam for early warning, risk reduction, and management of national and global health risks as well as contribute to increased resilience to future dengue and Zika epidemics by shaping policies related to disease prevention and control under future climate change scenarios.
At the same time, the work will also help to improve water management in Vietnam's transboundary river basins, where there is currently a lack of hydro-meteorological information. This will benefit local authorities' planning by providing scenarios of the main stressors and their impacts on health and water security.
Darren Lumbroso, technical director water management at HR Wallingford, said: "We are delighted to be leading this groundbreaking project where, for the first time, an Earth Observation-based forecasting system will allow decision makers to identify areas of high risk for disease epidemics before an outbreak occurs, in order to target resources so as to reduce an epidemic spreading and to increase disease control."
What progress has been made since the announcement of the project in February and what are the next steps heading into 2019?
We are currently focused on the platform development alongside bringing together the key input data streams and engaging with the government in Vietnam to ensure that all components are fit for purpose. We have developed a database that includes 20 years' worth of downloaded and post-processed historical Earth Observation-based variables and we have set up the water availability model, covering the entire country. The next big step is the first release of the dengue early warning system, focused on four provinces initially, scheduled to take place at the end of March 2019 in Hanoi.
The UK Space Agency's International Partnership Programme (IPP) is a five-year, £152 million programme designed to partner UK space expertise with overseas governments and organisations. It is funded from the Department of Business, Energy and Industrial Strategy's Global Challenges Research Fund (GCRF).
About D-MOSS
The D-MOSS project is funded by the UK Space Agency's International Partnership Programme (IPP), and led by HR Wallingford, working with the London School of Hygiene and Tropical Medicine, the Met Office and Oxford Policy Management in the UK, and with the following international partners: the United Nations Development Programme, the World Health Organisation, the Vietnamese Institute of Meteorology, Hydrology and Climate Change, the Pasteur Institute Ho Chi Minh City, and the National Institute of Hygiene and Epidemiology in Vietnam.
HR Wallingford
Tweet @hrwallingford
www.hrwallingford.com
This article will appear in issue 8 of Health Europa Quarterly, which will be published in February 2019.