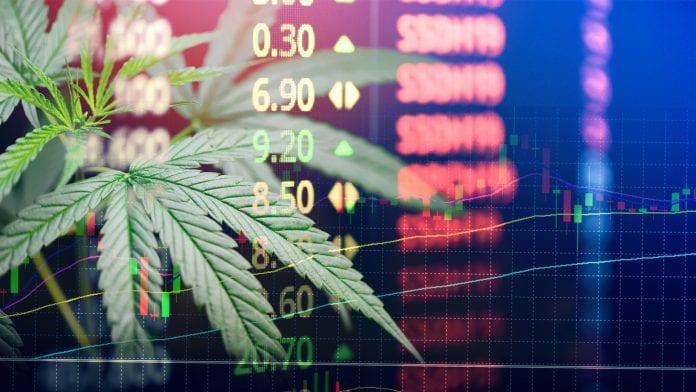 420 Investor and New Cannabis Ventures founder Alan Brochstein spoke to MCN about cannabis investment and regulation.
At the International Cannabis Business Conference (ICBC) in San Francisco, MCN had the opportunity to speak with Alan Brochstein, founder of the online community 420 Investor and the New Cannabis Ventures media platform, who told us about cannabis investment and regulation in the USA and what Europe's industry bodies can learn from the American markets.
Do you think that there will be an increase in mergers and acquisitions in Europe as cannabis becomes more accepted? Do you think Europe will start to look at what's happening elsewhere, such as in the USA?
I don't follow Europe too closely yet; it has been something I've mainly tracked through Canadian companies that have been active there. But I do know that there have been some acquisitions – though not that many – and there has been some new build from Canadian companies in Portugal and other EU Member States; but I would suspect that Europe will play out like the United States. That is, there will be some early licence winners, but they won't necessarily know how to run the business and so will be acquired by other operators.
It can be something of a lottery. I don't know exactly how it will work in every different European country, but it is often not totally merit based: you might meet the criteria for a licence, but that doesn't mean you know how to run a business. Europe's been so slow to develop with regard to cannabis, but as it develops I would expect, just like we saw in the United States, a wave of mergers and acquisitions and consolidation.
Do you think that the situation in the EU is essentially mirroring the US, where there are different rules and regulations in the different US states? Have US businesses developed the necessary knowhow to successfully navigate that kind of landscape already, meaning Europe would be the right market for them to jump into?
Not necessarily. The skillsets would be there for the American companies that know how to navigate different regulatory environments, but the problem is that cannabis is federally illegal, so right now American companies are essentially locked out. There are a few examples of American companies that have been able to do some things, but that is literally a handful in just a few places – and not in Germany. And if you can't operate in Germany then there may well not be a future for you.
A couple of US companies have become involved in Malta and there are a few other exceptions. But then if you dig a little bit deeper, you find that the American companies are so excited about the opportunities at home; they are focused on the opportunity in front of them right now. A certain amount of empire building went on over the last few years; but now all of a sudden that has gone into reverse and instead of mergers and acquisitions we are seeing dispositions and things closing down or deprioritising things. That doesn't play very well for American companies which then want to expand their focus to Europe.
Do you think we will see big pharma stepping in?
A UK-based company called GW Pharma that has been publicly traded since 2001 has a drug approved for epilepsy in the United States, and they've added another drug in Europe, although that has not been commercially successful yet; in the UK, NICE (the National Institute of Health and Care Excellence) wouldn't pay for it, although they did pay for Epidyolex, the epilepsy drug for children. GW Pharma has a huge intellectual property portfolio. It is a really strong organisation with a drug that has the potential to make a billion in just a few years – it's doing hundreds of millions right now, and headed towards a billion or more – and I have been shocked to see that nobody has bought it.
I think that big pharma companies are not buying it because they want to go down the synthetic route. There are three different pathways to get cannabinoids: the natural way, which is what GW is doing; synthetic, which a lot of people really object to and there is mixed evidence about efficacy and safety; and then there is biosynthetic, where yeast or even algae is used to generate cannabinoids without actually growing the flower. There is a sense that the pharmaceutical companies don't want to go the plant way: it is not the best way to make medicine. The best way to make medicine is a replicable way.
The biosynthetic route is very interesting: you don't have the same issues that have been experienced with synthetics, where sometimes the safety or efficacy profiles don't match up on the THC side. There is a lot of money going into biosynthesis and a lot of relatively advanced startups are trying to tackle this. They are trying to not only take the most popular cannabinoids (CBD and THC), but they also keep finding more and more – there are something like 120 different cannabinoids and a lot of them aren't expressed very frequently, if at all, and so it would be more cost effective to identify ways to create them biosynthetically.
Do you think that we will see an increase in stock listings in Europe as more players enter the game?
The bourses in Europe are robust so I'm sure you'll see more listings there. Although I see exchange-traded funds (ETFs) as gimmicks, there is already a new European ETF investing in North American companies, which shows there is a demand. I do hear from a lot of Europeans that it can be very difficult to trade in the United States, though.
Will we ever see London as a hub for cannabis in Europe?
Looking at it from a USA perspective, I think that the UK will probably be more biotech focused. I started following the US stocks in 2013 and they were just a lot of small companies that weren't really doing anything. The whole point was just self-enrichment.
And I hope that that won't be the way that Europe or the UK is going to go; it took three or four years before the real companies started listing. Now in the United States, it is really hard to list – you have to go through Canada. In the UK, if it is federally legal for medicinal cannabis, then those companies would have a really good path to get access to the capital markets.
What can we expect to see from Europe's cannabis industry over the next few years? Do you think that the EU will need to implement legislation similar to the SAFE Banking Act?
In the United States, cannabis is federally illegal and that has created the banking problems. If Europe or the UK is moving towards federal legislation, then it obviates the need for banking concerns. Canadian banks have no problem because it is federally legal there and they will bank their own companies. I would imagine that in the EU, once they have all the agreements in place, that there won't be a need for special payment legislation.
Is there a sense that European companies might begin to look at the US market for recreational use?
A lot of Europeans are interested in in the US market and there is good reason for that, because I don't think Europe's headed towards recreational or adult use, like we have in the USA; and that is where the money is. Things might change in medical, where the technology goes up and they can charge more and get more effective, so you could see some real value created there. But it is not here right now. Typically, you're lucky if 2% of the population are able to get a medical card, which is a pretty low number. But when you have adult use or a very liberal medical programme, those numbers can be anything from 6% to 20%; there's a lot more consumption. Medical consumers may be using a lot more per month or per day, but you just add so many numbers when you open the access up.
If you are a European investor then you probably want to keep your eyes on the United States if you can, because that market has the best growth potential. There is risk, of course, as the federal government could go back the other way, but that doesn't appear to be the case. A lot of people are speculating that Donald Trump, if the 2020 presidential election gets close, may pull that issue; but I don't think so. This industry has a lot of optimists in it, but I am more of a pessimist. But even if that doesn't happen, European investors may be wise to not only focus on Europe. It is going to take a long time and they can look at Australia as a model: people lost a lot of money there.
Alan Brochstein
Founder
420 Investor
New Cannabis Ventures
This article appeared in the second issue of Medical Cannabis Network which is out now. Click here to get your free subscription today.