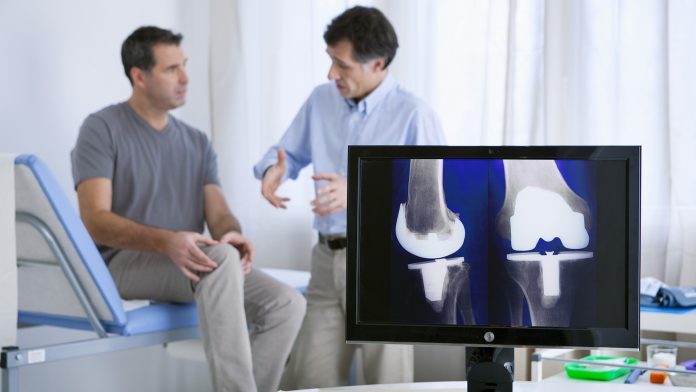 Older designs for knee replacements are equally as effective as newer models, according to new research from the Norfolk and Norwich University Hospital and University of East Anglia.
The research was led by Iain McNamara, Consultant Orthopaedic Surgeon at NNUH and an honorary professor at UEA. 
A new study, published in the journal BMJ Open, has compared the efficacy of two existing knee replacements. 
When are knee replacements required?
Knee replacement surgery, also known as arthroplasty, is a common operation that involves replacing a damaged, worn or diseased knee with a new artificial joint. People of any age can be considered for a knee replacement; however, most are operations carried out on people between the ages of 60 and 80 years old. 
Smaller operations, called partial knee replacement, are often performed on younger people aged between 55 and 64 years old. In these cases, the artificial joint is expected to need redoing within ten years of the procedure.
 
Knee replacement surgery is usually recommended when the knee joint is worn or damaged to the point that a patient's mobility is significantly reduced, and they experience pain even while resting.  
The most common reason for knee replacement surgery is osteoarthritis. However, other health conditions such as rheumatoid arthritis, haemophilia, gout, disorders that cause unusual bone growth knee injury and knee deformity can lead to knee replacement surgery. 
A total of 80 osteoarthritis patients, who received total knee replacements in 2018 and 2019, participated in the CAPAbility study. The study was a blinded randomised controlled trial run by researchers at Norfolk and Norwich University Hospital and the University of East Anglia.
 
The researchers found no difference in any outcomes between the Genesis II and Journey II BCS knee implants six months after surgery.
Patients can be reassured that old designs are effective
"The lack of difference between implant designs is important for patients, surgeons, healthcare providers and implant companies," said McNamara.
"For the patient and surgeons, reassurance can be gained that older designs, with a proven track record of function and survivorship, can provide the same patient-reported and functional outcome as more modern designs," he continued. 
The study is the largest published total knee replacement comparison so far. The researchers patients will be reviewed for three and five years after surgery.
Professor Mcnamara said: "For healthcare providers, older implants are often less expensive and, in the absence of clinical benefit with demonstrable longevity, the additional expenditure on more modern designs could be avoided.
"The future of design and innovation may come in the form of more modern surgical techniques such as robotic-assisted implantation to assist in placing the knee in a more kinematically sympathetic position which in turn may allow the newer design philosophies to positively influence the outcome."
The research team are currently planning future research into the effectiveness of robotic technology in knee replacements. 
Recommended Related Articles