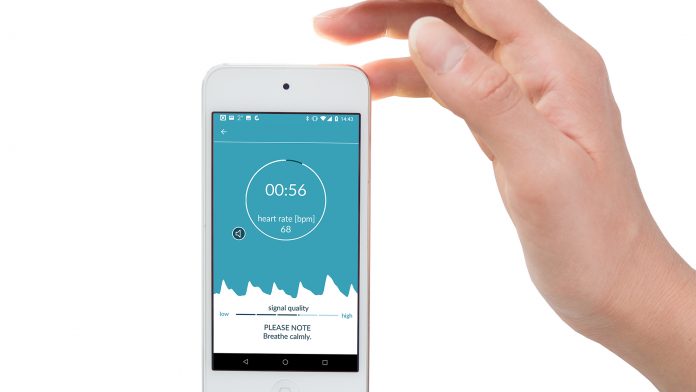 Julia Rohde from Preventicus talks about how their integrated care program helps those at risk of a stroke with smart cardiac rhythm management.
In Europe, approximately 1.1m people suffer from strokes every year, causing great strain on quality of life and the preventative care systems tasked to support with the aftermath. That is why early detection is key – not only does it have the potential to save lives, but it can offer an alternative to the financial stresses put on health care systems and providers across the EU.
Atrial Fibrillation: the invisible stroke risk
According to the UK's National Health Service (NHS), the definition of atrial fibrillation is a heart condition that causes an irregular and often abnormally fast heart rate. While a normal heart rate should be between 60 and 100, with atrial fibrillation, the heart rate can sometimes be very fast, often reaching higher than 100 beats per minute. Though some people that suffer from the condition show no significant signs of having atrial fibrillation, the most common signs are dizziness, shortness of breath and tiredness.
The causes of atrial fibrillation are complicated and are not fully understood by medical professionals. That said, it is generally understood that abnormalities or damage to the heart's structure are the most common cause of atrial fibrillation.
When beating normally, the heart's muscular walls contract in order to force blood out and around the body. The walls then relax, fill up with blood, and then repeat the process over again every time the heart beats. In atrial fibrillation, the heart's upper chambers – the atria – contract so quickly and out of order that the heart muscle is unable to relax properly between each contraction.
Often categorised by the frequency, there are four types of atrial fibrillation that a person can be diagnosed with – paroxysmal, persistent, long-standing and permanent:
Paroxysmal atrial fibrillation
With this type of atrial fibrillation, patients often have episodes on a semi-regular basis, though they do not last longer than 48 hours.
Persistent atrial fibrillation
Episodes last longer than 48 hours but usually clear up within 7 days or less.
Long-standing atrial fibrillation
For patients with this type of atrial fibrillation, they experience episodes that last a year or longer on a continuous basis.
Permanent atrial fibrillation
As the most serious type of atrial fibrillation, episodes are continuous and do not clear up. Patients with permanent atrial fibrillation will never have a normal heart rhythm and can only control their heart rate with specific medications.
Atrial fibrillation is considered to be the most common heart rhythm disturbance, affecting over 33.5m people across the world and while it can affect adults of any age, it most frequently impacts those over the age of 65. In addition to age, there are various factors that can contribute to atrial fibrillation, including heart disease, high blood pressure, thyroid problems, diabetes, chronic kidney or lung disease, alcohol consumption, obesity and family history. Though atrial fibrillation is not considered to be 'life threatening', if unnoticed, it can lead to more serious complications such as stroke and heart failure.
Stroke as a result of untreated atrial fibrillation
About 1.1m people suffer from strokes in Europe every year, with more than one in six ischemic strokes occurring as a result of unnoticed or untreated atrial fibrillation. According to the Global Burden of Disease study, there is expected to be a 34% increase in total number of stroke events in the EU between 2015 and 2035. This steady increase is worrying for most within the medical field, not only because of the effect on the population, but because of the strain it puts on healthcare systems across Europe.
It has been calculated that in 2015, the total cost of strokes reaches €45bn every year, with €20bn caused directly by health care costs, €15.9bn by informal care costs – such as in-hospital care and drugs – while the rest is made up of costs related to loss of productivity and losses from morbidity. While these costs can be dramatically reduced when stroke risk factors are detected and treated early, it's still a major issue for those occurrences that often go unnoticed.
That is why detection is key – not only does it have the potential to save lives, but it can offer an alternative to the financial stresses put on health care systems and providers across the EU. Nationwide screening and integrated care programs with subsequent diagnosis of atrial fibrillation and initiation of therapy can identify the most vulnerable individuals and protect them from suffering a stroke by initiating therapy.
Meeting an unmet need
In Germany, special care contracts open ways to new ideas, technologies or programs to be implemented as long as an unmet need within the healthcare system is addressed. In order to be considered a special care contract, the program or technology's health economics must show a real benefit for health insurances and the overall health system.
The approval process for a special care contract is especially complex as it has to be clinically proven, in line with regulations and must be considered better than standard care. In addition, the contract can only be approved if the economic value shows positive outcomes within a four-year time frame. Because the German system is highly regulated and diagnosis-related group (DRG) systems are in place, new ideas and technologies often face difficulties meeting the requirements.
The last phase in being approved is through the federal insurance office, which rates the potential special care contract against a point system – issuing a certain amount to reflect economic benefits or the potential for better care.
An alternative to the standard care pathway
The Preventicus integrated care program helps at-risk populations access timely treatment, gives healthcare systems an opportunity to reduce costs related to atrial fibrillation and strokes, and provides support to health insurances, physicians, medical technology companies and patients through its nationwide holistic program.
The first phase of the program involves the Preventicus Heartbeats app, a CE marked medical device class IIA, which uses the smart phone's camera light to measure and analyse a person's pulse or hearth rhythm within a matter of minutes. From the pulse curves, the Preventicus app algorithm precisely calculates the clustered occurrence of extra beats and/or the presence of absolute arrhythmia suggesting a suspicion of atrial fibrillation.
When more than 5% of all beats are extra beats, the Preventicus Heartbeats app signals the suspicion of mild cardiac arrhythmia with a yellow traffic light. A red traffic light appears if there is a suspicion of significant cardiac arrhythmia, which can include a presence of absolute arrhythmia indicative of atrial fibrillation. The app also gives users supplemental information about any relevant pulse rates that are consistently too low, which can represent bradycardia, or too high, which may signify tachycardia.
The full version of the app then generates a PDF report which depicts the original five-minute pulse curve recordings and R waves symbolic for each cardiac cycle. This allows the practicing physician to trace the automatic interpretation and visually evaluate a patient's cardiac rhythm. In the case of irregular recordings, a medical diagnosis will made by a co-operating specialist in internal medicine or cardiology by means of a therapy recommendation and a telemetric event ECG system which can be pasted on the chest wall for up to 14 days.
Telecare Services Support can also be used to assist by providing medical-technical evaluations of a patient's heartbeat recordings. Working at a selected Telecare Centre, medical technicians specialised in the cardiac rhythm analysis of pulse-related data offer:
A direct medical-technical evaluation of a patient's recorded heartbeat data to rule out possible measurement errors and to verify rhythm disorders.
Detailed notes on potential rhythmic abnormalities that is provided to the physician.
A summarising report, e.g. to pass on to a physician.
Preventicus – going digital
The medical technician's verification can also be made anonymously – aside from the measured data, the patient's year of birth, and gender. The data transfer is encrypted, and the overall procedure follows data protection laws.
As of 1st of June, users can sign the Preventicus contract using an e-signature – written signatures are no longer needed. This means that everything can be done digitally, saving time and resources. This way of working will also put a heavier focus on consumer data security. All user data is protected through 'care space', meaning that once a patient is included in the programme, their data is anonymous– the only person who knows which name corresponds to which patient – is the patient.
To ensure that all patients screened through the app are seen in a fast and effective manner, Preventicus has committed to scheduling follow up appointments with physicians within a 30km distance no longer than 3 weeks from the initial reading.
The benefit is that contracting parties can assume that over the implementation period of up to 14 days, the application will deliver three to four times as many relevant atrial fibrillation confirmed cases as compared to the standard 24-hour ECG pathway. Because this goes beyond the traditional standard of care, program cardiologists are able to reduce a patients' risk of developing stroke by 80% – with the support of the correct medication.
Once patients have completed the elements of the care pathway covered by the special care contract, they can then continue with the standard care pathway.
Main challenges for Preventicus
As it stands today, there are a plethora of young companies with innovative ideas that have the potential to disrupt traditional methods of working. But the development of technology alone is not enough, no matter how good it is. One of the biggest challenges that a provider of new digital health technology faces is the certification of its quality management as a medical device in accordance with ISO 13485 and the CE certification of the digital medical device itself.
To be approved for these, the technology must be proven to be safe and medically and technically efficient. In order to be able to work together with health insurance companies and healthcare providers, extensive clinical studies and health economic assessments are also needed. While the technology may be significant, not all providers are able to overcome these obstacles. Preventicus has made a considerable investment to ensure both the algorithm and devices have been approved.
Reference to the study and the accuracy of the preventive solutions
The Preventicus algorithm has gone through a rigorous testing regime (CE certification class IIa) meaning that in order to be considered valid, it had to be proved accurate across every major phone brand – including Apple, Samsung and Google. Preventicus has also gone through six clinical trials (including randomised, multicentre, and prospective) to approve its algorithm. The results of the trials were a great success, showing an accuracy of 96% and a positive predictive value of 99%.
Specific reference to the method/results/conclusion by Karim Europace (EHRA)
Patients were recruited from inpatient wards and outpatient clinics. All underwent a 12 lead ECG and responded to a questionnaire. Two smartphone apps were tested; Beatscanner which utilises the built-in accelerometer and gyroscope sensors in a smartphone device and Preventicus, which uses the smartphone's camera function. Exclusion criteria included sinus arrhythmia, paced rhythms and premature ectopic beats.
70 patients in an AF rhythm and 70 patients in sinus rhythm were recruited. Mean age was 73±12 (60% male) in the AF group, 59±20 in the sinus rhythm group (66% male). The BeatScanner app had a sensitivity of 89% (95% CI: 79-95%) and specificity of 67% (55- 78%). The Preventicus app had a sensitivity of 94% (86- 98%) and specificity of 96% (88-99%).
There were 83/140 (59%) regular smartphone users, among whom 94% were interested in using their smartphone to self-screen for AF and 55% would pay for an app to do so. Almost all (96%) found the apps easy to use and 63% preferred the Preventicus app to the BeatScanner app.
In a selected sample of hospital patients, the Preventicus app was more accurate for discriminating between AF and sinus rhythm than the BeatScanner app and was preferred by patients. Using the smartphones intrinsic function is a promising, simple and acceptable means of self-screening for AF.
User reference to the accuracy of the application
When using the application, any interferences occurring during the measurement (wobbling, coughing, shaking, etc.) are detected and eliminated fully automatically. This ensures that all readings are as accurate as possible. With Preventicus, 99 out of 100 patients with detected absolute arrhythmia are diagnosed with atrial fibrillation by cardiologists.
Because the Preventicus algorithm is medically approved, the benefit goes beyond one device. It can be implemented into any other suitable device, making it more flexible than other consumer heart rate monitoring systems. This approach also means that Preventicus can open the contract to every company to offer the same measurement and data sets. This allows companies to run the full program regardless if they have the application.
While the technology behind other trackers such as – Fitbits and Apple Watches – is able to track and record heart rates, no other organisations have the comprehensive capabilities that Preventicus can offer. The full Preventicus package programme not only monitors and records heart beats, it goes beyond to connect patients, cardiologists and insurers – leaving no points of the process untouched. With Preventicus, the next steps are always taken care of for the user, including data protection.
Creating a solution that is economically attractive
One of the challenges many new medical companies face is implementing the technology into a holistic care concept. With Preventicus, though the technology offered had the highest worldwide accuracy, that alone was not enough to gain a foothold in the healthcare system. Because of this, it was extremely important to figure out how to embed the products and services into a well-integrated supply program that is both attractive to the payer and physician.
With this in mind, Preventicus was adapted to cover the entire path of the patient – from a rhythm screening through the application, to the verification of conspicuous results by medical technical assistance in a TeleCare team, to the medical diagnosis above the standard of care and treatment decisions by a cardiologist. Preventicus also handles the billing for the 'special insurance benefits' through the healthcare insurance. The sum of these parts creates a total solution that is economically attractive for all partners involved – and that is crucial to be successful.
Working with insurers
The package supplied to health insurers and nationwide healthcare providers is the atrial fibrillation population screening called 'Preventicus Heartbeats.' As a targeted prevention measure, the package is mainly offered to insured patients aged 55 years and older, particularly those suffering from high blood pressure or diabetes. The paramount objective of the program is health maintenance and stroke prevention for insured patients, coupled with positive cost effectiveness for insurers and healthcare providers.
Using Preventicus does not come at a cost to insured. Every euro invested by insurers in the 'Preventicus Heartbeats' screening program generates savings per insured. To calculate specific savings, gender and age of insurer population needs to be taken into account.
Preventicus already has some of the largest names in medicine as partners, including some of the most influential AF key opinion leaders [KOL] and clinical partners, such as Maastricht University and the University of Birmingham.
Preventicus is also supported by leading associations, top health economists and key influencers within the industry, including the EU's Horizon 2020 Program and the European Society of Cardiology.
Testimonial from Physician and Prof. Eckstein, University Hospital Basel
"I value Preventicus for many reasons, but mainly because of the quality of their principles. This isn't a case of a half-hearted attempt to showcase an app. The algorithm application behind this particular technology has not only been proven in clinical trials, but it has been certified as a medical product. This is why I support the product and can recommend it to patients and colleagues alike. It's exciting to recognise that this is the first-time heart rhythm monitoring is available for everyone, everywhere at any time.
"I would expect that Preventicus will positively contribute to the prevention of strokes and thereby be highly cost effective for national health services across Europe. It's an exciting discovery that an app, running on almost every consumer smartphone, can go as far as to prevent a devastating event like a stroke. I helped to develop and test the app during clinical trials, so it's been fun to see how much the usability and the interface has improved over time.
"Our team is proud to see that that it is now widely available that it has received such a positive response. The biggest advantage has to be the global availability. If you think about it, almost everyone has access to a smart phone, meaning that almost everyone can access the app. Unlike issues you come across within the medical field, there's less concern around a shortness of devices or waiting times for specialists at the beginning of the diagnostic process. By providing a highly specific result – from the start – the percentage of patients who visit a cardiologist due to legitimate concerns will increase and as a result, will make better use of the available resources.
"We are responsible for managing the expectations of our patients. Similar to any other medical tool, the application is not a cure all. There have been times when the information given by the app does not answer every question we have – that's why it's important to understand the proper use. For example, it needs to be understood that the app does not protect a patient from stoke – obviously. But what it can do is help detect atrial fibrillation and perform an ECG to confirm the diagnosis, so that physicians can start protective anticoagulation therapy where needed.
"Many of my colleagues are eager to start recommending Preventicus to their patients but are waiting to hear next steps in terms of how it is compensated by the health insurances. The less resources available, the more likely this will happen."
While Preventicus is only within the German market at the moment, there are plans to expand across other regions of Europe. One of the most important future markets is likely to be the United Kingdom, where the application is already recommended by the National Health Service.
What's next for Preventicus
Though we are very focused on preventative care at the moment, the goal is to go beyond into secondary prevention. Focused more on answering 'what happened' after a stroke, Preventicus plans to look into what can be done in terms of supporting patients after a major stroke so that that another one does not occur.
NightWatch
Similar to other personal monitoring devices, Preventicus plans to create a device that monitors a patient 24/7 in conjunction with the Preventicus algorithm. The goal of this device is to support primary and secondary prevention, ultimately lowering costs for patients, insurers and medical professionals around the world.
RedStroke
A European clinical program for proof of concept in countries outside Germany as well as the roll out of the Preventicus programme across Europe, especially focusing on countries like the United Kingdom, France, Austria, Switzerland and the Netherlands.
Julia Rohde
SVP international business development and commercialisation
PREVENTICUS GmbH
+49 36 41 55 98 450
info@preventicus.com
https://www.preventicus.com/
Please note, this article will appear in issue 10 of Health Europa Quarterly, which is available to read now.