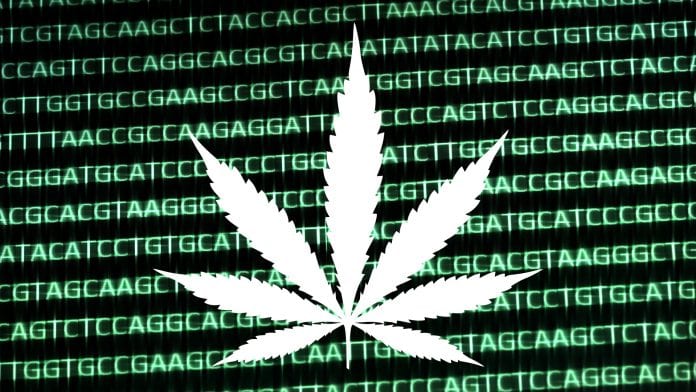 The word's-first SNP chip has been developed to help breeders with cultivation by improving the consistency of chemical profiling and disease resistant characteristics of cannabis crops, as well as helping to meet regulation for THC levels.
Eurofins Scientific, a global leader in bioanalytical testing, partnered with Medicinal Genomics Corp., a pioneer in harnessing cannabis genomics, to introduce a next generation high-density SNP (single nucleotide polymorphism) chip for cannabis and hemp genotyping, breeding, and pathogen testing that could revolutionise cannabis cultivation and help monitor THC levels.
The SNP chip will serve as a powerful research tool for cannabis cultivation, enabling more discoveries of quantitative traits and expanding the diversity of cannabis cultivars assessed in genetic prediction.
SNP chip for cannabis cultivation
The SNP chip will aid cannabis cultivators with their efforts to breed cannabis cultivars that exhibit specific chemical profiles and disease resistant characteristics. The two companies will also use their extensive resources and expertise to make this predictive test available to both US and international customers.
Farhad Ghavami, CSO of Eurofins BioDiagnostics, Inc., a division of Eurofins Scientific, said: "Eurofins has one of the largest agricultural testing infrastructures in the world, and it has become increasingly important to extend our services to the burgeoning global hemp market.
"We wanted the best genetic solution for our cannabis customers – something that can revolutionise breeding, genetic purity, and IP security of cannabis seeds. Therefore, finding the best partner whose expertise would stimulate the growth of this worldwide market was a key component. As the premier provider of genetic identification and solutions for the detection of microbes and genetic traits on the cannabis plant, Medicinal Genomics was the perfect choice."
Tapping into Kannapedia®, the world's largest cannabis genomic database, MGC has identified tens of thousands of high-impact coding SNPs that will be included on the Eurofins Cannabis Chip.
Trait specific markers including 39 cannabinoid genes, markers for plant sex, chemotypes (I-IV), and disease resistance will be on the chip. These traits are the most important and relevant to the cannabis industry. The data from the chip can be further analysed in Kannapedia to gather population frequencies, Bt:Bd allele coverage, heterozygosity, and the relatedness to other cultivars in the database.
Meeting THC regulations
The chip will be particularly valuable to cannabis cultivation experts striving to meet THC levels according to the USDA <.03% THC regulations, as well as for breeding strains with genes that have been proven to be resistant to powdery mildew, a common and destructive pathogen.
Brendan McKernan, Medicinal Genomics' CEO, said: "The SNP chip will serve as a powerful research tool for enabling more discoveries of quantitative traits and expanding the diversity of Cannabis cultivars assessed in genetic prediction. Our partnership with Eurofins is going to deliver all that and more.
"Eurofins is the world's leading agrigenomics provider. There's no one better to help us extend our global reach. Needless to say we're thrilled to have them as our worldwide partner."
MGC and Eurofins will officially launch the chip this year.
Do you want the latest news and updates from Medical Cannabis Network? Click here for your free subscription, and stay connected with us here.