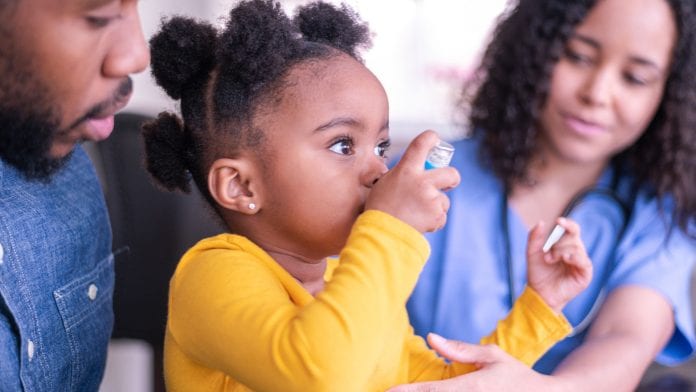 A new study has demonstrated that asthma inhalers that use sensors could contribute to better management of the condition and improved quality of life.
Northwestern University, Ann & Robert H. Lurie Children's Hospital of Chicago, and UnitedHealth Group have collaborated on the trialling of electronic monitoring for asthma, which they say should be considered for use by primary care, allergy, and pulmonary care providers.
The Northwestern and Lurie Children's study has been published in the journal Pediatrics.
Improving medication adherence
The researchers say that using sensor-based inhalers in healthcare providers' clinical workflows may help improve medication adherence and support children with asthma and their families to manage their condition more effectively, as well as improving quality of life for care givers.
The inhalers use Bluetooth sensors that attach to the inhaler to detect medication use, feeding back the data to physicians. The researchers say this innovation of inhalers can proactively detect worsening of asthma symptoms, enabling physicians to intervene rapidly if patients become critically ill.
Dr Ruchi Gupta, professor of paediatrics at Northwestern University Feinberg School of Medicine, physician at Ann & Robert H. Lurie Children's Hospital of Chicago and the Director of the Center for Food Allergy & Asthma Research (CFAAR) said: "Emerging connected technologies can help improve patient health, with this randomised-controlled clinical trial showing that paediatric asthma patients with access to inhaler sensors report better asthma control and quality of life than patients who only received a standardised asthma education curriculum."
"This study is another clear example that digital health is here to stay, as it allows for us to stay connected to patients living with chronic disease, provide a level of automated watchfulness, and intercept disease in a timely manner," said Deneen Vojta, MD, Chief Physician Executive for Optum Labs, part of UnitedHealth Group. "This is a terrific example of moving from the best care out there today to the best care possible."
Most asthma patients are able to control their disease and live symptom-free. However, for patients with moderate-to severe disease, this generally requires daily use of "controller" medications, typically in the form of an inhaled corticosteroid, as well as occasional use of "rescue" medications such as albuterol.
Previous studies have explored the feasibility and effectiveness of using sensor-based mobile interventions to improve asthma management, however, this study was the first to systematically evaluate its effectiveness in a large, racially/ethnically, and socioeconomically diverse sample of children.