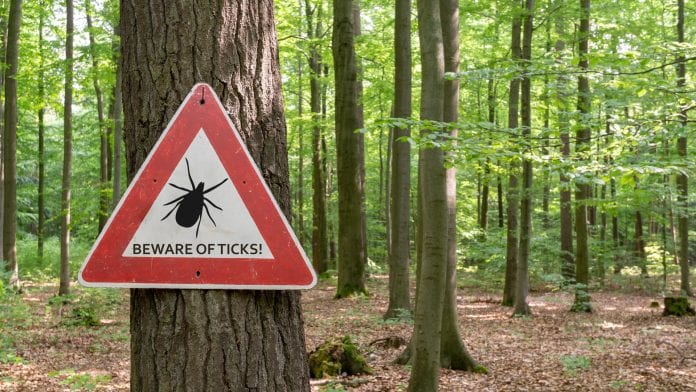 New cases of tick-borne Lyme disease in the UK may be three times higher than previous estimates suggest. The finding suggest that new cases of tick-borne Lyme disease might top 8000 in 2019.
Lyme disease is a bacterial (Borrelia) infection that is passed on through the bite of an infected tick and it has become the most common tick-borne infection across Europe and the USA. Higher rates of tick-borne Lyme disease in other countries has sparked fears that the UK's current estimates are too low. The annual number of new cases in the UK is currently estimated at 2000 to 3000, which are based on laboratory data for England and Wales.
Preventative measures needed
According to new research published in BMJ Open, one in five of those treated for tick-borne Lyme disease were in their 40s, with similar proportions in their 50s (just over 18%) and 60s (just over 17%). Half the cases were among women and girls and half of the cases occurred in the summer.
The annual total number of cases recorded in the CPRD increased from 60 in 2001 to 595 in 2012, giving rise to a UK estimate of 7738 cases in 2012.
The estimated annual incidence rate in 2012 was 12.1 cases per 100,000 of the population. But the average estimate between 2010 and 2012 varied widely, ranging from 6/100,000 of the population in Wales to 37.3/100,000 in Scotland.
The figure for 2012 is around three times higher than previous estimates have suggested, and if these trends continue, the number of new UK cases could top 8000 in 2019, say the researchers.
There are many ways to prevent Tick-borne Lyme disease such as tucking trousers into socks when going hiking or for a walk, avoiding dense vegetation, particularly wooded or grassy areas in moist and humid environments, using insect repellent on skin and clothing and searching the body for ticks after hiking in high risk areas, they write.
The findings point to the need for further preventive measures, say the researchers, who said: "Greater awareness of the risks may also lead to more rapid diagnosis and treatment which is important to prevent long term morbidity."
Revolutionising detection of tick-borne Lyme disease
Recently, a new blood test called the Tick-Borne Disease Serochip (TBD Serochip) has been developed that could help to revolutionise the diagnosis of tick-borne Lyme disease by offering a single test to identify and distinguish between Borrelia burgdorferi, the pathogen responsible for Lyme disease, and seven other tick-borne pathogens.
Current tests for tick-borne diseases (TBDs) have limited diagnostic accuracy and cannot test for more than one infection simultaneously, and for the diagnosis of tick-borne Lyme disease two separate tests are required. This test accurately identifies fewer than 40% of patients with early disease and results in false positives in 28 percent of the time.  Specific blood tests are not yet available for other tick-borne agents.
As well as being a useful diagnostic platform, the TBD Serochip is able to provide a powerful research tool for studies of TBDs. The technology can be employed to discriminate individual antibody responses in patients with TBD and thus examine the interplay of TBD agents on disease manifestation and progression. It can also be used to assess the impact of genetic diversity of tick-borne pathogens on the host immune response.
Senior author of the study W. Ian Lipkin, MD, director of the Center for Infection and Immunity and John Snow Professor of Epidemiology at Columbia University's Mailman School of Public Health, said: "Diagnosing tick-borne illness is a difficult journey for patients, delaying effecting treatment. The TBD Serochip promises to make diagnosis far easier, offering a single, accurate test for eight different TBDs. Early detection of infection enables rapid and appropriate treatment."