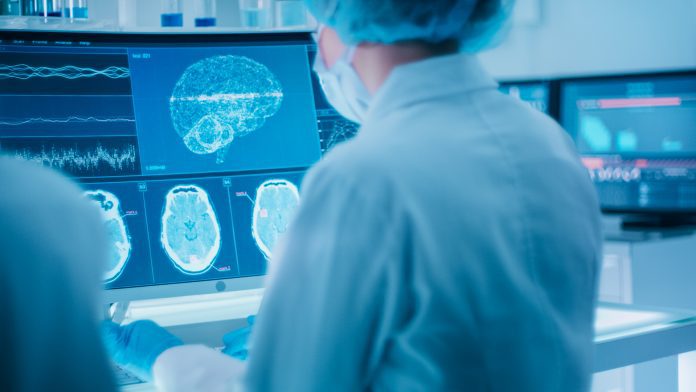 Wearable brain imaging system technology has been awarded £1.7m to accelerate approval for use in hospitals.
Wearable brain imaging can provide accurate measures of brain function in freely moving patients. The University of Nottingham spin-out company Cerca Magnetics alongside the national charity Young Epilepsy and Great Ormond Street Hospital have received £1.3m (70%) of the funding from Innovate UK, with the rest coming from Cerca Magnetics.
The wearable OPM-MEG system was originally prototyped and tested at the University of Nottingham and will hopefully be approved for use in healthcare settings.
The technology is approved in research settings
The cutting-edge technology has already been approved in a research setting. Young Epilepsy installed the UK's first OPM-MEG system at its Health and Research Centre in Surrey in 2021 to improve how epilepsy is diagnosed and treated. The wearable brain imaging system is part of Young Epilepsy's Diagnostic Suite, offering clinical neuroimaging technology in a comfortable and seamless environment for children and their families.
However, clinical approval will allow the brain imaging system to provide doctors with new information on neurological conditions, offering new hope to people living with these conditions.
The wearable brain imaging system uses quantum technology
The development of this technology uses quantum technology to measure magnetic fields above the scalp. This process is called magnetoencephalography (MEG).
The system used optically pumped magnetometers (OPMs) to measure the brain magnetic field, which has been added to a lightweight helmet, allowing people to move freely during scanning. The design means the system can also be fitted for anyone, including newborns and the sensors being placed close to the head enhances data quality. OPM-MEG is much cheaper than conventional MEG scanners, which is beneficial for healthcare systems.
The funding will allow the team to create a data package that will support the development of the OPM-MEG system and gain clinical approval under EU MDR as a Type II B clinical device.
A long process to get regulatory approval
Regulatory approval is a lengthy process as it includes demonstrating the safety and efficacy of the system, laboratory scale experimental evaluation, and developing synthetic devices capable of testing. The team also need to show in vivo proof of concept in healthy individuals to demonstrate how the wearable brain imaging system outperforms the current technology and show the clinical utility and effectiveness via application in patients, with a focus on young people with epilepsy.
Rosemarie Pardington, Director of Health, Research and Compliance and Young Epilepsy Deputy CEO, explained: "This Innovate UK grant will allow us to move on to the next exciting stage of development of the OPM-MEG system, by getting Medical Device Approval, we will be able to work with clinicians across the country and significantly improve the diagnostics experience for children with epilepsy.
Around half of the people diagnosed with epilepsy never learn the cause of it. This is concerning from both the personal and clinician perspective. The more we know about what causes someone's epilepsy and how else the underlying cause is affecting an individual, the better clinicians can manage and treat it, and the better the patient may understand it themselves. OPM-MEG offers us a real solution to better understanding epilepsy, especially in children, thus improving the outcomes for their future."
Recommended Related Articles