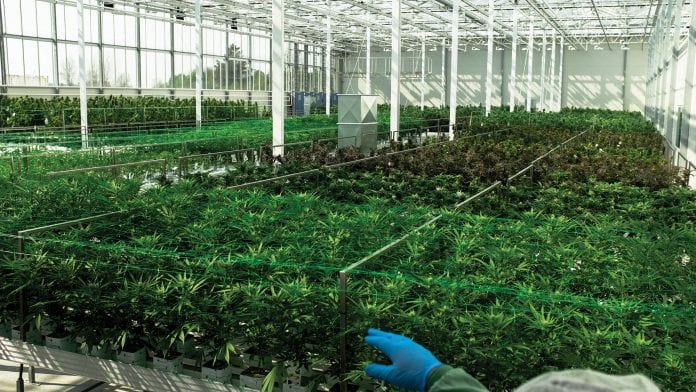 How Aurora Europe is helping establish the continents' newest medical cannabis markets, could they help to improve access to medical cannabis?
Across Europe, a growing number of countries are allowing access to medical cannabis. In 2020, even more are expected to join their ranks. Their approaches, however, can vary widely. Some limit prescriptions to only the severest of cases while others offer a broader approach. Germany, for example, has more than 40,000 patients and its physicians can prescribe the medicine for a comparatively wide range of conditions. The country's 2017 adoption of medical cannabis has been considered a success by health professionals and patients alike, and the examples set by more established markets like Germany and Canada's are convincing European political and health care leaders that embracing medical cannabis can be a positive public policy move, especially for patient experience.
Dr Axel Gille and Philip Schetter are the Managing Directors of Berlin-based Aurora Deutschland and Aurora Europe, which are seeking to open, reform and supply medical cannabis markets across the continent.
"There's a growing recognition in Europe that medical cannabis can help people in need," Gille, a chemist by education who has been working for more than 20 years in management consulting in many countries around the world, told Health Europa. "We want to be a clear market leader in all European countries that allow medical cannabis – and for patients' sake, we want more European countries to allow medical cannabis. We are proving that this is a safe and effective medicine and that it can be produced to high quality standards. What is working in countries like Germany and Canada will work in other countries too."
Established in 2017, Aurora Europe is the largest authorised importer, exporter and distributor of medical cannabis in the European Union. The company is a wholly-owned subsidiary of Aurora Cannabis, a Canadian titan in the emerging medical cannabis industry with sales and/or operations in 25 countries across five continents, including more than a dozen in Europe, such as Germany, Poland, Portugal and Italy – all of which have legalised the medicine.
Aurora also has operations in countries like the United Kingdom, France and Spain, which either offer only limited access to medical cannabis or no real current legal access at all yet.
"Our mission is to provide medical cannabis to patients in need all over Europe," Schetter, Gille's counterpart, told Health Europa. "Of course, markets with limited or no medical cannabis frameworks offer challenges – but they also offer opportunities to improve even more people's lives." To that end, Aurora Europe has been establishing new subsidiaries – including Aurora Medicine UK, Aurora France and Aurora Medicine España – that are working with political and health sector stakeholders to help even more patients access this increasingly common medicine.
The UK: improving access and availability
Following sustained patient advocacy, the UK legalised medical cannabis in November 2018. In early 2019, Aurora Europe soon became one of the first companies to supply medical cannabis to the country.
However, a year after legalisation, access remains extremely difficult. Prescriptions can only be issued by specialists when the needs of patients cannot be met by licensed medicines. In addition, recent guidelines issued by the UK's National Institute for Health and Care Excellence (NICE) do not recommend prescriptions for a number of indications that other countries treat with medical cannabis, including chronic pain, spasticity and severe treatment-resistant epilepsy. The effect of this is that specialists in the UK are often reluctant to prescribe medical cannabis to patients that may benefit from it. It is estimated that a little over 100 patients have received prescriptions for medical cannabis since legalisation. Don Perrott, the Managing Director of Aurora Medicine UK, is confident that the country's medical cannabis system will be reformed.
"In my opinion, the UK is on an inevitable path towards making medical cannabis more accessible," he told Health Europa.
Aurora Medicine UK first opened its doors in central London in August. Perrott plans to grow the business as the UK develops into what is widely expected to be one of the largest medical cannabis markets in Europe. "Not only do we want to build a strong brand, but we also want to help the UK be a leader in the European medical cannabis market," Perrott said. "To do that, we need to build our reputation as a trusted partner for physicians, patients and regulatory authorities by continuing to supply high-quality, highly consistent medicine in the country."
Perrott joined Aurora after spending more than two decades with the global advisory firm KPMG. He says he was attracted to the cannabis industry because of its rapid growth and relished the chance to position Aurora as a leader in the nascent UK market. Behind that, though, there is a personal motivation driving Perrott to help UK patients access this medicine. "Some years ago, I saw first-hand how cannabis helped a family member who was suffering from chemotherapy-induced nausea," he said. "The cancer, sadly, was terminal – but medical cannabis led to better quality of life in the last few months."
In the UK, Perrott says that one of the biggest obstacles to prescribing medical cannabis is the perceived lack of evidence about the long-term safety and effectiveness of the drug. "NICE clearly points towards the need for more research into the clinical and cost effectiveness of cannabis," Perrott said. "There is a growing chorus of supportive voices in government and healthcare, but in the UK more needs to be done for cannabis to be seen for what it is: a safe and efficacious medicine. The things that are going to help that are further clinical research, physician education and continued patient advocacy."
Despite its cautious approach to medical cannabis, Perrott believes that the UK does have one advantage: it can look to other more established medical cannabis markets to reform its own regulations.
"We are in the position to leverage the best parts of policy from countries that paved the way, such as Canada and Germany, and apply them to the British context," Perrott said.
"The current system isn't working and is failing patients who need medicine. To get a medical cannabis prescription, it is usually the case that you must fail traditional treatments – which can often include powerful synthetic opioids – before you can access a natural, low-cost medicine. There are many people in the UK who are turning to black market for their medicine, and that puts them at risk, spurs crime and results in our government losing out on tax revenue. Change is inevitable and I genuinely believe that UK is on the cusp of embracing this significant opportunity."
France: establishing a new market
In early 2020, France will begin an 18-month medical cannabis pilot project. The pilot, which was announced by the country's Health Agency (ANSM) in June, is expected to allow prescriptions for certain severe conditions, such as spasticity related to multiple sclerosis, drug-resistant forms of epilepsy, oncological support treatment, chronic pain that has not responded to traditional medicines and palliative care. Although the exact terms of the pilot have yet to be fully released, the French government has also indicated that it intends to import full spectrum medical-grade cannabis products such as dried flower, oils and capsules while taking time to create a plan for a national cultivation program.
"I feel like the momentum is very positive," Hélène Moore, the Managing Director of Aurora France, told Health Europa. "Some might see the pilot as a cautious approach, a little bit like the ongoing four-year medical cannabis trial in Denmark, but I believe that it will ultimately lead to France creating a well-structured system that will benefit its patients."
Aurora France was established in June 2019. Like Perrott in the UK, Moore is building Aurora's Paris office and presence in the country as France's medical cannabis market develops. Much of Aurora France's efforts have been focused on market education and diffusing a consistent message to French political, business and health stakeholders that cannabis is not simply an illegal drug, but a safe and efficacious medicine.
"As an industry, we have to roll up our sleeves to educate new markets," Moore said. "But in less than two years, we've seen a tremendous progression in opinions on the legitimacy of medical cannabis in France. Polls show that the French population is overwhelmingly in favour of medical cannabis legalisation. That prevailing social opinion, along with the global medical cannabis movement, has finally led to political action. When it comes to medical cannabis, France really appears poised to begin catching up to its neighbours."
Moore originally hails from Quebec: Canada's French-speaking province. A biochemist by training, she joined Aurora after a spending 15 years in the pharmaceutical industry. Before establishing Aurora's Paris office, she had been the company's flag-bearer in the country since September 2018.
"We had been working tirelessly with key political, health care and cannabis industry stakeholders as the terms of France's pilot project were being drafted," Moore explained. "Improving patient access and working to open markets like France's go hand in hand. The pilot is a really great start, and I do not see it as the end."
It is estimated that the French medical cannabis market could eventually reach between 300,000 to 1,000,000 patients. The pilot, however, will be conducted with a limited number of patients, which has not yet been disclosed by ANSM. Moore hopes that a successful pilot could lead to a wider range of conditions becoming eligible for medical cannabis treatment, as is the case in neighbouring Germany. Until then, Moore's mission is to position Aurora as a supplier of choice in the European Union's second most populous country.
"At Aurora, we believe in this medicine and want to help as many people as possible experience better days," Moore said. "Aurora's well-established presence in Europe and our record of supplying high quality and consistent products from EU GMP-certified production facilities across the continent are really going to help us be leaders as this important market continues to develop."
Spain: seeking a regulatory framework
While Aurora works to open and reform new medical cannabis markets in countries such as France and the UK, Spain presents an entirely different context. Cannabis has long been decriminalised for personal and private use and cultivation in the country, making medical cannabis comparatively accessible – but not legal.
"Medical cannabis is so widely accepted in Spain that many people are surprised to learn that it is actually illegal," Salvador Garcia-Ruiz, the Managing Director of Aurora Medicine España, told Health Europa. "For example, there's a network of more than a thousand cannabis social clubs in the country, particularly in Barcelona, which operate like Amsterdam-style coffee shops. However, they exist in a legal grey area and are often shut down."
Spanish law also makes no distinction between recreational and medical cannabis, meaning that patients must cultivate the plant themselves or turn to the grey market to access medicine. Under the current legal framework, patients are also unable to leave a club's premises with medical cannabis on them.
To better serve patients across the country, Garcia-Ruiz wants to see medical cannabis treated like any other medicine.
"We need regulations and physician guidelines," Garcia-Ruiz explained. "Spanish patients will only benefit if their doctors can guide them and prescribe consistent, high-quality medicine. And who knows where grey market products are made? Not EU GMP-certified facilities, I'm sure."
Headquartered in Barcelona, Aurora Medicine España was established in April. Garcia-Ruiz joined Aurora following an eclectic career that saw him work as a newspaper CEO, a strategic consultant and a professor of economics.
"Aurora's global impact in the sector made a huge impression on me," Garcia-Ruiz said. "Learning about the medicinal benefits of cannabis also really sold me on entering the field and starting up Aurora's Spanish operations." Garcia-Ruiz now oversees a small but growing team dedicated to patient advocacy and medical cannabis education for the country's regulatory and health care stakeholders. "I have met many patients who have braved the risks of Spain's current alegal system to get medicine," Garcia-Ruiz said. "They deserve better."
In Spain, it can also be difficult to find the kinds of ingestible cannabis extract products, such as cannabis oils, that are so important in established medical markets. Much of what exists in the grey market is smokable forms of cannabis, such as dried flower.
"I've learnt about patients who purchase dried flower on the grey market and send it to university laboratories for extraction," Garcia-Ruiz said. "They don't want to smoke. They get better results from ingesting cannabis extracts. They should be able to access the kinds of cannabis oils, capsules and oral sprays that we are providing patients in countries like Canada and Germany."
With some opinion polls showing more than 84% approval of medical cannabis, Garcia-Ruiz is optimistic that change is on the horizon in the European Union's fifth largest country.
"Sooner or later, medical legalisation is bound to happen: that's the general consensus among experts and even politicians," he said. "I think acceptance and consumption is popular enough here that once it's been regulated, it will only be a matter of time before Spain becomes one of the most important markets in Europe. And the fact that Aurora is here now, while cannabis has not yet been legalised, positions us for building the best outcomes in the future. With support from our partners in Europe, Canada and around the world, I am confident that we will be able to make a huge difference in Spanish patients' lives."
Across Europe: driving change and increasing production
Thimo Schmitt-Lord is Aurora Europe's Berlin-based Director of Corporate Social Responsibility. "Taking responsibility is at the core of what we stand for at Aurora," Schmitt-Lord told Health Europa. "We are on a mission to break down barriers and create a world where people can fairly access the treatments they need."
Schmitt-Lord is working to establish corporate responsibility and societal engagement programs across the continent. "Our biggest challenge is reaching more conservative people in the health system to make medical cannabis a more mainstream treatment option, which is definitely not the case in much of Europe today," Schmitt-Lord explained. "But we keep at it because we believe in the positive impact of medical cannabis on people and society – and we are seeing results."
Bernhard Retzer, Aurora Europe's Berlin-based Director of EU Business Development, thinks it is "inevitable" that countries like France, Spain and the UK will further develop their medical cannabis markets.
"Right now, they have the chance to help some of their most vulnerable citizens while creating significant economic opportunities," Retzer told Health Europa. "Sooner or later, I truly believe that medical cannabis will be available across Europe."
When such new markets do open up, Aurora will be well-positioned to supply them.
The company boasts more than a dozen technologically advanced and highly automated global production facilities that are able to produce more than 625,000 kilograms of dried cannabis per year. Several of those facilities are EU Good Manufacturing Practices (GMP) certified and have been supplying the European market with high-quality Canadian medicine since 2017. Soon, much of what Aurora provides to the budding European market will be cultivated on the continent itself.
Located in Denmark, the Aurora Nordic production facility is expected to begin shipping product in the coming months. At 9,200 square metres, it is the largest facility of its kind in the European Union and capable of producing 8,000 kilograms of dried cannabis per annum. A second massive 92,000 square metre facility capable of producing over 120,000 kilograms per year is already under construction in Denmark and is expected to be operational in mid-2020. Aurora is also in the midst of building production facilities in Germany and Portugal, both of which are anticipated to be operating in 2020, while even more are being constructed in Canada to GMP standards.
"When it comes to medical cannabis, the European market is full of unrealised potential," Gille, Aurora Europe's Managing Director, said. "But for us, this more than about business – it's about helping European patients by improving access to consistent, high-quality medicine."
Aurora Cannabis Inc. at a glance
Founded in Canada in 2013 with a mission to help people access high-quality medical cannabis;
Headquartered in Edmonton, the capital of the Western Canadian province of Alberta;
Sales and operations throughout Canada and in 25 countries across five continents, including more than a dozen in Europe, such as The United Kingdom, Germany, Italy and Denmark;
Wholly owned subsidiary Aurora Europe is the largest authorised importer, exporter and distributor of medical cannabis in the European union;
More than a dozen technologically advanced global production facilities capable of producing at least 625,000 kg of dried cannabis per year for Canadian, European and international markets;
New production facilities currently under development in Germany, Portugal and Denmark;
Horizontally diversified and vertically integrated, Aurora works in all segments of the cannabis sector, including plant science and facility design; and
Common Shares traded on the TSX and NYSE under the symbol 'ACB' and are part of the S&P/TSX Index.
Heather MacGregor
Director, Communications
Aurora Cannabis
+1 844 928 7672
heather.macgregor@auroramj.com
www.auroramedicine.com
This article will appear in Health Europa Quarterly Issue 11, which is available to read now. 
Recommended Related Articles