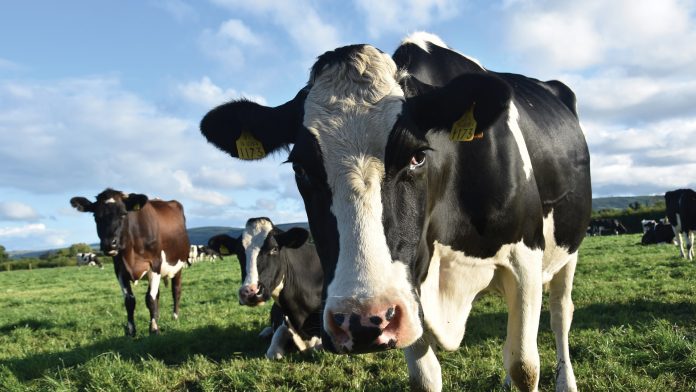 Roxane Feller, the secretary general of AnimalhealthEurope, provides an overview of the important role of the animal health industry in animal welfare, food safety, and public health in Europe.
Effective prevention and control of infectious diseases at the animal-human-ecosystem interface is essential. At international level, the World Organisation for Animal Health (OIE), the World Health Organization (WHO) and the Food and Agriculture Organization (FAO) work together to promote cross-sectoral collaboration to reduce risks from zoonoses, and other threats emerging at this interface.
Animal health in the EU's One Health commitment
The EU's commitment to One Health has mainly been centred around disease preparedness, prevention and control. More recently the focus on tackling antimicrobial resistance has come to the fore as requiring a One Health action plan.
The animal medicines industry has been a strong supporter of One Health thinking for many years, and very much values the view that the health of Europe's people, animals and environment is a shared responsibility for experts in public health, animal health, food safety, bio-safety, the environment, and research and innovation. Numerous discoveries in the history of veterinary science have had a positive impact on both animal and human health. Think of the rabies vaccine helping to rid Europe of this deadly disease. Research and development has also led to innovative improvements both in caring for our pets to assure their companionship and in ensuring a more sustainable animal-sourced food production and supply in Europe.
One Health policies have a key role to play in how we address the emergence of multi-species health concerns and the spill-over of infectious diseases, and can help to ensure that appropriate control and prevention measures are taken.
The EU has demonstrated more and more understanding of the need to include animal health firmly in its policies on One Health. The 2016 EU regulation on transmissible animal diseases, for example, was a clear recognition of the important role animal health plays in Europe, as it highlighted the wider effects of monitoring and controlling animal disease not only being a contributing factor to good animal welfare and sustainable agriculture, but also to public health. The 2017 EU One Health Action Plan against Antimicrobial Resistance also made positive steps in highlighting the many comprehensive measures already undertaken in the animal health field.
It would be fair to say that the EU's commitment to One Health is paying attention to animal health, and the commission roadmap for 'Protecting citizens against health threats' published in March 2018 goes a long way to acknowledging our role and securing our seat around the table. The roadmap outlines a need for strengthening capacities and structures to protect European citizens from the threat of infectious diseases by bringing together expertise in public health, animal health, food safety, bio-safety, the environment, and research and innovation. The animal medicines industry is ready and willing to offer its expertise and be an active contributor in the One Health dialogue.
Promoting responsible use of antibiotics
The animal medicines industry plays a key role in ensuring both the responsible use and the continued efficacy of all solutions for treating and preventing disease in animals. When it comes to ensuring the responsible use of antibiotics in particular, AnimalhealthEurope is a signatory of the global 'Animal health sector commitments and actions on antibiotic use'.1
Published in 2017 this commitment is supported by over 200 companies and associations, as well as 700,000 veterinarians worldwide. In it, the animal health sector agrees to a set of five principles and practical actions to address the global health challenge of antibiotic resistance:
Protect animal health and welfare in a unified One Health approach;
Use antibiotics judiciously and responsibly;
Promote disease prevention and increased access to products and expertise;
Invest in development of products for prevention and treatment; and
Increase knowledge, transparency and communication.
For the past two decades, AnimalhealthEurope and its membership have been proactively leading the charge against the challenge of antibiotic resistance development on a number of different levels. From the industry side, before antibiotics even get to the veterinarian, farmer or pet owner, they undergo thorough review by the European Medicines Agency (EMA), including: proof of efficacy; assessment of resistance risk; and risk management of any potential human impact, inter alia. Companies also adhere to requirements in terms of marketing and distribution, and responsible use guidelines are increasingly being included in pack labels.
Animal medicines companies contribute to studies and data collection, such as the CEESA programme – a unique, industry-led pan-European programme of monitoring resistance in foodborne and veterinary pathogen – the EMA's European Surveillance of Veterinary Antimicrobial Consumption report, and the OIE usage report. National associations and companies also contribute to a number of national reports regarding use and resistance data such as DANMAP (Denmark), SVARM (Sweden), VARSS (UK), etc. Some companies have started working directly with food producers to develop tools to help monitor and manage use of antibiotics from the very beginning of the food chain.
The role of AnimalhealthEurope
From an association level, AnimalhealthEurope is mainly working to promote the responsible use message to preserve the efficacy of these essential medicines. We also encourage a 'prevention is better than cure' approach in animal health management, highlighting ways in which animal owners can reduce the need to use antibiotics and developing alternatives to addressing infectious disease.
Our association is a great proponent of dialogue amongst stakeholders and multi-sectoral agreement on antibiotics stewardship. Back in 2005, along with the vets and farmers associations, we initiated EPRUMA – the European Platform for the Responsible Use of Medicines in Animals. The platform's membership has grown in reach to include:
Veterinarians;
Farmers and agri-cooperatives;
Manufacturers of animal medicines and diagnostics;
Feed manufacturers;
Professionals working in animal health, sanitary security and sustainable agriculture; and
Pharmacists.
A number of national platforms established over the years are also associate members of EPRUMA and promote responsible use messages at national level:
RUMA (Respsonsible Use of Medicines in Agriculture Alliance) in the UK (established 1997);
VetResponsable in Spain (established 2008);
AMCRA (Antimicrobial Consumption and Resistance in Animals) in Belgium (established 2012); and
A platform run by the Netherlands Veterinary Medicines Institute (SDa).
Within these platforms we have developed websites and brochures aimed at vets, farmers and pet owners outlining best practices for managing animal health and promoting responsible use of medicines.
Encouraging innovation in animal health
When it comes to innovation in animal health we are seeing the progress that is currently made through trilogue discussions between EU institutions on the proposals for a new regulation on veterinary medicinal products. Indeed, we count on EU decision makers to reach the original objectives of this revision: to build a truly future-proof legislative framework which is both science- and risk-based, offering animal medicines companies a predictable environment that is conducive to innovation.
Change in the regulatory framework is fundamental to boosting innovation in animal health and will help direct funding for R&D when more predictability is offered. The animal medicines industry is a large investor in R&D, investing around 8% of turnover, on par with software and computer services, and technology hardware and equipment industries.
What is sadly lacking in the current legislation – hence the need for review – is an incentive to introduce improved formulations, such as re-formulations to improve ease of administration and user compliance. Currently, practically all studies have had to be re-done when a product formulation is changed, incurring significant costs and administrative burden. As a result, companies are less inclined to invest in the more costly products, such as much-needed innovations in antibiotics. With the added influence of the socio-political debate in this particular area, the ensuing sense of unpredictability has led to companies who once spearheaded the present portfolio of modern antibiotics not wishing to invest in new solutions that might be banned for veterinary use and reserved for human use only at some unknown point in the future.
The new EU rules set out to encourage greater innovation by reducing administrative burden and improving the functioning of the internal market. For industry, it is pertinent that a combination of: reducing unnecessary and disproportionate administrative burdens, ensuring a science-based benefit-risk system, and ensuring adequate protection periods for technical documentation when developing new products, improving formulation, or adding a new species, etc. remain a central focus in the new legislation. In conjunction with a new pragmatic system to overcome the lack of harmonisation in the authorised summary of product characteristics for the same products, and a reduction in information that must appear on the immediate label to decrease costs for multilingual labelling, the animal medicines sector can ensure its response to Europe's need for new and improved animal disease prevention and treatment options.
The contribution of the animal health industry in safeguarding the health of pets and farm animals
AnimalhealthEurope's mission is to highlight the importance of healthy pets and farm animals and to demonstrate the reliability and value of animal health solutions to society. Our message is clear in that respect: the products our members research and develop prevent and treat disease. Without them, it would be simply impossible to raise healthy livestock or look after our companion animals.
By ensuring a ready availability of animal health products throughout Europe, we can help optimise health management while contributing to the sustainability of food production and keeping the companion animals that share our homes free from disease. Animal medicines will always be an essential part of any veterinarian's toolkit, and through a harmonised licensing process and single EU market, we can make more solutions available across Europe to help prevent and treat disease in many different animals. Innovation in animal medicines and vaccines is vital for ensuring a more sustainable way of life, supporting more efficient agricultural practices, helping to ensure that our pets remain healthy members of our families, and contributing to the general wellbeing of all of Europe's citizens and consumers.
References
About the author

Roxane Feller is secretary general of AnimalhealthEurope, the representative body of manufacturers of animal medicines, vaccines and other animal health products in Europe. With membership covering 90% of the European market, AnimalhealthEurope represents innovators and generics alike, as well as large, medium-sized and small companies.
Roxane Feller
Secretary General
AnimalhealthEurope
Tweet @animalhealthEU
r.feller@animalhealtheurope.eu
www.animalhealtheurope.eu
www.facebook.com/WeCare.petsEurope
This article will appear in issue 5 of Health Europa Quarterly, which will be published in May.