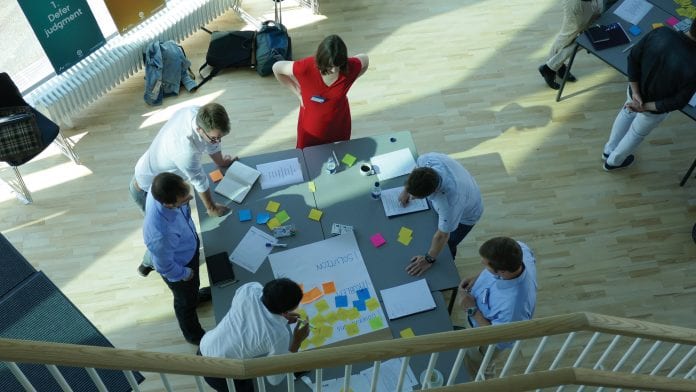 Sys Zoffman Glud explains how the BioMedical Design Novo Nordisk Foundation Fellowship Programme will spot new potential for transforming healthcare.
The healthcare sector's unexploited potential to foster valuable societal solutions can be released with a stronger cross-sectorial innovation culture. That is the belief of the founders of the BioMedical Design Novo Nordisk Foundation Fellowship Programme and the rationale for establishing this educational talent development programme in healthcare innovation.
With a €10.5m large grant from the Novo Nordisk Foundation, the health faculties of Aarhus University and University of Copenhagen, Denmark, will over the next five years train 64 subject matter specialists to become healthcare innovators and future culture carriers. The first cohort will begin in August 2019.
These BioMedical Design Fellows will in close collaboration with clinics, research institutions and industry be drivers of ambitious need-based healthcare solutions with the potential to improve lives and generate societal value.
The fellowship programme is important for the life science industry in Denmark
The life science and health-tech industry has in recent years become Denmark's most important exporting industry. To secure future growth, the Danish life science industry as a whole and health-tech in particular have a need for a continuous and strengthened flow of creative talent with entrepreneurial behaviour and new start-ups with high growth potential.
The BioMedical Design Novo Nordisk Foundation Fellowship Programme is a way to resolve some of the underlying barriers; build competent capacity and stimulate passion by providing a solid take-off ramp. Thus, the BioMedical Design programme is aligned with the national strategy of strengthening growth of Danish life science and the health-tech industry, and it speaks directly to a Danish tradition of public private partnerships in innovation and development. It's simply not enough to put excellent researchers, technology owners and business people together in a project. They need special skills to leverage projects together.
The BioMedical Design Novo Nordisk Fellowship Programme provides an educational framework to upgrade the competences of existing professionals to act in healthcare innovation and co-creative processes.
Spot need, create viable solutions
Since 2013, INNO-X Healthcare, alongside the Department of Clinical Medicine at Aarhus University, one of the founding partners, has worked with pre- and postgraduate educational activities promoting a mindset of innovation and entrepreneurial behaviour amongst future and existing clinicians.
Inspired by the needs-driven approach to health technology innovation found at BioDesign, Stanford University, the empathetic design principles of IDEO, agile business development methodologies and implementation theories, INNO-X Healthcare has compiled an innovation model called the Mixed Methods Innovation Model (MMIM) that combines the tradition in healthcare for evidence and data-driven decision making with elements from the design and entrepreneurial world.
The model covers all steps and valuable methodologies from identification of a clinical need in practice to implementation of a solution (commercial product/service or new workflow) in clinical practice. Hence, MMIM is a fully coherent model for healthcare innovation which furthermore can act as an infrastructure to guide public private collaborations on breakthrough ideas.
It is a cornerstone of the model that a vast amount of time is spent on analysing and understanding the details of a clinical need before a solution is ideated. The thinking is that the needs-based and data-driven approach increases the chances of developing solutions that are optimally fitted to the needs of the market.
MMIM will be the backbone of the BioMedical Design programme. Knowing how to innovate healthcare solutions is, however, not enough in itself. As modern societies have grown increasingly connected, the need for cross-functional and interdisciplinary collaboration has become ubiquitous. Therefore, the BioMedical Design programme will have a pervasive educational focus on augmenting the fellows' collaborative skills and creativity as well as their abilities to make interdisciplinary teamwork fruitful. Achieving that will provide the BioMedical Design Fellows with the supplementary 21st Century skills needed in Industry 4.0.
Ten months' team-based training with theory and practice
The BioMedical Design Novo Nordisk Foundation Fellowship Programme is a talent programme aimed at training physicians, business practitioners, engineers and other disciplinary professionals to become future leaders of healthcare innovation.
The training is hands-on and involves close collaboration with Danish hospitals, who offer unique access to deep field work to identify and fully describe important unmet needs of healthcare providers and patients.
This profound engagement of hospitals provides an exceptional opportunity to let the innovation be needs-driven and secures an intimate understanding between the parties involved on both sides – the entrepreneurial fellows and the hospital staff.
Identify, innovate, implement
During the ten-month, full-time programme, the annual cohort of 16 fellows work in interdisciplinary teams to identify clinical needs with high impact potential. Through an evidence- and validation-driven early diligence approach, they learn to prioritise and translate the needs into value-creating solutions and prepare these for commercialisation and implementation. Note here, the fellowship programme is not an incubator for acceleration of pre-shaped ideas of individuals. In fact, it is an important learning aspect that the ideas will be developed by the teams during the fellowship programme and the teams will be formed by the instructors of the programme.
The end product for each team will be a single validated solution concept to solve a documented clinical need, an early prototype with a complementary validated business model, and an execution plan encompassing a draft research study design, regulatory approval document and a draft patent strategy.
Spot passion, create talent
Prospective candidates for the 16 annual fellowship stipends shall be able to demonstrate a passion for applying their professional knowledge base to drive development of healthcare solutions. Recruitment will be international with room for up to four non-Danish-speaking candidates.
The candidates are postgraduates, meaning the basic qualification criteria are a master's degree or above and at least five years of work experience.
Candidates of a wide variety of backgrounds can apply, but preference is given to individuals with a background in medicine, biosciences, engineering, computer science, product design or business.
Candidate motivation
The programme is highly relevant for industrial candidates working with product and process development in the health-tech industry. The fellows will achieve new qualifications which can influence their level of power and strategic influence in order to impact product development or process innovation in their existing employment. They will also be inspired by the opportunity to gain detailed and practical insights into daily life in a clinical ward and the opportunity to build a network of industry experts and clinicians.
Fellows will obtain an entrepreneurial mindset, which can either make them become entrepreneurs creating their own business or intrapreneurs in their employee setting. From an industry perspective, companies can benefit from supporting relevant candidates to tap into the BioMedical Design programme due to the possibilities of uncovering new markets together with relevant clinical network expansion, from which both fellows and companies can benefit. Researchers returning to postdoctoral positions at universities will be well equipped to engage professionally in translational research and industry-financed development projects.
National scale to get the broadest impact
While being founded by the faculties of health sciences at the two largest universities in Denmark, the BioMedical Design Novo Nordisk Foundation Fellowship Programme will have nationwide involvement from a broad spectrum of universities, hospitals and organisations working within health-tech development and growth. The involvement will be both at a steering level and by contributing to educational activities.
The national scale will in terms of participating hospitals enable a strong cross-validation of clinical needs. The relationships built between the hospital staff and the fellows will stimulate a broader test-bed and faster diffusion of the developed solutions – all in all, aiming for a faster value creation for all stakeholders.
The overall purpose of a nationwide involvement is to achieve a diffusion of healthcare innovation competences across Denmark and across the public and private sectors to obtain the needed cross-sectorial innovation culture.
Will the creative self-efficacy of fellows increase?
Follow-up research will study the impact of BioMedical Design education on the fellows' innovative competences. The literature highlights that innovative competences entail a broad range of behavioural aspects, such as creativity, self-efficacy, personal inventory, entrepreneurial mindset and social emotional intelligence.
Creativity and innovation are positively correlated, and research states that creativity leads to innovation and innovative individuals. Creativity is a competence that can be trained. The follow-up research will therefore investigate if the creative self-efficacy of fellows increases and stays increased for a long time after the programme.
International network of peer fellowship programmes
The BioMedical Design Novo Nordisk Foundation Fellowship Programme is part of an international family (BME IDEA) of similar fellowship programmes such as BioInnovate, Galway, BioDesign, Oxford, Clincal Innovation Fellowship KTH, Stockholm, and BioDesign at Stanford University. In this community knowledge and practices are exchanged for the mutual benefit and continuous evolution of the programmes.
Sys Zoffman Glud
INNO-X Healthcare
(+45) 4041 2536
sys@innox.au.dk
http://innox.au.dk/en/
This article will appear in issue 7 of Health Europa Quarterly, which will be published in November 2018.