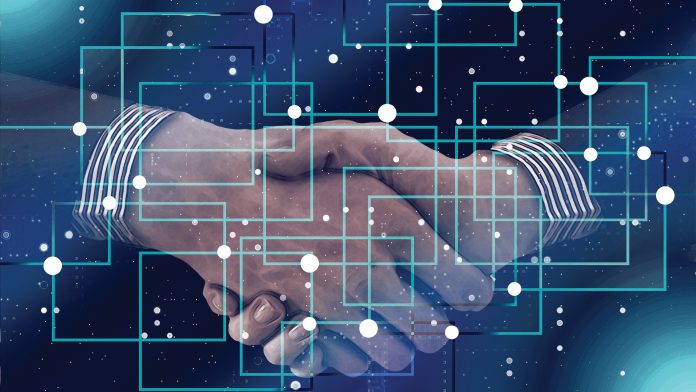 Curious about the role of blockchain technology in the healthcare sector of today and tomorrow? Look no further than the Blockchain in Healthcare Congress.
The blockchain technology market is expected to grow to $2.3bn (~€1.9bn) by 2021, from $339.5m in 2017.1 With an annual growth rate of 61.5%, it is one of the fastest growing technologies in the healthcare industry, which makes the Blockchain in Healthcare Congress an unmissable event this year.
There are many challenges that healthcare professionals are facing, which are ultimately driving the blockchain market. These include: limited access to health data, inconsistent rules and permissions for accessing patient data, varying data standards, and a number of cybersecurity issues, including a lack of confidentiality of protected health information and hacking attacks, as well as fraud and abuse.
What is blockchain?
Blockchain is a distributed system which records and stores transactions and tracks assets. It's a shared, immutable record of peer-to-peer transactions, built from linked transaction blocks and stored in a digital ledger. Anything of value can be tracked on a blockchain network with reduced risk and cutting costs.
The data can be found in a network of 'nodes,' which means that there is no central entity, such as a government or bank, which controls the data. The data is shared publicly, but the contents is only accessible to those with permission and cryptographic techniques ensure that all interactions within the blockchain become known to all participants and require verification by the network before information is added. The recorded immutable audit of all interactions ensures a greater level of security and trustless collaboration.
How can it solve the challenges in the healthcare sector?
The blockchain can tackle cybersecurity issues through its immutability, which ensures file integrity. Each interaction within the blockchain is marked by a hash which corresponds to the contents of the record, which means that users can verify if the contents of the record have been altered. In addition, each hash may contain specific user permissions, depending on the user's role. For instance, a doctor will have different permissions to a patient. The blockchain can trigger transactions, decisions, processes, and executable actions through smart contracts, which means that the record adopts a rule-based approach for patient data access and only authorised personnel may access the information in the record and amend the data. This means that users avoid issues such as inconsistent data and duplicate records.
The blockchain also has the potential to solve the issue of counterfeit drugs by ensuring drug traceability to verify and secure drug product information. Similarly, the blockchain can prevent the fraudulent modification of data from clinical trials, as well as ensuring nationwide interoperability. It allows the collaboration between patients, researchers, and care providers to provide individualised care for patients.
A misunderstood technology
Although the blockchain is one of the fastest growing technologies in the healthcare industry, it is also one of the most misunderstood. While a lot of healthcare professionals have heard the term 'blockchain,' very few understand the principal fundamentals behind the technology. It is crucial to understand the nature of blockchain technology, to distinguish the hype from reality, and to see the ways in which it can be applied to healthcare systems.
There are many blockchain conferences taking place this year that discuss the blockchain quite generally, but very few focus on the way in which it will affect the healthcare sector, which is going to grow rapidly over the next few years. In order to enable this growth, it is important for all stakeholders to come together to address its implementation.
The Blockchain in Healthcare Congress is such an event where the focus will be on the effects of the blockchain on the healthcare sector in the years to come. Taking place on 3-4 May in London, UK, government decision makers, academics, those working in pharma and hospitals, investors, and coders will be able to hear how blockchain is being implemented from a science and business perspective.
Over two days, the congress will address some of the most achievable possibilities of integrating blockchain within healthcare. Through a mixture of practical workshops, lectures, and roundtable discussions specifically designed to help you get to grips with the technology, learn from those already benefitting from blockchain systems, and overcome obstacles associated with integration, the congress will help you join the future of the healthcare industry.
What to expect
The Blockchain in Healthcare Congress will be welcoming over 50 leaders in the field to present on topics such as:
The opportunities and challenges of the blockchain;
Drug supply chain and traceability;
Rethinking clinical trial management;
Security and access; and
Applying blockchain to health systems.
Key speakers include:
Katherine Merton, head of Johnson & Johnson Innovation, JLABS @ NYC, who has over 15 years of experience working across the healthcare industry and will be presenting on blockchain start-ups and their integration into the healthcare landscape, where she will be reviewing blockchain start-ups, examining what they need to succeed, and what large corporations can do to support their growth;
Jim Nasir, vice-president of technology and innovation at Synchrogenix, leads the strategy and implementation of emerging technologies, including blockchain and machine learning, to improve patient outcome and transform life sciences. He will be discussing blockchain in the context of healthcare and pharma by demystifying some of the aspects of blockchain that tend to get lost in the hype, explaining what works (and what doesn't), and how to implement blockchain at a large scale for public health; and
John Bass, CEO and founder of Hashed Health, has been a leading voice in the development of the global healthcare blockchain market. At Hashed Health, Bass' team focuses on community development, enterprise services, and blockchain solutions development. Bass will be providing a forum to discuss pharma-related blockchain use cases that are active within the Hashed Health ecosystem at the Blockchain in Healthcare Congress.
Attendees will benefit from over 15 expert-led roundtable discussions, focusing on topics such as blockchain and GDPR, accelerating blockchain adoption in healthcare, and blockchain for pharma. Combined with over seven hours of dedicated networking time, the congress provides the perfect opportunity and environment for collaboration.
References
1 https://www.statista.com/statistics/647231/worldwide-blockchain-technology-market-size/
The Blockchain in Healthcare Congress will take place on 3-4 May at the Radisson Blu Edwardian, Heathrow in London, UK.
To find out more about the conference, please download the agenda here or email info@globalengage.co.uk to speak to one of the conference team.
Kate Barlow
Marketing Executive
Global Engage
www.global-engage.com/event/blockchain-congress
This article will appear in issue 5 of Health Europa Quarterly, which will be published in May.