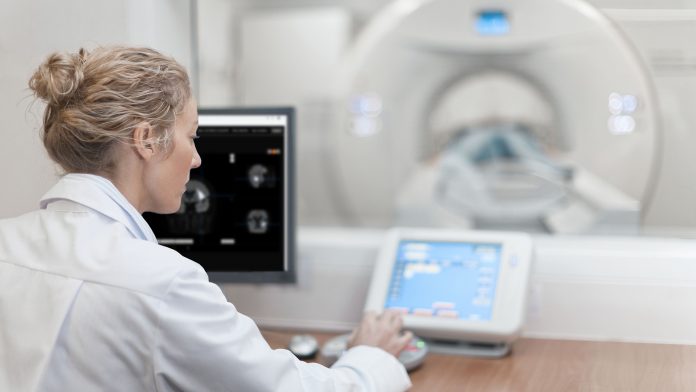 Cerebriu's pioneering Cerebriu Apollo technology aims to scale up clinical support through faster personalised diagnostic medical imaging.
While Danish medical technology provider Cerebriu is only a year and a half old, its products are the result of a decade's worth of research. CEO Robert Lauritzen speaks to HEQ about the ways in which Cerebriu Apollo technology can boost clinical workflow and provide support to practitioners through faster personalised diagnostic medical imaging.
What is Cerebriu Apollo? How can it benefit healthcare in practice?
Cerebriu Apollo is a software solution which provides clinical support through accelerated, personalised diagnostic medical imaging. The technology, which is rooted in machine learning, reads MRI images as they are scanned and then detects potential issues in those images, such as a tumour or signs of a stroke. Once an issue like this has been identified, Apollo releases instructions to guide the practitioner in adjusting the protocol or procedure in accordance with the new findings. We provide this feature, which we call the 'Smart Protocol', to reduce both the amount of time patients spend in the scanner and the amount of unnecessary data which is generated for clinicians to read and report on.
A secondary feature of the system is that when we detect a potential acute issue while the patient is in the scanner, we can then bring it to the radiologist's attention and advise the referring clinician, to enable them to react to the finding as soon as possible. Finally, we mark up regions of interest in the images: this is to shorten the time it takes to actually complete the report. In this way Cerebriu shortens both the examination time and the turnaround time of reports.
The personalised aspect of Cerebriu Apollo technology is quite interesting, because it does not just look at the patient's symptoms which have been recorded by the clinician. Rather, it uses anatomical data to determine potential pathologies when the patient is in the scanner. This is a novel and unique feature. We're moving upstream during the examination to integrate the execution of the protocol, and this allows us to eventually simplify the amount of protocols which the medical professional needs to consider, especially in the case of complicated patient symptoms. During a routine examination Cerebriu Apollo is able to adapt the imaging protocol to ensure that the adequate and correct dataset and images are acquired.
Why is a more streamlined workflow important for radiology, particularly in the face of a growing and ageing population?
Demand for diagnostic medical imaging has a growth rate of 9% per year, while radiology resources are stagnant; we must examine how to release the burden per patient for radiologists and radiographers, by looking for ways to automate the aspects of their workload which require less clinical expertise. The medical field as a whole has been focused on generating more data faster, which is great, but the risk of data overload poses a real challenge for radiologists and they just cannot keep up, which is why they're burning out all over the world. We can detect more and more pathologies early on through advanced technologies, and all of this generates more data. The question is: how can we best support the radiology sector using technology? Cerebriu Apollo simplifies and provides guidance during the course of these complicated diagnostic processes.
The need is quite evident: if action is not taken radiologists will begin to burn out. They have experienced increasing pressure over the past decade, which is bringing the field to the brink of collapse. In terms of workflow, it is all about how we automate activities and reduce the stress on the system by automating the less complex processes, so that we can cater to this increased demand and help more people. With an ageing population comes an increased risk of tumours, blood clots, haemorrhages and other acute issues. Cerebriu Apollo is able to detect these automatically, thereby reducing the pressure on professionals.
How do you see Cerebriu progressing in the future?
We've just received a CE mark, and while things are slowing down right now due to the Covid-19 pandemic, we are moving forward with hospital partnerships. We are also progressing with clinical collaboration, initially across Denmark, Norway, Germany, and Switzerland; but we will also consider opening to the United Kingdom. Over the next couple of years, we will be implementing trial installations in hospitals in mainland Europe and in the United States. We already have a trial installation established in India, and expect to have our first operational service agreement here in Copenhagen implemented in 2020.
Further down the line, we have been in talks with hospitals around the world, aiming to drive interest and get our systems implemented. We have interest from hospitals in the United States; and eventually we want to grow into a global healthcare and medical device company. We provide strong solutions for radiology, particularly in MRI scanning, and we do have a roadmap for expanding into other scanning protocols and modalities. There's a lot of focus going on in the CT space, but right now we are focusing on augmenting the more complex MRI field, which is substantially more time consuming and data intensive but also has quite a lot more to offer in terms of diagnostic capacity.
Is there anything else you think our readers should know?
We are going to be raising more capital: there are long lead times for sales and revenue, clinical trials take a long time, commercialisation is a long process. We are on a journey, but we expect massive incremental growth over the next several years. We have initiated partnering dialogues with tier 1 incumbents, because our value proposition is so tightly knit to the modality, and they have substantial interest in moving into software and services.
Now that we have the CE mark, we are marketable in Europe. For now we're focusing on clinical partnerships here in Europe, and we're beginning the regulatory process to launch in the US later this year.
Robert Lauritzen
Cerebriu A/S
+45 5383 0686
rl@cerebriu.com
This article is from issue 13 of Health Europa. Click here to get your free subscription today.