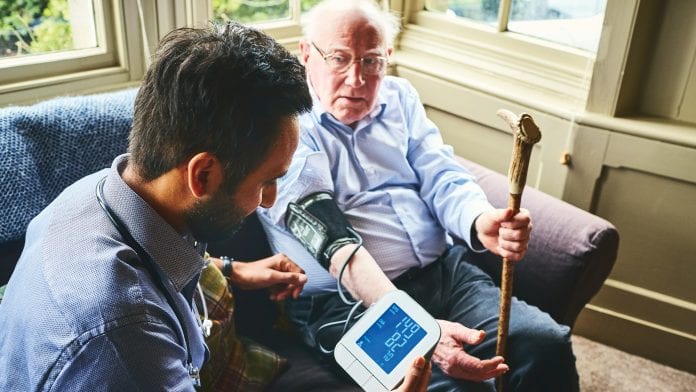 Following the European Commission's decision to disband the Expert Group on Dementia, we speak to Alzheimer Europe to hear their case for a co-ordinated approach to dementia in Europe.
According to 'Dementia: A Public Health Priority', a report published by the World Health Organization (WHO) in 2012, it is estimated that by 2030 nearly 14 million will have some form of dementia in Europe, rising to over 18 million by 2050. Research commissioned by Alzheimer Europe and published in 2009 used similar prevalence estimates and projected that the cost of dementia in Europe will exceed €250bn by 2030. Alzheimer Europe 's Jean Georges and Owen Miller believe that just as national dementia strategies can significantly improve the experience of people with dementia, a co-ordinated approach at a European level has the potential to deliver similar benefits.
With no cure and no disease-modifying treatment currently available, people with dementia, their families and carers require high-quality care, support and information, to ensure they are able to live as well as possible, for as long as possible in their communities.
To achieve this, we need a comprehensive approach which raises public consciousness about the condition, educates health and social care professionals about the best way to provide care, and fosters research and innovation across all academic disciplines.
Towards a European dementia strategy
Alzheimer Europe believes that just as national dementia strategies can significantly improve the experience of people with dementia, their families and carers by driving improvements in policy, practice and research in individual countries, a co-ordinated approach at a European level has the potential to deliver similar benefits. That is why Alzheimer Europe has been campaigning for a number of years for the development of a European dementia strategy.
Whilst we are naturally disappointed that there has been no significant progress towards the development of a strategy for dementia in Europe, it would be unfair to suggest that it is indicative of a lack of commitment by EU institutions towards addressing dementia as a public health priority.
Since the launch of the Glasgow Declaration in 2014, we have seen a number of positive developments. Indeed, in 2015 the Employment, Social Policy, Health and Consumer Affairs Council (EPSCO) adopted the Luxembourg EU Presidency conclusions, which included the need to place an emphasis on supporting people with dementia in Europe.
Additionally, a thematic priority of the third EU Health Programme (2014-2020) includes a commitment to 'support co-operation and networking in the Union in relation to preventing and improving the response to chronic diseases including cancer, age-related diseases and neurodegenerative diseases'. Furthermore, programmes such as the second EU Joint Action on Dementia, the Horizon 2020 programme (including the second Innovative Medicines Initiative (IMI)) and the ongoing work in relation to European Pillar on Social Rights (specifically Principle Nine on Work Life Balance) demonstrate that significant work is ongoing to improve the lives of people with dementia, their families and carers.
Another positive development is the WHO publishing its 'Global Action Plan' on dementia in 2017, outlining seven 'action areas':
Dementia as a public health priority
Dementia awareness and friendliness
Dementia risk reduction
Dementia diagnosis, treatment, care and support
Support for dementia carers
Information systems for dementia and
Dementia research and innovation.
These broadly reflect what people with dementia, their families and carers, and our members tell us are important. Many of the aforementioned programmes funded by the EU fit well with the Global Action Plan. However, some areas of importance are not fully addressed in the plan (e.g. legal capacity, upholding rights of persons with dementia).
In order to provide comprehensive and co-ordinated packages of work which truly improve the lives of people with dementia, their families and carers, we continue to believe a European-level dementia strategy (with defined indicators, responsibilities and timescales) presents the best driver for improvements across dementia policy, practice and research.
Current EU projects and initiatives
It is demonstrable from the scale and variety of projects funded through the EU that there is significant interest in dementia. The following is a brief overview of some ongoing projects.
Policy and Practice
The Second Joint Action on Dementia is a three-year project involving a number of EU Member States which began in March 2016 which aims to promote collaborative actions among Member States to improve the lives of people with dementia and their carers.
Funded through the European Health Programme, the project is examining four components of people's experience of dementia:
Diagnosis and post-diagnostic support
Crisis and care co-ordination
Residential care and
Dementia-friendly communities.
The programme has been designed to provide practical guidance for policymakers developing and implementing their national dementia plans, policies and strategies. In addition, it aims to provide cost-effective and practical examples of the core components of good dementia diagnosis, care and support.
Alzheimer Europe would see the benefit of a third joint action, as there are additional areas of dementia policies that would benefit from greater collaboration amongst European countries. This could be the case for the care of people with dementia in acute care settings and hospitals, end-of-life care, proxy decision-making systems or the inclusion of dementia in national disability policies and programmes. Other areas could be the development of dementia registries or improvements to the possibilities for people with dementia and their carers to engage in research, including clinical trials.
Research
Largely funded through Horizon 2020 funding, a number of research projects have been made possible, often involving a diverse range of stakeholders across a number of European countries. Of particular note, the second IMI (2014-2024), a public private partnership between the EU and the European Federation of Pharmaceutical and Industry Associations (EFPIA), has resulted in significant investment into a number of projects examining drug development, prevention, diagnosis and patient involvement, including projects such as EPAD, AMYPAD, MOPEAD, ROADMAP and PARADIGM, which cover a range of research areas including prevention, data usage and patient involvement. These projects are only a small selection of current research projects funded by the IMI but illustrate the diversity of research taking place.
Additional projects are funded through European programmes such as Horizon 2020 and the Joint Programme for Neurodegenerative Disease Research (JPND). The absence of progress into a disease-modifying treatment, coupled with the announcements of companies such as Pfizer that they would scale back their investment into dementia drug discovery, can give the impression that no progress is being made. However, it is important to recognise that drug discovery is only one facet of dementia research; research into high-quality care and support for people living with the condition is equally valuable and must have its value recognised.
We are pleased that early indications from the European Commission suggest that there will be at least a modest increase in spending in the health budget, with significant investment into the Horizon Europe programme. There is also an indication that research and innovation missions may be established, setting out the research priorities of the EU, of which the fight against Alzheimer's disease could be one.
Alzheimer Europe would naturally wish to see increases in both the health and research budgets, with a strong focus on best practice, care and treatment, in addition to clinical research to ensure that people with dementia, their families and carers are able to live well.
The Expert Group on Dementia
The Commission's decision to disband the Expert Group on Dementia, as well as those for cancer, mental health and rare diseases, in 2018 and replace them with a Steering Group on Health Promotion, Disease Prevention and Management of Non-Communicable Diseases was disappointing. This group was a unique opportunity for governmental experts on dementia to exchange good practices and to learn from one another in the development of dementia strategies and policies. In addition, the group was updated about relevant policy initiatives at the level of the WHO and the Organisation for Economic Co-operation and Development (OECD), as well as about the progress of the European Joint Action on Dementia.
Equally disappointing is that civil society organisations and NGOs who previously contributed through their observer status on these groups have now been excluded. Given the depth of knowledge and experience of these organisations, as well as the networks many of them possess with national stakeholders, failing to engage with such organisations risks losing a vital source of information on the effectiveness and implementation of policy and practice, and whether they truly improve people's lives. Whilst digital forums such as the EU Health Platform represent a potential way to foster greater collaboration and co-operation across Europe, they are not, at present, an adequate substitute for involvement in policy decision-making processes.
In response, Alzheimer Europe has already begun to explore the feasibility of hosting the group in a similar form, including the previous members of the group, including national governments and the WHO. It is our hope that the first meeting of this group will take place towards the end of 2018.
About Alzheimer Europe
Alzheimer Europe works to ensure that dementia is recognised as a public health priority across Europe, both at a European and a national level. We support our member organisations to help realise the ambition of all European countries having a national dementia strategy. In addition, we use the experiences, activities and knowledge from a national level, informing our European-level engagement and activity.
Publications, resources and research
One of the ways in which Alzheimer Europe raises the profile of dementia in Europe is through our publications, which provide an invaluable source of information, including:
Yearbooks: Our 'Dementia in Europe Yearbooks' address a different area of dementia policy or practice each year, providing an in-depth analysis of the different approaches of European countries on a specific issue. The 2018 yearbook will see us compare the existing dementia strategies currently in place.
Research: We occasionally conduct small-scale research projects to inform our work and to provide a more in-depth examination of an issue. For example, this year, Alzheimer Europe published findings of a carers survey into the experience of carers in getting a diagnosis for the person following a five-country study, working with Professor Bob Woods of the University of Bangor, UK.
European elections 2019/European Alzheimer's Alliance
Alzheimer Europe also engages members of the European Parliament, asking them to actively support initiatives and action in relation to dementia in Europe.
We support the European Alzheimer's Alliance (EAA) which has been active in the European Parliament since 2007. The EAA is a non-exclusive, multinational and cross-party group that brings together MEPs to support Alzheimer Europe and its members in making dementia in Europe a public health priority. Currently, 126 MEPs from 27 Member States are members of the EAA.
As part of the 2019 European elections, we will be working with national member organisations to ask candidates to sign a pledge committing them to making dementia a European public health priority and to joining the EAA.
Clinical Trials Watch
In addition to partnering in EU-funded research initiatives (including those listed above), Alzheimer Europe has also established 'Clinical Trials Watch' which provides accessible and up-to-date information on clinical trials into drug development for Alzheimer's disease and/or dementia in Europe. We aim to provide easy-to-understand information for people with dementia, their families, carers and anyone with an interest in dementia research, on clinical trials that are:
Currently recruiting participants
Conducted at least in one European country and
Currently in Phase III of testing.
It is our hope that by the end of the year, we will have extended this project to include all Phase II clinical trials which are recruiting and being conducted in at least one European country.
Jean Georges, Executive Director
Owen Miller, Policy Officer
Alzheimer Europe
Tweet @AlzheimerEurope
www.alzheimer-europe.org
This article will appear in issue 7 of Health Europa Quarterly, which will be published in November 2018.