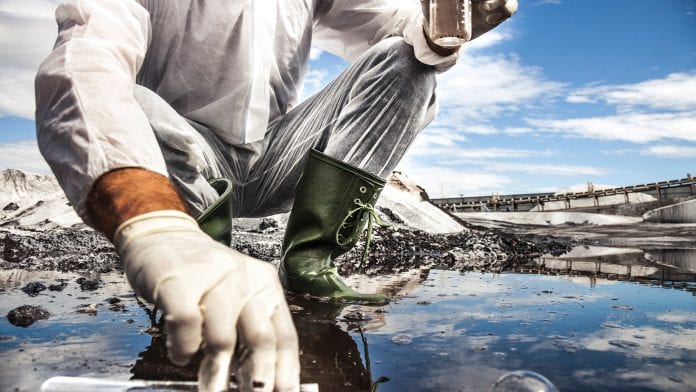 AstraZeneca's Jason Snape, outlined his company's approach to the environmental risk assessment of human medicinal products and what more needs to be in place to accomplish sustainable healthcare.
In October, Heath Europa attended CleanMed Europe 2018 at Radboud University Medical Center, Nijmegen, the Netherlands. This event, which explores sustainable healthcare, is designed to address the environmental risk and impact of the healthcare sector on a local, regional and global level.
Speaking at the conference, Professor Jason Snape, the senior principal environmental scientist within AstraZeneca who is responsible for the co-ordination of their Safety, Health and Environment (SHE) Research and Foresight programmes, delivered a presentation outlining some of the main points from his ten years of experience with the environmental risk assessment of human medicinal products.
He began his address by discussing some of the emerging pollutants and contaminants which are seen as being a cause for concern. While pharmaceuticals are often a part of such a discussion, Snape explained that his talk would focus specifically on the issue of pharmaceuticals in the environment, as well as some of the stakeholder concerns, and indeed areas such as where environmental issues sit within the drug discovery and development framework and the role of the environmental risk assessment approach. His speech also touched on the issue of antimicrobial resistance, which he described as "a key societal issue moving ahead".
Environmental concerns
Snape continued by explaining that there is a lot of environmental monitoring data now being made available. However, this means that when the concentration of a particular drug is measured over time, the detection frequency is likely to increase (not least because an increasing amount of chemical analysis is being conducted), and while this increase may be seen as a cause for concern by regulators, or even an NGO or an academic, for Snape it is important to compare this concentration to agreed safe levels.
"You need to ask," he said, "whether this provides any kind of reassurance. Is there an acceptable margin of safety there? Do we need any interventions for that compound? Is it an emerging pollutant?"
He then explained that pharmaceuticals can enter the environment in different ways, including through patient use, which, he argued, constitutes some 85-90% of the environmental burden. Drug production can also be a source – Snape said that this is responsible for around 2% of the pollution (which can result in hotspots of localised higher concentration), while the disposal of medicines in an irresponsible way can also result in environmental contamination.
Snape went on: "We design drugs so that most patients take them by oral therapy, and we therefore have to design in a certain level of stability as they have to get through the stomach and survive the microbes in the gut." Here, 'pseudo persistence' means that the compound in question has some kind of functional persistence in order to work; it has got to get into the body and into the target. Different compounds have different half-lives and some, if they are truly persistent, can be non-degradable.
"If you have a compound in constant use, then it is always going to have an environmental burden, even if it has a short half-life," Snape explained.
Any compound with a half-life of greater than 40 days is typically considered as being persistent. Once the use stops, and the shorter the half-life, the speed at which the environmental burden drops increases.
"Even if you have got compounds that are not persistent with very short half-lives, there is potential for them to be found in the environment," he added. As such, AstraZeneca collates any literature that is published around any environmental concentrations of its drugs (Snape revealed that there are around 15,000 reports of his company's drugs in the environment).
From this discussion, Snape concluded: "Everything will be found everywhere in the future because analytical chemistry is getting better… the number of pharmaceuticals they are going to find in the environment, be that in Africa, Europe, or North America, will increase and the number of pharmaceuticals will increase… so we have to get ready for that data coming though."
However, he also explained that "presence doesn't always equate to risk" and, as such, it is necessary to have a risk-based approach when thinking about contaminants of concern.
The ability to track a drug from the patient to see where drug targets are conserved helps to shape AstraZeneca's environmental risk assessments. He explained to his audience that when attention is focused on protein-based targets, there are gaps in the publicly available data concerning the conservation of drug targets, making it difficult to properly establish which animal species may be at risk from a certain drug or compound.
He also highlighted the fact that some pharmaceuticals may be used in ways they were not originally designed for, or in unexpected locations, and so any subsequent environmental impacts would be completely unforeseen and, as such, pharmaceutical companies cannot, in fairness, be held responsible for such events.
Indeed, Snape said: "None of the environmental risk assessments that we do to launch a human medicinal product, or even a veterinary medicinal product, would [be able to] pick this up… and so we have to make sure we have got post-launch surveillance in place to capture some of those threats and bring in interventions when they are needed."
Data availability
Snape then returned to the issue of a lack of publicly available effects data for human medicinal products. "We only have public assessment reports that have environmental data in Europe if they are authorised through the centralised procedure," he revealed, adding: "There are only a few companies that publish their data on their web pages; AstraZeneca was the first." There are also knowledge gaps in terms of what the protected levels are, with significant data gaps existing for maybe 80% of active pharmaceutical ingredients (APIs) that were registered before 2006, Snape said.
He also mentioned what he termed "quite a dynamic external kind of scientific and regulatory landscape", focusing on the European Commission's strategic review and the European Medicine Agency's (EMA) update of its environmental risk assessment guideline. Regarding the European Commission's Pharmaceuticals in the Environment (PiE) strategy, Snape said that there are "a couple of options around strengthening expertise and the transparency of data, which are areas that we are quite supportive of.
"Any strengthening expertise and efforts towards making more data available, including the risk assessments in standardised format, is something that needs to happen, but it required taking ownership to make that happen."
Indeed, there is currently no mandate for companies to work in this way, and yet it is clear that many of the environmentally successful industries have taken it upon themselves. Snape also suggested that, other than introducing such a mandate, this could also be achieved by "bringing environmental hazard and risk into the analysis".
Drug development
Snape then informed his audience about how the environmental impact of a medicine is taken into account during the drug development process. As a research-based company, AstraZeneca doesn't sell generic or over-the-counter medicines. Rather, Snape explained, it is focused on either innovation or drug discovery and development – finding new targets and new medicines, looking at unmet needs, and then conducting pre-medical studies to look at safety and so on.
He explained: "We are looking in the region of €700m to get to the point of authorisation," and it can take up to 20 years to get to market. "We have to get a return on investment to actually pay our shareholders but also to invest back into our client and the next line of innovation in terms of our medicines."
Environmental risk assessments are not conducted until the clinical trials have reached Phase III, usually after around €600m has been invested in that drug. "We test the environmental risks after clinical safety has been developed," Snape explained.
Nevertheless, this period has seen the pharmaceutical company supplying and producing the drug for clinical trials, and so work has been taking place in the lab to ensure that environmental hazards are kept to a minimum in terms of the process and the production.
The environmental risk assessment work that does go on to take place results in the identification of a safe concentration level that can be used as an environmental reference, which means that a limit of discharges on the drug production can be put into place.
"The final thing we do is ecopharmacovigilance," Snape added. "This is done while the drug is being used by patients; we collect data from that product and can take it back and revise our discharge concentrations and environmental risk assessments. We also have other responsibilities, such as deciding what to do with unused medicines."
The right thing to do
Regarding the ecopharmacovigilance conducted by AstraZeneca, Snape explained that they collate data from any material published around their products. They then compare this to the data they have themselves. If the levels differ to what they already have within their environmental risk assessment, then they conduct a quality review, asking whether the findings are reliable, robust and credible, and if they can be repeated.
"If this is the case," Snape said, "then we review our environmental risk assessment assumptions and update our risk assessments and safe discharge levels. We try to keep our risk assessments alive, and while we are not required by rules or regulations to do [so], it is the right thing to do."
Snape and his colleagues do not only collate the data, they also try to better understand what the data represents. In his presentation, Snape explained that there have been some 22,000 incidents where measurements of the environmental concentrations of AstraZeneca's activities have been attempted, with 14,000 of those being above the limits of detection. "We want to know where they measure them and we compare them to the safe levels."
"Ongoing vigilance is required to assess risk," Snape concluded. "We think prospective environmental risk assessments could be supported by post-approval monitoring… there are big datasets for a lot of older and high-concentration compounds, but not for newer drugs, and we need a system in place to capture that as it comes through."
Antibiotics and AMR
Turning his attention to antibiotics, Snape explained that these drugs, of course, enter the environment through human use, aquaculture, and drug production, but also animal husbandry. He also revealed that in addition to the antibiotic, resistant genes and bacteria are also entering the environment from a variety of sources, including biological waste treatment plants. "These resistant genes can be in environmentally relevant bacteria, but they can move into pathogenic bacteria… and get back into the patient."
According to Snape, both the antibiotic and the co-selective agents can enter the environment and create a selective pressure or even an evolutionary pressure to develop resistant environmentally-relevant or pathogenic bacteria. "So when thinking about the risk assessment for antibiotics, we need to think about not only its environmental but also potentially its human health impact as well."
There are thus broad protection goals and, for Snape, it is important to remember that the MIC data (the MIC is a database containing two-dimensional structures of synthesised compounds/antibiotics, IUPAC name, smiles notation and the MIC values/zone of inhibition against a particular organism, strain and culture conditions) and environmental data can differ, with the latter potentially being more sensitive – however, Snape emphasises, this does not mean that the environmental data is wrong.
Foe him, current risk analyses are inadequate; he explained that looking at the risk of an antibiotic does not take into account resistance, and, what is more, the current mode of action for a risk assessment only focuses on one species, and so this needs to be expanded in order to "have a wider range of bacteria in there covering a wider range of microbial ecosystem services. We also need to integrate environmental and human health within the risk assessments."
Patient access
Bringing his presentation to a close, Snape informed his audience that there is a need to ensure that patient access to medicines doesn't adversely impact the natural environment, but that there is also a need "to be equally vigilant… that we don't impact patient access to medicines; we need a debate that's focused on environmental risk.
"The existing data… shows that most drugs don't pose a risk to the natural environment, but there will always be some site-specific risks and site-specific interventions, and we need to get smarter in how to determine what they are and when to intervene."
He also argued that not only the pharmaceutical industry but also all other actors need "to manage the risk of medicinal products across the whole of the life cycle." He added: "Our industry needs to own and manage the risk associated with drug production; we might be able to do that on our own but might also need a pragmatic regulation or even responsible procurement… No reimbursement and no regulation exists, so at the moment it is down to responsible business in the absence of responsible procurement."
Snape's final message to the conference in Nijmegen was that unless industry and the regulators in Europe and beyond put more environmental data into the public domain, then many pharmaceutical products will appear to be a bigger risk than they actually are. "Some will, of course, pose a risk… but some will pose a risk at site-specific levels and until all of the environmental data is in the public domain, we can't really have the risk-based debate that we need."
This article will appear in issue 7 of Health Europa Quarterly, which will be published in November 2018.