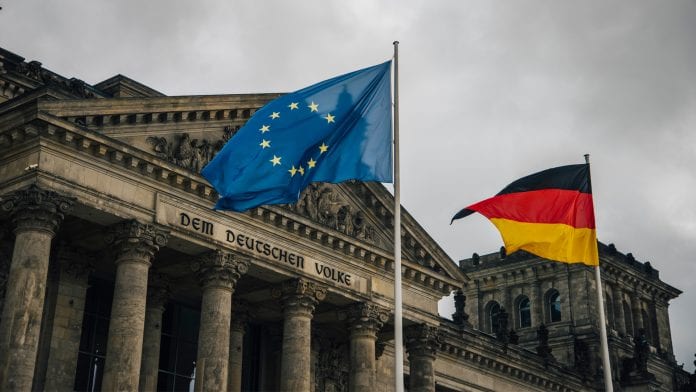 Internationally renowned law firm, Dentons, which has rapidly become a recognised fixture within the global medical cannabis industry, discussess European cannabis regulations.
Peter Homberg is a partner in the Dentons' Berlin office with a focus on life sciences, intellectual property, corporate law and M&A transactions in the life sciences and high-tech sector, as well as in R&D and co-operation agreements, cross-border IP licensing and IP strategies.
Furthermore, he has extensive experience providing legal advice on compliance issues and is the head of the European Cannabis sector group. Homberg advises inter alia companies in the pharmaceutical, diagnostics, biotechnology, medical device and medical cannabis industries—from startups to large publicly listed companies.
Whilst in attendance at The Cannabis Society's Medical Conference in Berlin, MCN sat down with Homberg to discuss elements of his presentations at the event, potential developments both within Germany and across Europe as a whole, and Dentons' role within the ever-evolving legal frameworks across the continent and beyond.
Besides the recent changes in Luxembourg and France embracing medical and recreational cannabis use, are there any updates in the world of medical cannabis regarding any of the EU Member States or across the world?
Indeed, the developments in France and in Luxembourg are the latest ones; however, what Dentons is seeing in other European countries is more of a 'fine tuning' of cannabis regulations, so to speak, and a fine tuning of the requirements surrounding export from other European countries such as Portugal and Denmark, for example.
One company is extremely active in Portugal and has significantly built up their cultivation sites and are now already in export mode ready to ensure these products make it into Germany. France and Luxembourg are experiencing larger changes, with a very experimental phase now happening in France with 2,000 patients, which is a relatively small number of patients.
There is a timeline of two years before the government in France decides what the next
steps will be. Luxembourg took a very interesting step in liberalising the use of cannabis for recreational purposes.
In Dentons opinion, will this have a knock-on effect in Europe meaning that other countries will follow suit?
I don't believe that the Luxembourg example will have a significant effect on other European countries. It is different from what we have seen from Germany where in March 2017 the changes had a significant effect on other EU Member States and caused them to reconsider their policy and also open their markets to medicinal cannabis. The other new development recently is that Ecuador has liberalised the use of medicinal cannabis, which was also interesting to see.
One of the things that struck me was that you said in your presentation that companies in Germany have been licensed to produce only a set tonnage of cannabis over the next four years, but that this is not enough to cover the country's need so Germany is importing cannabis. Why is that?
Currently we are importing from Canada, Holland, with imports from Portugal being a recent addition. The German authorities seem to be reluctant to become 'official traders' of cannabis, even if it is only for use within its own borders. The newly established German cannabis agency must purchase the whole quantity being produced by the German companies according to the tender and in accordance with the licence awarded from the German authority, the Federal Institute for Drugs and Medical Devices (BfArM).
Germany is thus still quite reluctant; they might not have foreseen how the market might develop and they were very conservative in only tendering out 10.4 tonnes for a period of four years, in different grades with different qualities from different plants. I don't predict that even during the four-year period they will initiate a new tender; the administration involved is relatively labour intensive and they have yet to create a large enough organisation in order to control a large cultivation operation, which is also an issue.
As I said in my presentation, the changes required to liberalise cannabis for medicinal purposes in Germany happened very quickly after the court decision in 2016. Everybody was more or less surprised by this ruling and, of course, were therefore not prepared to establish a new large organisation within the BfArM, as well as an infrastructure for the control of the licences to a large extent.
How long do you anticipate it will be before these necessary developments will take place?
I don't believe that it will take place within Germany at all. The BfArM might rather significantly increase the infrastructure of the organisation in order to become the German centre for cannabis importation.
It has been a requirement since the 2016 court decision to licence cultivation in Germany under governmental control, but not necessarily on an industrial scale. It very much depends on how politicians opinions evolve in this field as well.
Germany, certainly for the next four years, will remain an important country in terms of importation, but I don't predict any domestic production.
You also mentioned that there is a lack of education when it comes to GPs and their willingness to prescribe, especially outside of the cities. How can that be addressed?
It is a long-term educational process. From my point of view the industry as well as the doctors and pharmacists associations must take the lead in the education of doctors. They need to understand how cannabis works and how it can help their patients in the treatment of their various diseases; sometimes even more so than other pharmaceuticals and potentially with even fewer side effects.
That is an educational issue rather than an informational one. It isn't because they don't approve of cannabis as a medicine, it is because they simply don't know enough about its medicinal properties. It is the task of industry to promote that knowledge to a certain extent, of course operating within compliance. However, I think that doctors and pharmacists associations should take the lead in order to inform and educate their members regarding cannabis for medicinal purposes.
The other point you raised was about the cost, and it was interesting to hear that in Germany pharmacists are required by law to increase the price by 100% in comparison to what they have paid. Do you think that needs to change?
The 100% surcharge on pharmacies is already under scrutiny. We have a new law which came into force just recently which dictates that the two large associations for health insurers and pharmacists must sit down to discuss a solution regarding this.
Today, the law is that the pharmacies must charge the 100% mark-up; if they don't then it would be an offence. As such, the government is in a position to react and is willing to do so, but not against the two stakeholders I just mentioned. They would like to obtain informed consent to change the rules for this specific purpose. Of course, anything which helps to reduce the prices – which from all points of view and certainly from our clients' point of view – is much too high (at the time of writing €20-22 per gram) is a good thing.
At the beginning of the year, the EU Commission indicated that food supplements containing CBD should possibly be defined as 'novel foods' under the Novel Food Directive – what kind of recommendations would you give to companies in order to overcome the barriers this could cause and what could companies do to adjust moving forward?
Firstly, this isn't a new law as such and doesn't change anything yet. It is simply a clarification of the existing regulatory environment. From our point of view, it was always clear that food supplements containing CBD would qualify as novel foods under the Novel Foods Directive.
Some other organisations did not see it that way. It is a clarification by the European Commission supporting our core understanding that any kind of supplement which contains CBD qualifies as a novel food under the Novel Foods Directive and therefore should be registered under the respective regulations. This is, of course, a long process but not comparable to obtaining a marketing authorisation for a pharmaceutical. However, it is a process which must be initiated, and it can last 12-18 months – maybe even longer.
Is there is anything that could be done at the European level to help the European medicinal cannabis industry?
Yes, I think it is necessary to harmonise the various legal and regulatory environments and the rules and regulations of the various Member States. That is a must, and it should come to fruition in the next two years. Currently, we have a totally heterogeneous regime for treatment using cannabis as a medicinal product as well for recreational use.
There is already recreational use in Holland and soon this will also be the case in Luxembourg; there is also some recreational use under certain preconditions in Spain. That is something which the European Commission should investigate, but what is even more important is to do that for medicinal use.
Is there any indication that that will happen under the new European Commission?
The European Parliament has forwarded a request to the European Commission calling for harmonisation to take place with certain requirements. They have forwarded several requirements, one of which is obtaining marketing authorisation for those products – which, from my point of view, is not 100% helpful. I don't know whether this is really the way to go because with regards to efficacy and meeting certain endpoints in clinical studies it might be difficult to reach those endpoints for specific THC products.
It would, of course, have a significant impact on the industry because it would have to do clinical trials to get through the marketing process. Maybe they would be able to at least skip phase one and the toxicology before phase one; however even phases 2a, 2b and 3 are challenging. The process is time consuming and extremely expensive. The question is, will it help or not? We will need to see how things develop.
How is Dentons helping industry stakeholders to understand the dynamic regulatory framework regarding cannabis, and how are companies being advised to mitigate risk and develop successful strategies?
Dentons is in a unique position to advise this global industry. We have very strong cannabis groups advising the medicinal cannabis industry in the USA, Canada, and Europe; we have colleagues all around the globe who are advising on regulatory issues regarding mergers and acquisitions and commercial agreements within this industry specifically. That is something very unique.
As the head of the European cannabis group, I am in dialogue with my colleagues in the USA and Canada to see how the market is developing in order to determine what the cannabis regulations are in various countries and how we should best react for the benefit of our clients in those countries. I would assume that we have by far the largest cannabis group as a law firm worldwide. We are in a prime position.
Peter Homberg
Partner
Dentons
+49 30 26473 399
www.dentons.com/en/peter-homberg
This article will appear in the first issue of Medical Cannabis Network which will be out in January. Click here to subscribe.