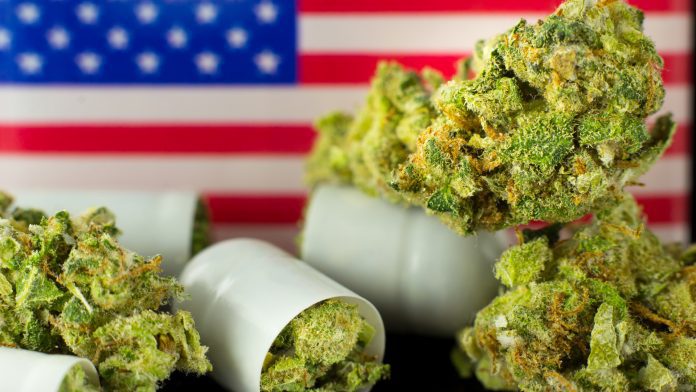 An investigation performed by the University of California San Diego has discovered that underage recreational cannabis use is more prevalent in US states with legal cannabis.
The new research has identified that US states with legal cannabis experience not only an uptake among the general population but also a significant increase among youth. The findings counteract prior studies that suggested that legalising cannabis does not increase the drug's recreational use.
The findings of the study are published in Addiction.
US states that have legalised cannabis
The recreational use of cannabis was first permitted under the Barack Obama administration in 2012 in two US states, Washington and Colorado. Since then, many states across the nation have followed suit in legalising cannabis, although you have to be over 21-years-old to use it.
Currently, there are 18 states with legal cannabis, including Alaska, Arizona, California, Colorado, Connecticut, Illinois, New York, Oregon, Maine, Massachusetts, Montana, Michigan, New Mexico, Vermont, New York, Nevada, Virginia, and Washington. Additionally, there are currently 37 states that have legalised the medicinal use of cannabis.
One of the primary concerns with recreational cannabis use among young people is how it may potentially affect their neurodevelopment. Research from the Centers for Disease Control and Prevention suggests that using cannabis may increase a young person's chances of developing mental health conditions, such as depression, anxiety, and schizophrenia.
An increase in youth recreational use
For their investigation, the University of California San Diego team utilised data from the Population Assessment of Tobacco and Health in the United States (PATH) study, which monitored 6,925 youths and 14,938 adults.
The study participants lived in four states with legal cannabis – California, Massachusetts, Nevada and Maine – 11 states that allow for medical cannabis use and 17 that prohibit all use.
The results demonstrated that in states with legal cannabis, young people aged between 12 and 20 were more likely to engage in recreational cannabis use than in states that have not legalised the drug, with an increased likelihood also identified among adults.
These findings are reinforced by data from the 2020 Natural Survey on Drug Use and Health, which found that 17.9% of people aged 12 and older, equating to 49.6 million people, reported using cannabis within the last 12 months in the US.
Yuyan Shi, PhD, associate professor at the Herbert Wertheim School of Public Health and Human Longevity Science at UC San Diego, concluded: "Our findings provide useful information to policymakers and public health practitioners interested in understanding the consequences of legalising recreational cannabis.
"It's especially concerning that increased cannabis use occurs among young people because of the detrimental health effects associated with cannabis use at a young age, including impaired respiratory function, cardiovascular disease and adverse effects on mental health."
Recommended Related Articles