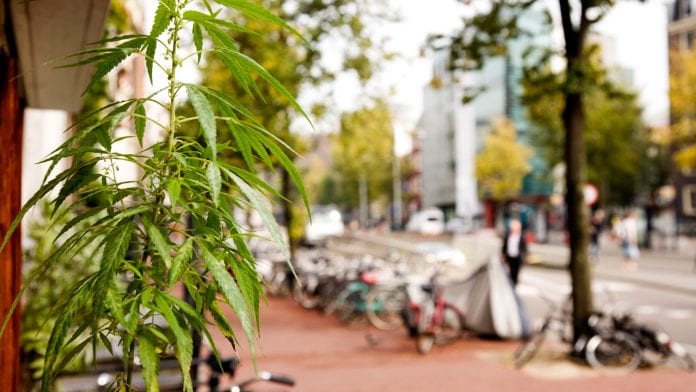 Ole Heil of Bedrocan, the world's most experienced legal medical cannabis producer, tells MCN about medical cannabis in the Netherlands.
Bedrocan, the sole supplier of medical cannabis products in the Netherlands, has been developing and refining its cultivation and standardisation processes for more than 20 years; and is the only company in the world to produce fully standardised medical cannabis flower with consistent levels of cannabinoid content.
Ole Heil, Bedrocan's Director of Communications and Government Affairs, tells MCN about the work of the company and the Dutch medical cannabis landscape.
What role does Bedrocan play in the Dutch medical cannabis supply chain?
Under the United Nations Single Convention on Narcotic Drugs of 1961 (the 'Single Convention'), the use of cannabis is limited to purely scientific and medicinal purposes. The Single Convention stipulates that countries must adopt a stringent control system for medicinal cannabis through a government agency; the Netherlands operates one of the strictest interpretations of the Single Convention.
In the Netherlands, the Office of Medical Cannabis (OMC), part of the Dutch Ministry of Health, is responsible for overseeing the production of cannabis for medicinal and scientific purposes; and Bedrocan is a contract manufacturer of cannabis products for the Dutch government. The OMC distributes Bedrocan cannabis flower to pharmacies, researchers, and pharmaceutical off-takers, both domestically and internationally, as an active pharmaceutical ingredient. Lab testing and packaging are separately contracted with other parties by the OMC. Bedrocan's responsibility is to cultivate and produce standardised cannabis of pharmaceutical quality. Bedrocan has been the sole supplier of medicinal cannabis in The Netherlands since 2003.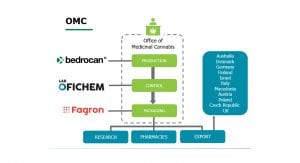 Can you tell me a bit about the five different varieties of medical cannabis currently available in the Netherlands?
First, let me explain what we see as a variety. All the plants from each Bedrocan variety originate from one single seed once produced: Bedrocan has developed a unique method enabling us to clone the plant that came from this particular seed indefinitely. For instance: all plants of Bedrocan's most popular variety, also named Bedrocan, stem from a single seed that was planted back in 1995. Of course, Bedrocan possesses thousands of different seeds in its research and development facility, but only five distinct seeds have been selected to be used in large scale production. These are:
As you can see, these varieties differ in their THC and CBD content. The selection of these varieties for production purposes was done together with the OMC and patient organisations. The OMC orders these varieties from us based on requests from the market. Bedrocan, our high-THC variety, is the most commonly ordered; followed by Bediol and Bedrolite.
We do not comment on the specific indications for which each variety is or can be used. That is up to the healthcare professionals prescribing and helping the patients.
What testing processes does Bedrocan use to ensure a consistently high standard of quality in its products?
Bedrocan produces its products under Good Manufacturing Practice (GMP) standards. We were the first cannabis company in the world to receive GMP certification back in 2017. With that, we set the standard for the industry today: our stringent cultivation and processing protocols guarantee a consistently high standard of quality. The official release testing of our products is, as explained, done by a third-party laboratory contracted by the OMC. These tests are very strict, both on cannabinoid content and on contamination by pesticides, heavy metals, moulds etc. Only when these contaminations are absent are the batches accepted by the Ministry of Health. All certificates of analysis of Bedrocan batches are publicly available on the website of the ministry.
Aside of these formal tests, we of course test our own batches for quality and reference reasons during the cultivation and production process.
Have you experienced any challenges in standardising the chemical composition of your products arising from the fact that, as an organic material, the cannabis plant may vary more in composition than synthetic products?
Standardisation is our speciality. Our products are fully standardised: the combination of stable genetics and fully standardised methods leads to a fully standardised product. Since we developed our unique cloning method, we have not had any challenges in the chemical composition of the plants. That remains identical; and we have been able to keep it absolutely stable since 1995. But when it comes to standardising the production method and procedures (lights, humidity, nutrients, schedules etc) that is of course a different story. We have been developing and improving our methods for many years now and are still fine-tuning them on a regular basis.
Has the COVID-19 pandemic had a significant impact on the medical cannabis industry in the Netherlands?
Actually, no, it has not. Bedrocan has been able to keep production going as normal, delivering every ordered batch to the OMC on time. Lab testing and packaging have continued as normal and delivery to pharmacies and export did not see any changes. The Dutch medicinal cannabis chain has proven to be able to continue its work for patients even in this unparalleled situation.
Of course, like any other business, we have taken hygiene measures; our office personnel are working from home and travel is necessarily limited. But the core of our company, the production facilities, have not been affected. We did see a large decline in ancillary activities like congresses and fairs, however; and some of our clinical research projects have suffered some delays.
Ole Heil
Director of Communications and Government Affairs
Bedrocan
This article is for issue 4 of Medical Cannabis Network. Click here to get your free subscription today.